Recently there has been a global trend for citizen led initiatives creating new forms of participative democracy. In all of these efforts, there is a common thread: A growing need for self-organised collectives increasingly acting with agencies, to help address or improve an urban socio-economic issue.  We can be pro-active and address this need, by creating cross-platform solutions that enable better collaboration and co-creation. By bringing together different stakeholders in real-time to support decision making and prioritisation of limited resources for cities. That is the vision.
But… where are we currently?
Refreshingly, recent years have seen an increase in government interest globally in finding ways of harnessing those 'citizen insights', in order to provide improved, more responsive and more efficient services. We are at a tipping point in terms of harnessing human intelligence and machine learning to create a hybrid future where humans can teach AI to be more responsive based on real-time needs.
When it comes to transforming cities, what better source of information could there can be than the people who walk its streets, jog through its parks and ride its public transport for their daily commute. Alongside traditional sensors, not only are they the best eyes and ears in terms of identifying, preventing and reporting emergent issues, but they can also collectively help analyse and priortise those reports to determine which issues are the most urgent and come up with potential new solutions to help address them. With these valuable real-time insights, service providers can utilise live 'user' demand data to dynamically allocate resources much better based on and predictively model potential future issues.
Current approaches to citizen engagement
The secret to this conundrum is a simple blend of old and new school approaches: 1. Listen to people. 2. Let them use digital devices to tell you what needs fixing. 3. Embed that citizen insight into the city's responsive and planned maintenance back office systems. And that's it. Really.
Only part of that formula, the 'listen to people, let them tell you any way they want' element has already proved successful in platforms like decidim.barcelona, FixmyStreet in UK and SeeClickFix in US with people providing crowdsourced data via traditional complaints or ideas to help shape or improve urban services.
Using traditional social media (e.g. Facebook) and messaging platforms like WhatsApp, this generation of communities is platform-agnostic as long it helps them achieve their goal and the platform is easy to use. Service providers need to learn from this growing trend and see how we can tap into it or harness it to help improve our future cities by using citizens as 'insights/feedback generators' to tackle the cities challenges.
Simply having channels to 'complain' or 'suggest ideas' for key issues people encounter as they use the city is insufficient for the complexity of urban challenges cities face – whether they are related to pollution, security or budget cuts. It panders to the reactive city systems rather than proactive preventive measures that can help improve decision making of better resource allocation. Urban challenges cannot be resolved just by local government, companies or the third sector alone – they need a new approach 'powered by people' to create new smarter more connected cities.
But there is an issue of data and privacy that also needs addressing. While government and service providers are under pressure to improve citizen participation in public services design and to increase the use of big data to create smart cities.  At the same time, public fear of 'big data' is increasing, as is the reluctance to share it. A House of Commons, Science and Technology Committee report from November 2014 on the responsible use of data warns that the government,
…should be seeking to provide a platform for UK citizens to engage [government and commercial online] services without unnecessarily risking their personal data…, so they can …make informed choices about what data to share.
Citizens are starting to understand the value of their data and their opinions.
Smart cities are often designed using concepts of 'intelligence' that rely on smart meters, wireless sensors filtered through huge data centers that analyse and interpret information (e.g.,Rio's 'Command Centre'). But cities designed using purely big, sensor-generated data can result in services and systems that are not trusted by people to meet their real needs, or worse, are oppressive in nature. There is a need for a data model (much like the one Changify piloted in Plymouth) that allows government and service providers to de-risk smart city projects by:
Increasing trust and active people participation
Rewarding people for participation & data sharing
Improving the public's ability to generate 'little data' that can be aggregated and collected anonymously, through new innovations, such as wearable tech
Changify: connecting the city with its citizens
The Changify platform provides an easy way for residents of cities to report on problems and co-solve solutions for urban challenges across transport, environment, housing, health etc directly to the relevant service provider responsible for the contract. The platform empowers citizens to take ownership of their environment by:
Reporting on problems they see eg on the road (as well as successes)
Being given information from service providers about costs and time
Supporting issues through voting to priortise which is the most pressing issue
Being notified when an issue is resolved and rate the quality of works
Come up with new urban proposals and solutions based on daily insights
#SmarterStreets pilot – A new approach
In 2016, D4SC won grant funding from Innovate UK to run a pilot programme – in partnership with Amey-Ferrovial and Plymouth city Council, to trial the Changify platform, with a focus on improving road-safety. The team recruited 150 road users over 9 months across various community events to take part in a closed pilot in Plymouth as part of Amey's road highways contract. Local businesses active in cycling were part of the pilot as was the local university.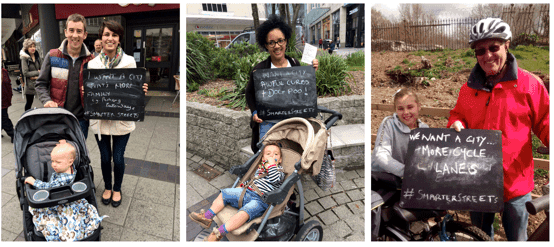 During the course of 18 months working first with University students to test drive the system and then road-users across commuters, employees at local engineering firms, parents on school runs, the pilot took shape with user feedback to come up with a simple two way feedback system that had an Android app with a swipe-able interface and voting algorithm, a API that integrated with Amey's road asset database with a traffic light based prioritisation system to highlight issues based on Urgent, Watchout and Good job. Amey operational staff had a dashboard to give feedback to users on how long the fix would take, and roughly how much it would cost – to enable two-way feedback flow.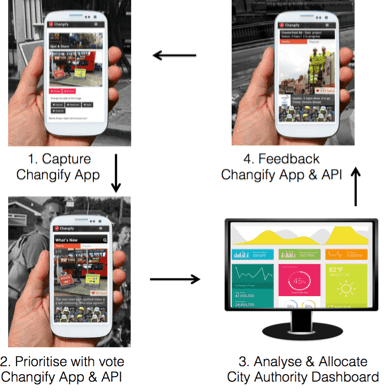 What we found?
Lesson 1: Time is saved for users through instant reporting.
Changify allowed trialists to report issues without having to navigate to their local council's website, fill in a form, have no visibility besides a standard response email that their issue has been received. Instead people could now make an instant report while walking down the street, on the spot, using the Changify app by taking a photo with a camera that acts as a voting button. Changify removed the council website 'barrier to reporting', allowing for greater engagement with citizens where we saw one trialist alone create 70 reports which were then prioritised by others as Urgent, Watchout, Good job. So it wasn't the point of one person making all the noise but also tapping on the trialist collective intelligence to filter the reports and prioritise them.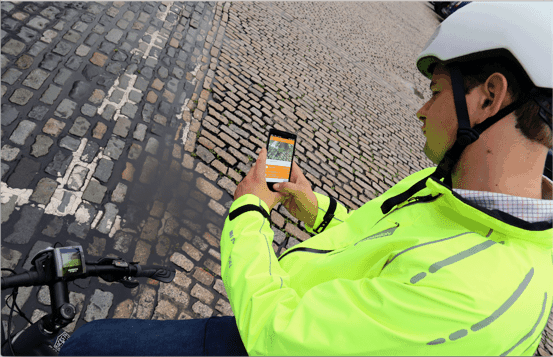 Lesson 2: Increase engagement to harness new data insights
The initial hypothesis of finding out if people would engage to help collectively improve road safety and come up with new insights ignored through traditional council driven channels proved right. So did social voting to prioritise key issues and feedback amongst users in coming up with new proposals and ideas besides reporting tactical issues.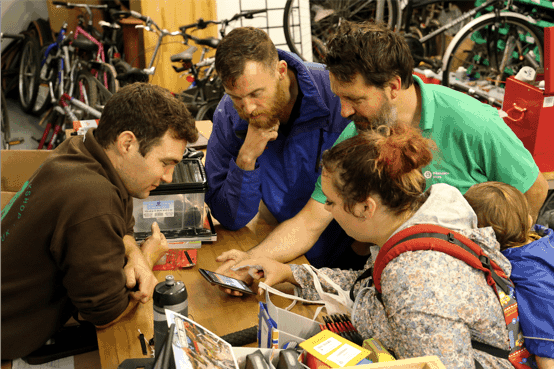 Lesson 3: Better decisions helps dynamic resource priortisation
The analysis of the real-time reports enabled through the Changify platform, made it faster to identify the most pressing unique issues that typically was outside the standard council reporting system. It allowed daily network operations to pool in their resources far more effectively than reactively fix it. Hiring of road equipment and machinery can be dynamic in the future based on real-time demand. This challenges the standard business model of conventional 'provide a service for a fixed budget' model currently the norm amongst local/city authorities. Budgets can be adapted to dynamic needs and different budgets can be found based on new user proposals.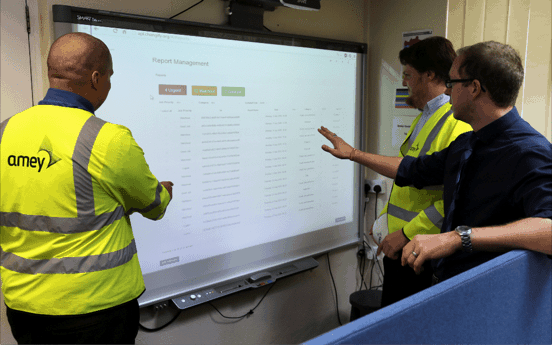 Lesson 4: A successful pilot paves way for scale up
With the Changify platform integrated into Amey back-office systems during our recent 3-month pilot of the system in Plymouth, efficiencies of report data priortisation across 515 reports were realised with a breakdown of 32.5% Urgent, 62.5% Watchout and 5.45% being Good Job. Average Amey overall response time increased by 19.75%, reducing costs for individual inspections by approximately 22% and increasing generation of new user proposals by 19.8%.
Added to this the benefits for users to earn points from local businesses backers in recognition of their data contribution and the ability to spend it to increase footfall and give back to the local economy creates win win for all.
Conclusion and key learnings for scaling up
Improving the public's ability to generate 'little data' that can be aggregated and collected with their opt-in – Changify provides a platform for residents of cities to report and vote on problems directly to the relevant service provider. The platform empowers citizens to take ownership of their environment by:
Reporting on problems they see on the road (as well as successes)
Being given information from service providers about costs and time
Prioritising issues through social voting to aid decision making.
Being notified when an issue is resolved
Comeup with new proposals and solutions to free up capital budgets