When we think of Christmas, very often we let ourselves be carried away with what we have seen in films, an idyllic place in which to enjoy meals with family and friends, a large Christmas tree covered in lights and other decorations, snow and presents.
However, every region in the world has its own Christmas. For a start, it doesn't snow everywhere; in fact, in some places it's not even winter! Some countries have Christmas trees, others a nativity scene. Although Santa reaches practically the entire world, his name tends to change. There are other places where the Three Wise Men also bring presents. And yet others where Christmas lasts for over a month.
And because every country has its own traditions, we have asked our colleagues around the world to explain to us how they celebrate these special days. So this article has something from all of Ferrovial for all of you.
Learn about different Christmas traditions around the world 
The UK is whistling to the tune of Christmas 
From the moment you hear George Michael singing Last Christmas you know the holiday season has begun! Over the next few weeks you'll find yourself whistling away to Wham, Mariah Carey, Band Aid and Slade until you know the lyrics by heart.
The Christmas Eve tradition of meeting friends and family at the local pub is still strong, and it's usually a night for catching up and wishing everyone a happy Christmas. People can be seen in Christmas jumpers ranging from the rambunctious and ridiculous to the classic hand knit.
Most English families have a Christmas tree (or two) in their home and decorating is often done together. As you travel around to visit family and friends you'll see quite a few houses with festive lights and walls being scaled by Santa himself. There's also usually a local housing estate that has two houses vying to generate the most Christmas spirit via LED's and snow flake shaped lighting fixtures.
Christmas dinner is usually a roast with turkey and ham often the meat of choice. Portions are loaded onto plates and when the Christmas crackers have been pulled and the cheesy jokes told, everyone moves into the living room with their drink of choice to watch the Christmas movies. It's possible to watch the entire catalogue of James Bond, Die Hard, Home Alone and Bridget Jones Diary over the Christmas season, so be sure to make yourself comfortable!
Boxing Day sees more family visits and the leftovers of the Christmas dinner put into a sometimes questionable, but always delicious sandwich. New Year's Eve is celebrated everywhere and anywhere with house parties, bars, nightclubs and city streets buzzing with anticipation. The clock strikes twelve, fireworks go off in cities across the country and everyone toasts a drink to welcome in the new year.
Ring in the new year with the 12 strikes of the clock and 12 grapes
Decorating of homes traditionally begins on the 13th of December, day of St. Lucia, with the Christmas tree and a nativity scene. Although Christmas seems to last longer with every year that goes by, and many people start decorating already at the beginning of the month… Spain has several important days, and different traditions depending on the region. For example, in some regions every nativity scene has a caganer, originally a Catalan tradition consisting in a figure "having a poo" in some hidden corner, usually behind a bush. This and other traditional figures and joke articles can be found in the Christmas fairs set up in many town squares.
The first important day which really starts Christmas off in Spain is the Christmas lottery on the 22nd December. People start buying lottery tickets in the summer, collecting them from most places they visit. One of the most sought-after outlets in the country is Doña Manolita in Madrid, where large queues can form. Finally, the day of reckoning arrives and the whole country, even if you're at work, is glued to the radio or the television, hoping to win. Good Health Day is celebrated also on the 22nd – so if you don't win the lottery, at least you can say you're in good health!
On Christmas Eve families get together for dinner and the typical Christmas sweets: turrón (a nougat made from almonds) and polvorones (more almonds and flour). And to sing Christmas carols, of course. And then there's Christmas day lunch, with dishes such as suckling pig, chicken pullets, turkey, escudella i carn d'olla (a kind of stew with rice and minced meat typical in Cataluña), cod and cauliflower in Galicia, or king prawns and other seafood.
There's also time for a laugh, as April fools' here is on the 28th of December, when young and old alike play pranks on neighbours, friends and family.
And on New Year's Eve we ring out the year with twelve strikes of the clock at midnight, eating a grape per strike. And with each grape we make a wish….
It all ends with the arrival of their royal majesties, the Three Kings of Orient. On 5 January the Three Kings and their royal pages arrive in towns and cities across the country, giving out sweets on a colourful parade. Children must go to bed early if they want to receive their presents when they wake up the next day. But if you've been bad, children, you could be in for a surprise and receive a bag of coal instead – and this goes for adults too!
The U.S is just like the movies 
As the Christmas tree goes up and the weather takes a turn, decorations and lights can be seen illuminating the frosty, fogged windows of city and countryside homes alike. The last Thursday in November is Thanksgiving and, a day later, Black Friday sees many a bargain hunter out to bag a deal for their Christmas shopping. But if you've made a list and checked it twice then you can stay in, as Santa Claus will be taking care of presents for you. (And maybe you're one of those thoughtful hosts who leaves him a midnight snack – his favorite being a glass of milk and a cookie!)
If you're a fan of movies then you're in luck as the old favorites will be shown over the whole festive period. Christmas caroling is also popular and the office party can be a notoriously good time. If you're feeling really festive then you'll be having a glass of egg nog as you write your greeting cards to send to family and friends.
Most families will usually hang stockings in their home on the mantle just over the fireplace. These stockings are filled with little treats and small gifts. A Christmas tree and manger can usually be found in the home and trees are often decked out head to toe in lights and topped with a star. Christmas Eve will see kids go to bed without a fuss (and often earlier than normal) in anticipation for the presents Santa Claus will leave under the tree.
People celebrate the New Year in many ways, but spending time with family and friends is the most common. Fireworks can be found in most cities and there's no shortage of festive cheer!
Fancy some ice hockey followed by a hot chocolate at the fireplace? Canada is for you! 
In a country with a large diversity of cultures, religions and languages, Canadians celebrate the holiday season in many different ways. Just like the Australians, there is usually plenty of egg nog to go around, and you can often find Canadians sharing this and some hot chocolate around the fireplace.
Children put on concerts in their schools for family and friends to attend and there's always some Christmas carolling to be heard. Craft fairs are often held across the country where people can be found selling all sorts of bits and bobs you might need during the festive season. You'll find people enjoying themselves skiing as well as playing hockey on the outdoor rinks.
It's Christmas Eve in Australia and time for some Egg Nog 
If you've never heard of egg nog (or have and still have no idea what it is), it's a sweet, thick, creamy, butterscotch-coloured liquid drunk by many an Aussie on Christmas Eve. Although it's a perfect fireside accompaniment, Christmas falls smack in the middle of the Australian summer, meaning a couple of drinks at the local surf club on Christmas Eve is usually in order. This is followed by a Christmas Day singing along to festive tunes on Music Max, a bit of cricket or touch football on the beach, oh, and a dip in the sea to cool down too.
Lunch is either a Roast dinner or cold turkey, ham, chicken, seafoods and salads along with Christmas plum pudding with custard. Don't forget the cream or ice cream for dessert. And for dinner, if you still have space, it's the leftovers.
New Year's Eve is normally spent with friends and family, and you'll often find yourself having a BBQ at someone's house or going out to a restaurant for dinner and drinks. Australia is one of the first countries where the clock strikes twelve, and many families near the big cities ring in the new year with big fireworks displays. The most important thing is to not fall asleep! But if you do, you'll be a sure a rousing rendition of Auld Lang Syne will wake you from your slumber!
Poland has a space for you at the table
Christmas celebrations in Poland start on December 24 with a dinner on Christmas eve which brings all the family together. Tradition is to leave an empty space at the table in case an unexpected visitor turns up.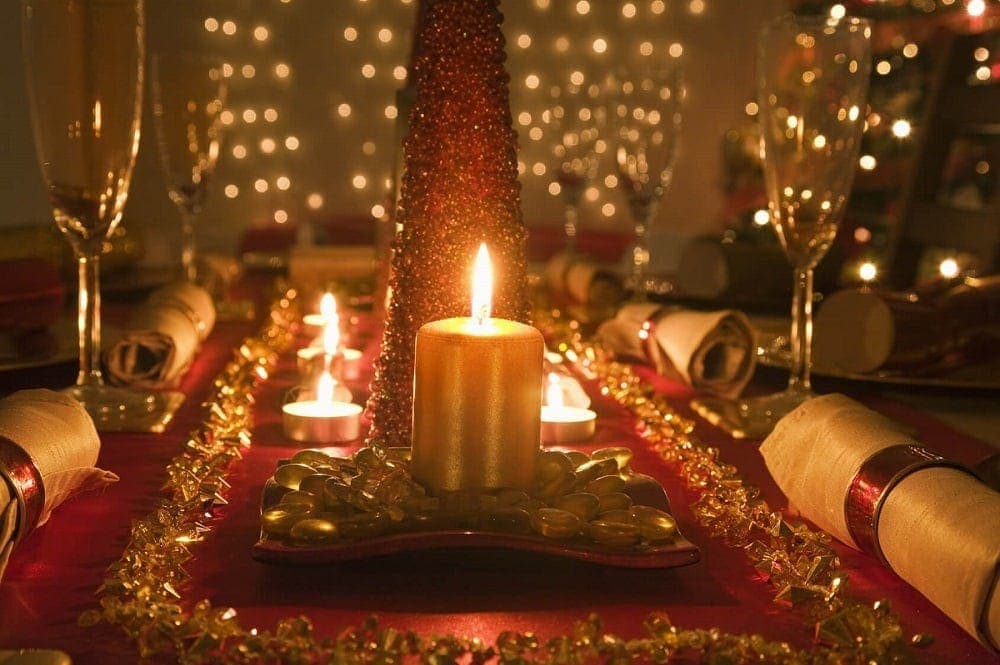 To start the dinner, a wafer called an opłatek is shared amidst congratulations and greetings. Twelve different typical meat-free dishes are traditionally served. At this dinner is when most families hand over the Christmas presents, which are brought by St Nicholas. After dinner many Catholics go to midnight mass. Festivities continue on the 25th and 26th, which are always holidays in Poland. For the Christmas period, homes are decorated with a Christmas tree and traditional Polish carols are sung.
Don't forget your Christmas jumper in Ireland! 
Our colleague in Ireland started the conversation with: "The first thing I have to say is that Christmas in Ireland is quite something. Even if you didn't before, you'll get to like Christmas here!"
What stands out are the Christmas decorations everywhere. All the streets are lit up, all the shop windows decorated in a thousand and one original ways, house fronts, everything is full of lights. And, of course, everyone has a giant Christmas tree, sometimes bigger than the actual front room
But let's start at the beginning… Every Sunday in December, Santa Claus appears in Phonex Park (the largest in Ireland) amongst the deer to greet the children. You can see the deer going after him, until they stop and stay behind because Santa is now talking with all the girls and boys…
The week before Christmas is when the Christmas jumper arrives, and everyone is suddenly wearing a very Christmassy jumper, some even with lights. People even wear Christmas jumpers to work
And the night of the 24th Santa Claus arrives, and the children wake up the next morning to find their presents under the Christmas tree. For some reason, this is only for the children: adults buy their own presents and don't put them under the tree.
The typical Christmas celebration is lunch on the 25th (or more like dinner), which starts around 3 or 4 pm and has stuffed turkey as the star. The dinner table is highly decorated, and each plate has a cracker, a sort of large wrapped sweet made with a cardboard tube inside which is a small present. At the end of the meal, everyone pulls on one side of the cracker, which goes off with a crack (it has a tiny bit of gunpowder inside), and one person gets to keep the present!
Decorating the tree in Brazil
Christmas is a very special time in Brazil. Decorating the Christmas tree is one of the main celebrations, which normally takes place towards the end of November or beginning of December. Another of the main figures in this festive period is Papai Noel. The night of 24 December sees the whole family come together for the Farta Ceia, or Christmas dinner. Presents are exchanged between family and friends, although small children usually get their presents on the morning of the 25th, after Papai Noel has done his delivery rounds during the night. The tradition says the tree must be taken down on Epiphany, which is on 6 January.
In Chile, it's the Viejito Pascuero who brings the presents
In Chile, Santa is known as Viejito Pascuero, or old Christmas man but, as in the rest of the world, he travels on a sleigh pulled by reindeer to bring presents to children who have been good and who have sent him a letter. Our colleague says: "Although it's summer in Chile, the Viejito Pascuero is dressed in his usual Santa clothes, so you can imagine he must have a pretty hot time of it!".
As in other places, Christmas is a family celebration, where friends and family get together for dinner on Christmas eve, a dinner usually consisting of a roast, chicken or turkey. At midnight, the children open the presents left by the Pascuero for them and then go out to play with friends and show each other their presents. More religious families go to midnight mass.
Throughout this period (and that means ALL of December) we eat "Pan de Pascua", a spiced sweet bread with cinnamon, cloves, nutmeg, nuts, raisins and candied fruit, and drink "Cola de Mono", which translates as "Monkey's tail" and is an alcoholic drink made with fruit brandy, milk, coffee, cloves, nutmeg and cinnamon), and it's the first thing you'll be offered when you visit somebody.
Christmas carols in Puerto Rico to get you dancing
Did you know that Puerto Rico celebrates the longest Christmas in the world? It starts already on November 23rd with Thanksgiving, and continues to January 14th with the Octavitas, eight days in which the Three Wise Men are celebrated. During this period all manner of typical dishes are prepared, including roast pork, rice with pigeon peas (gandules), pasteles (dough filled with meat and wrapped in banana leaves), blood sausage, corn custard and rice pudding. And then you have the carolling Puerto Rican style, called parrandas or asaltos, where groups of friends and family go around the houses waking people up in the night with their singing and playing. There is also much typical music throughout the period, such as the Seis Chorreao and the Décima, the former being a particularly fast rhythm.
Happy holidays!
If you have any other special traditions to add, please tell us about them in the comments section. In the meantime, we wish you very happy holidays filled with tradition and with your nearest and dearest.