Publicada el 22 de Febrero de 2019
With one of the top contenders from this year's Best Picture Academy Awards being a film that was only in select cinemas for 3 weeks before its release on Netflix (Alfonso Cuarón's Roma) and the trend rising as more big-name directors such as the Coen Brothers with their release The Ballad of Buster Scruggs hop on board, the relevance of physical cinemas in the dawn of digital premieres is becoming ever more questionable. However, a budding solution can be spotted in cities all around the world—redesigning cinemas to separate them from the rest and create a novel experience. In this post, we'll explore some of the most innovative and fresh ideas in theater design that bring more than standard seat and screens to the cinema experience.
In this post we'll explore all sorts of ways to make moviegoing more appealing and enjoyable, parting from the classic old theaters that have been renovated and given a modern twist to interactive and dynamic cinema experiences that make drive-in cinemas seem as tame as streaming movies in the living room.
First, we'll be looking at the classics. These old theaters that could easily pass off as opera houses, with their ornate opulence being an outstanding and differentiating factor in the movie experience. As seen in the photos, these theaters are breath-takingly lavish and create an atmosphere of importance and ceremony surrounding the experience.
Cinemas such as the Castro Theatre in San Francisco, California provide a real feeling of community. From the era in which this style of cinema was referred to as a "movie palace" for clearly visible reasons, it is one the few from the 1920s that is still operating. Built in 1922 and only costing $300,000, the Castro Theatre has undergone numerous transformations and modernizations, such as the marquee and iconic neon sign in the late 30s, the mighty Wurlitzer organ replacing its old Conn organ in 1982, as well as the installation of a modern sounds system, PA system, and stage lighting.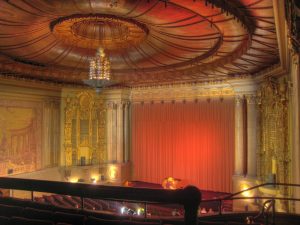 But the aesthetics aren't the only factor that separate the Castro from the common competitors—special events like premiers of smaller films and sing-alongs bring evoke a time when going to the movies what the commonality of a community, uniting the people in one of the world's favorite pastimes. And if you don't live in San Fransisco, don't fret, there are similar classic movie theaters all across the world, and each has its own special character. Some of the most noted are the Fox Theatre in Detroit, the Puskin Art Cinema in Budapest, and the Grand Rex in Paris.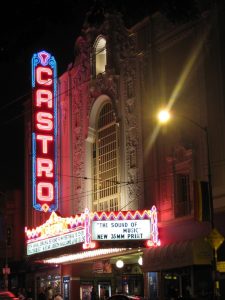 Of course, the classic experience might just be too ordinary for you. You might be the sort of film buff who needs an even more novel experience, something that really breaks loose of all the ties to traditional movie going. These experiences are commonly offered in larger cities all around the world, and they offer immersive cinema experiences that can do anything from taking you to the environment set in the move to taking you back to the cozy comforts of your bedroom.
Say you've had a rough day at the office. Your back is tight and even though what you really need is a relaxing massage and spa experience, you've already promised your significant other that you would go out to the movies. With the incredible Hot Tub Cinema experience, no one has to make any sacrifices. You can take a dip in a hot tub with a drink in your hands and some few jets blasting on your back, working out all the knots and making for optimum viewing pleasure.
Ver esta publicación en Instagram
The idea first started over eight year ago with HTC hosting a private party with one hot tub. The idea went public with the first screen open to the public on 7 July 2012.  It has since grown, both in size and popularity, with a custom surround-sound system, two screens, and thirty hot tubs. And due to it being a pop-up event, HTC in never set a particular location. Instead, its moves around and sets up shop across the UK and the rest of the world depending on the weather and the season.
Here's another cinema experience without a defined location. In fact, if you so choose to participate, you probably won't know where it is until the very last minute. Secret Cinema takes the movie experience to the next level. For anyone who wants to actually live out the movie, to have their imagination become reality, Secret Cinema takes certain measures to ensure that the experience is as authentic as possible.
Ver esta publicación en Instagram
It is always set in a secret location and phones are sealed to make sure you don't get distracted from the experience. In addition, audience members dress up as characters for the film, the venue is decorated to imitate the aesthetic of the film, and professional actors circulate throughout the event reciting lines and playing their parts, allowing for the lines between reality and the film world to slowly fade as you become immersed in the film. Previous Secret Cinema events featured such movies as Dr. Strangelove, Bladerunner, and Star Wars: The Empire Strikes Back, each having their own custom world created for a truly unique experience.
When the exciting, the realistic, or the outright wacky just don't cut it, the lurking temptress of luxury is always an enjoyably alternative to the traditional theater style. Cinemas like CGV Cinemas in Seoul, South Korea offer a plethora of extraordinary cinema experiences, from the most luxurious and comfortable theaters to sensory-enhanced sounds systems and wraparound screens. Experiences like Ciné de Chef exceed ordinary moviegoing experiences, offering fine dining options and fully-reclining Tempur-Pedic beds. GCV offers an array of extravagant and indulgent moviegoing experiences, but the trend is becoming more and more popular all over the world and you can find cinemas in most cities and town with fully reclining seats.
Ver esta publicación en Instagram
So, what are you waiting for! Sure, lying in with Netflix has a time and a place (mainly Saturday morning, in bed), but there is a world of curious and thrilling cinema experiences to be had. Go out and discover how traditional theaters have evolved and innovated to compete for an audience in the modern world—you're sure to enjoy it.