Today, we'll hear terms like digitalization and CIT, robotization, automation of processes dealing with worker Health and Safety. And today, the ILO, the International Labour Organization, turns 100 years old, and to commemorate this occasion, they are taking stock of the milestones reached regarding Health and Safety and outlining the future.
At Ferrovial, we're working on the latest trends, trying to take things a step further than conventional measures in order to reduce workplace accidents as much as possible for our workers, contractors, and those who could be affected by our activities.
If you Google "health and safety," you'll find an endless list of articles, news, and reports from experts talking about trends in the field, both at the national and international level, and I'd like to highlight a few of them:
Improving the health and wellbeing of workers by implementing programs at businesses. (explain with an example)
Stronger, more integrated tools (platforms, apps…) for managing Health and Safety
Big Data as a predictive tool for accidents and risk management.
Using technology to collect feedback from workers that offers businesses information on exactly what's really going on at the workplace.
Changes in demographics at the workplace: greater numbers of millennials and those from Gen Z: as this continues to change, there will be a change in the dynamics of workplace culture, administration, and ethics.
Smart EPI, which allows workers to be located, as well as Smart hats, glasses…
IoT is playing an important role in improving workplace security, for example, by using sensors that alert workers to risk zones.
We have a promising future ahead of us that is full of possibilities that will, among others things, allow us to know what's happening at our work center in real time and prevent potential accidents with information that's more in line with reality. But what reality are we working with? This is the big question we must answer every time we consider trying out one of these trends.
Can the latest trends be applied to all situations, geographical regions, or individuals we work with? Can these cutting-edge solutions solve all of today's problems?
Working in multiple areas means facing very different challenges every day, especially if we're talking about countries at different stages of development. Are all countries, workers, connections … ready for this, or are we using a hammer to crack a nut? Are we thinking about the needs for each case, or are we getting carried away by trends, focused on our comfort zone and automatically implementing whatever's in style or trendy without thinking about it anymore than that? Is implementing the same thing at the same time in all situations really necessary?
In trying to answer this, let's consider a personal situation of mine I hadn't really been in before. At the beginning of March, I spent two weeks participating in the project, "Sistema de abastecimiento de agua y acceso a saneamiento en comunidades afectadas por el fenómeno El Niño Costero", in the district of Cura Mori, Piura, Peru, as part of Ferrovial's Programa de Infraestructuras Solidarias. It goes without saying, we didn't have the same resources, either human or financial, to work with as with other projects at Ferrovial. We were just a group of volunteers supporting an NGO (Ayuda en Acción).
By stepping into this reality, we got to work on one of the tasks that had been assigned to us: preparing a health and safety plan/work procedure for demolishing a raised tank that had fallen into disuse. The tank in question was declared non-operational by the Health Sector, and it was at risk of collapsing at any moment, so it posed an imminent risk for the community of Chato Chico. What had happened was that the beams and pillars forming the water tank structure had deteriorated, leaving concrete and iron exposed, rusted with a high level of corrosion. (it was dangerous because there were inhabited houses surrounding it, children playing at its base, an electrical line running beside it …).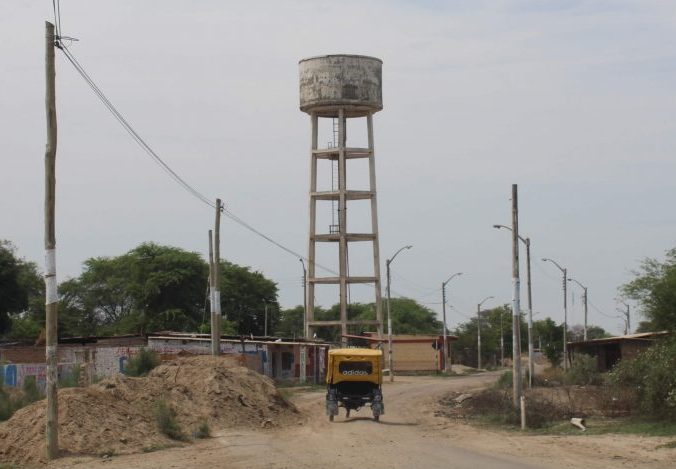 In any other situation, and with the means we're used to working with every day, the problem would have been solved simply by carrying out a procedure that any health and safety technician and construction team would be familiar with, no big deal. However, that wasn't the situation then. We didn't even have the usual resources: the budget was minimal, and the staff there had never had to deal with those sorts of problems. So we stopped, thought about it, took ourselves back in time, and got creative to find a solution.
I don't want to bore you anymore with the details of the project and the solution. Rather, I want to reflect on just one problem, an easy one. Depending on the how and where the solution is different at different times, you have to be creative to get to it.
So, responding to the questions I posed before, I do believe that, yes, in most situation, we're letting ourselves get carried away by trends instead of needs. It is possible to implement anything anywhere, but not in the same way. To that end, we have to stop and think, get out of our comfort zone and away from what we know, and see the best way to implement it with the conditions or resources available at different times.
That makes me wonder… Are we really so advanced in health and safety that we can look toward a future proposed by the ILO, one that still isn't entirely decided, or is the future of this field a combination of continuing efforts and activities started in the last few years in order to address still-unresolved problems one step at a time with the means currently at our disposal, gradually and consistently incorporating new technologies a little bit at a time?
Today is a good day to consider that.