Climate change
The 'El Niño' you don't know
It is said that it was some fisherman from the port of Paita in Piura who started using the term "corriente del Niño" (the Child's current) to refer to the phenomenon when hot water flowed in from the north, pushing the normally cold water in the Peruvian sea. This phenomenon, which normally appears during the month of December, was initially associated with Christmas time, with the arrival of baby Jesus.
This anecdote that coined the name El Niño, related to the abundance of artisanal fishing for large species, also coincides with the start of summer and high temperatures on the coast, and the arrival of the rainy season and the sowing season in the mountains. As the years went by, it would take on a diametrically opposed meaning.
Around the middle of the last century, North American investigators postulated that El Niño is, in fact, a phenomenon related to the rising temperatures of the sea and atmosphere, which follows a cyclical climatic pattern covering the entire Pacific region and affects Southeast Asia, Australia, and South America. El Niño Southern Oscillation, or ENSO, appears periodically, every 2 and 7 years. Eventually, the temperature of the Peruvian sea, which at its normal state fluctuates between 13°C and 17°C, reaches up to 28°C and 29°C. This unleashes a series of natural events that result in disasters.
Peru's recent history shows disastrous Niños in 1972 and 1973, 1982 and 1983, 1997 and 1998, and the most recent one dubbed coastal, between January and April of 2017. So, today when we refer to the El Niño phenomenon, it is directly associated with torrential rains, overflowing rivers, floods, landslides, earthquakes, destroyed infrastructure, isolated populations, interrupted public services, declines in the fishing and agricultural sectors, loss of basic necessities, and loss of life.
Rituals to stop El Niño
Nevertheless, El Niño is not a recent phenomenon. An archaeological discovery reported by National Geographic a few meters from Huanchaco Beach in Trujillo, La Libertad, suggests that the Chimú culture, which inhabited northern Peru in pre-Incan times (1400 and 1450 years A.D.) was devastated by an unusually massive episode of El Niño.
The finding involves the remains of 140 children between the ages of 5 and 14 and 200 llamas under nine months old that were used in a procession from the Citadel of Chan Chan to be sacrificed as an offering to "the Gods" to prevent the torrential rains. That is according to Gabriel Prieto, Peruvian Professor of Archaeology at the National University of Trujillo and head of the research project. He bases his hypothesis on the position the children were found in, looking toward the sea.
Is El Niño a result of climate change?
But how does El Niño relate to climate change? It is undeniable that human activity has made huge advancements In the 20th and 21st centuries, and the Industrial Age and modern ways of life bring with them greenhouse gas emissions such as water vapor, carbon dioxide, methane, nitrogen dioxide, and ozone.
Greenhouse gases condense on the surface of the Earth and cause an increase in environmental temperature that affects soil, sea, and air. It is calculated that if these gases were not emitted, the average temperature on the surface of the earth would be -18°C, not the current average of 15°C. This environmental temperature increase, known as climate change, increases the likelihood of highly damaging effects from El Niño for humanity, as the Moches of ancient Peru surely found out firsthand. Just seeing the magnitude of the coastal El Niño from two years ago is enough to be aware of what nature is capable of.
The north of the country was heavily impacted, but not just the north. Close to Lima, in Lurín, there were earthquakes that etched unbelievable images into our mind's eye. A woman being dragged by a mass of mud who, either by luck or fate, managed to escape death on her own. Her name is Evangelina, and she became a symbol of resilience and a witness to the need for a culture of prevention and respect for the environment.
The coastal El Niño left catastrophic figures in its wake all over the country. 162 people perished, 500 wounded, 19 disappeared, 285,955 injured, and 1,559,487 affected. 66,093 homes destroyed and another 371,370 affected. 354 educational institutions and 64 health facilities rendered useless. 4,000 kilometers of country roads and 4,391 kilometers of highway lost, 489 collapsed bridges. 50,514 plots with crops leveled, and 22,674 watering canals destroyed, paralyzing fishing.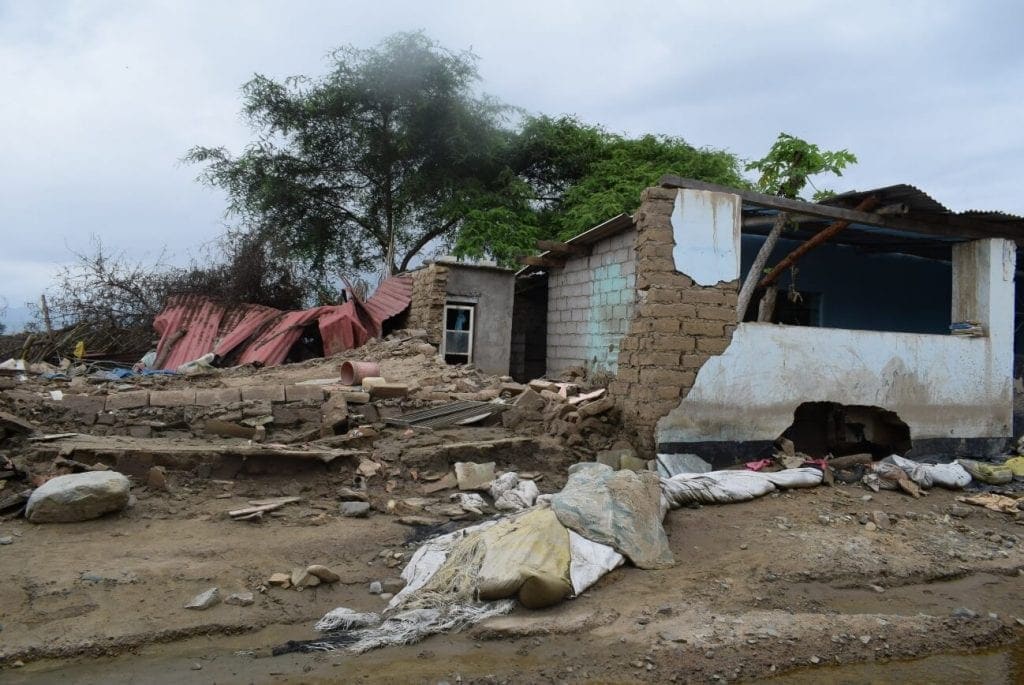 But the voices of the victims echo further than these figures. Don Asunción Quintana, a resident of Cura Mori, who works in lemon farming, bitterly remembers how his entire investment was literally swept away by water that summer: "The plants were halfway covered with water. Even now, a year and a half later, I've only sold 20 soles of lemons. I always remember that and say, 20 soles, for losing over 30 thousand, 40 thousand soles. And not just me, a lot of people". 
600 kilometers to the south, in La Libertad, Gina Saravia tells of the pain of her loss. "The landslide that came was three meters deep, where my son just thought it was a little deep and he disappeared. I saw my son die, and I cannot get over that."
Along with disaster came hope. For Peruvians, it is impossible to forget actions like that of the man who went out in an inflatable raft shaped like a unicorn to rescue people who were trapped in the water. Or the response from a handful of supportive people who organized to offer help and give a hand to whoever needed it.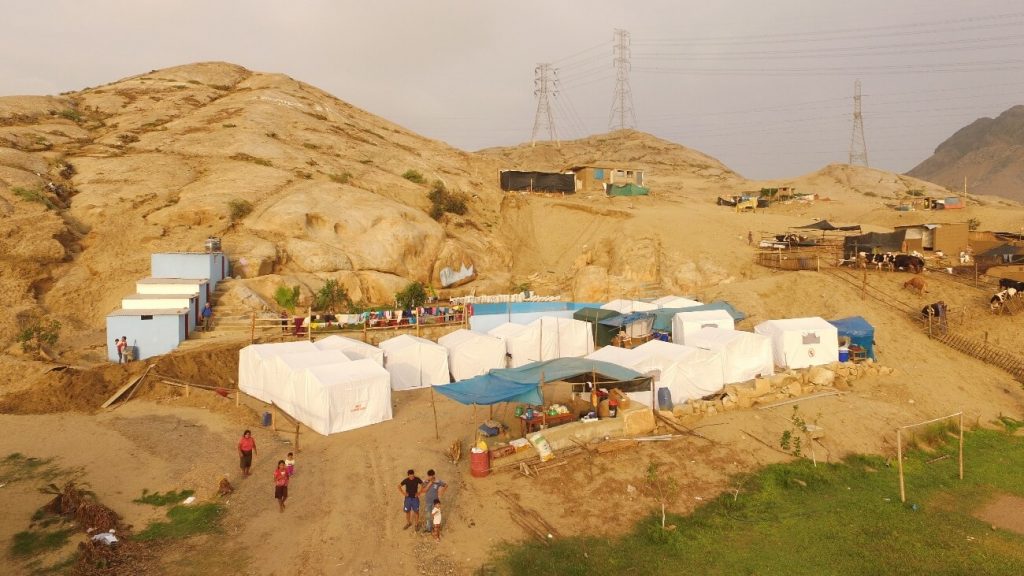 Those of us at the Ayuda en Acción Foundation, working with the Sustainable Development Goals and in compliance with our humanitarian aid mandate, were there in the La Quinta La Gloria hostel, in La Libertad and at the hostel at km. 980 in Cura Mori, Piura. We went in an aid vehicle, carrying kits with food, drinkable water, and cleaning supplies. We delivered 107 temporary housing modules and 182 sanitation units, and we offered workshops on emotional support for children. We subsequently kept working so that thousands of families can improve their quality of life and their economies.
The specific project with Ferrovial in Chato Chico and Chato Grande will benefit more than one thousand residents in Cura Mori. This alliance will enable getting potable water to communities repeatedly hit by the floods, among other benefits.
We are also implementing a project for recovering basic necessities and dynamizing the Cura Mori economy with financial support from the European Union. We are still not tired of saying #WeAreAyuda. A lot's been done, and there's a lot left to do!