There is no question that technology is changing the way we behave and this transformation affects every level of our society, from the way we move and relate to each other to the way in which goods and services are produced. An undeniable aspect of this transformation is the development from a classic economic system towards a person-centric collaborative economy.
The energy sector, which includes energy efficiency, is not immune to this transformation. In fact, it is one of the areas experiencing the most disruptive changes. All this change was made even more acute by the Paris Agreement, signed in 2015. The Agreement heralded the start of a journey involving deep-rooted transformation from conventional models to models that are highly technologically advanced. For this purpose, the European Union availed itself of a broad legal framework with a view to staying at the forefront of change, with very ambitious targets for reducing greenhouse gas emissions by 2030. At least 32% of final energy consumption must be renewable by 2030, and energy efficiency must improve by at least 32.5% by then.
All of this effort in technological transformation and innovation paves the way for using new tools applied to energy, such as digital simulation of models, Big Data, artificial intelligence (AI), information technologies (IT), the Internet of Things (IoT) or robotics.
Major digital trends in the energy sector
Digital simulation: In 1968, the film 2001: a Space Odyssey gave audiences a glimpse of future in which astronauts interacted with a super-computer (HAL 9000) able to monitor the space ship and manage its operation. Almost half a century later, reality has caught up with the world envisioned by Stanley Kubrick and Arthur C. Clarke, since one of the main technological trends to have emerged in the last few years has been the creation of digital twins. This technology enables boilers, coolers and in general devices that consume energy to understand themselves and interact with their operators and managers through natural language. This ground-breaking technology will be vital in the emergence and development of new, highly energy-efficient facilities.
Broadly speaking, the commitment to this technology involves no more than the generation of a virtual replica of a product, service or process that simulates the behavior of its physical peer, in order to monitor it, analyze its reaction to certain situations and enhance its performance and efficacy, saving energy and slashing greenhouse gas emissions along the way.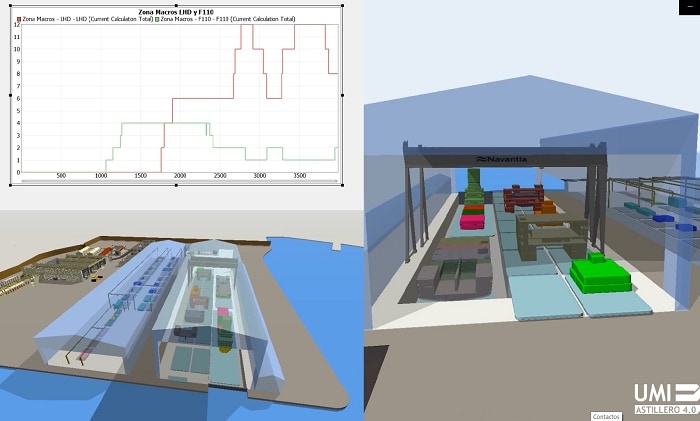 At present, the development of Big Data, the Internet of Things, cloud computing and easy access to these technologies has enabled the spread of digital twins to all kinds of energy-consuming and energy-generating facilities.
Put succinctly, to be able to operate one of these systems, it is necessary to have devices able to compile the information generated by the various components of the physical item. To do this, other tools must be installed and equipped with sensors to harness data relating to the status of the process, product or service in real time. Secondly, these items that compile information must be connected to a cloud-based system that receives and manages all the information obtained, and compares it with other contextual parameters. After that, the process, product or service can be generated virtually and any changes tested, only physically implementing them once their success in the digital environment has been verified.
The main advantages of these applications, from the energy and environmental standpoint, are:
To optimize the energy level of all processes and equipment, maximizing savings and minimizing CO2
To detect deviations in the nominal operation of equipment, with a view to anticipating and avoiding unwanted overconsumption.
To detect problems early and resolve them more expediently, warning of any future fault, incidence or anomaly in the equipment's interactive operation. The equipment would even be able to operate autonomously, as it is possible to analyze a situation, propose optimized solutions and put them in place.
Big Data: With a view to maximizing efficiency at all levels and minimizing environmental damage, platforms are developed that act as systems' transversal axes and "brains". These tools take management to a whole new level, as they are capable of receiving and monitoring millions of items of data to underpin decision-making, applying predictive models so as to be able to stay one step ahead of citizens' needs.
A clear practical example of this are the integrated management platforms for smart cities, able to channel all the information obtained from citizens, sensors and systems running multiple services in the city so as to cross-process all the available data. This provides a holistic approach and adds value by implementing prediction and simulation tools.
Using these systems it is also possible to engage citizens in the entire management process, providing active communication channels to optimize coordination and efficiency in the provision of services.
Mass connectivity: Narrowband-IoT (NB-IoT): This is the first technology focusing on connecting to the network of devices that generate low-density data traffic and that have a long life cycle. Note that it is designed to broaden the future of IoT connectivity in a more secure and reliable way.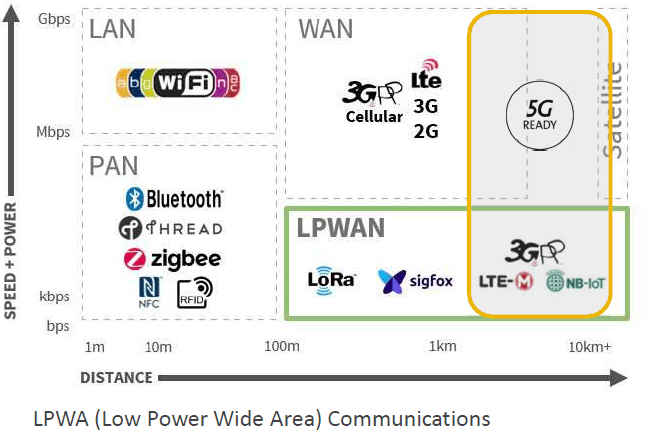 This technology was developed to enable efficient communications and high battery durability for mass-distributed devices, using the existing mobile network to connect all those objects.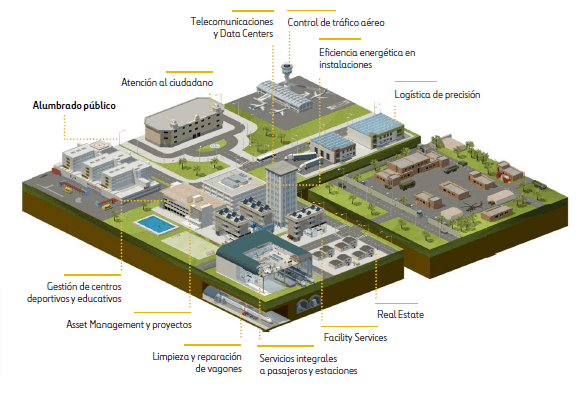 Examples of this kind of technology that companies like Ferrovial Services are fostering in a big way are its applications to street lighting. With more than 300,000 street lights, 30,000 controlled remotely, the connectivity options are infinite, generating a volume of information that enables system management to be optimized accurately. These systems can often achieve 60% savings compared to conventional lighting.
Another important aspect of these systems is that they offer the possibility of citizen interaction, offering a service with a very high degree of user satisfaction.
Artificial intelligence (AI): Along with Big Data, artificial intelligence has triggered an unprecedented technological leap. The use of this technology along with machine learning means it is now possible to more accurately predict patterns of consumption and operation, making adjustments between demand and generation extremely precise.
Some examples of how these tools are used:
The United Kingdom is using artificial intelligence and machine learning to help predict how much energy its wind turbines and solar panels will use in conditions of high wind or sunny weather. Improving weather forecasts will help to make the system more efficient, which ultimately means reducing CO2 emissions and shrinking consumers' bills.
Meanwhile, Google has revealed that, thanks to AI, it can predict the production of wind farms 36 hours in advance, enabling them to bid to inject energy into the grid earlier and at lower rates.
Batteries have not been left behind either, as scientists have observed how AI can more accurately predict how many cycles a battery might have (how many months or years before it starts degrading). A more accurate prediction of their life cycle might help to identify why some batteries fail earlier than others, forecast the those needed for a fleet of electric vehicles or optimize charging and discharging cycles of photovoltaic facilities isolated from the grid, for example.
In short, the technological transformation is unleashing a radical change in the way energy facilities are operated and managed, with the tendency towards focusing on people and the sustainability of the system. In a report published by Xynteo, European business leaders were asked what they felt European businesses could do to help build an inclusive, sustainable, regenerative, competitive growth model. The answer is: move beyond shareholder primacy towards a system in which society takes center-stage — other words, a system that works for everyone.