If you think increasing the number of lanes on a busy highway near the center of Washington D.C sounds difficult, try to imagine carrying out the work on a fully operational route with up to 200,000 vehicles whizzing past you every day, each traveling at an average speed of 68 miles per hour. Then add working through the night to tight deadlines, often in extreme weather conditions, and you'll get a sense of the daily challenges faced by the talented and tenacious team completing the Transform I-66 Outside the Beltway project.
Due to the size of the project, the work on the highway has been split into three segments, each of which has three sub-sections. As one of the Senior Project Managers, I am responsible for overseeing sub-section 2C and manage a team of nine people. My very ambitious and very competent Associate Project Manager, David Kennedy, joined the project just a couple of months after me in the summer of 2018, and at the genesis of construction. Our journey so far has been long and challenging, but it has also been joyous and satisfying to see the plans come to fruition and knowing the benefits the project will bring to the surrounding community and commuters beyond.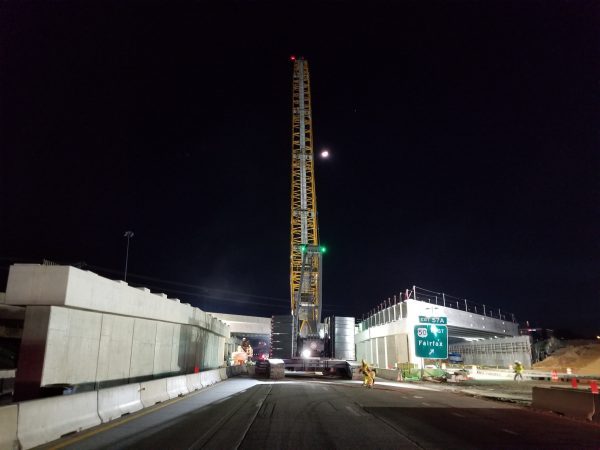 Why the work is worth it
With a completion date set for December 2022, the reconstructed highway will provide commuters with much needed improvements including reduced travelling times, increased road safety, sustainable travel options, new transit routes and revised bus services.
Today, drivers experience around 8-10 hours of congestion so the smart highway will also possess a variety of other technological enhancements, each specifically selected and designed to decrease traffic. This will mainly be achieved through the use of the Managed Lanes.
As with any major project, Transform I-66 is not without its trials and tribulations, a few of which I'll outline here, but it's also important to highlight the many positive aspects of my role.
Challenge 1: Straightforward project, complex process
It's not that the infrastructure we're constructing is anything unusual, nor does it have a particularly problematic design. Instead, its complexity lies in the program's sheer scale, number of symbiotic components and the critical relationships that must be constantly engaged if we are to ensure the whole project goes as smoothly as possible.
We're working in a densely populated area; the number of Washington, D.C. region inhabitants currently stands at just over 5,300,000. The 2020 Census indicated DC's population growth had almost tripled since 2010, an upward trend that is likely to continue. My team is also carrying out the Transform 66 scheme against the backdrop of an operational highway with live traffic in the heart of the American capital, so obviously, it's very high profile. In addition, like us, many external agencies have a vested interest in keeping a close eye on our progress and seeing that the project is not only completed successfully, but also on time.
One of our main objectives throughout this project has been keeping traffic disruption to a minimum. To do so we've worked very closely with Virginia's Department of Transportation (VDOT) to ensure that we're meeting meticulous standards and rigorous requirements, have secure measures in place to maintain public and construction staff safety at all times and only introduce lane closures when absolutely necessary, and wherever possible, only at night.
Located in a thriving area which is expanding rapidly, the I-66 corridor is surrounded by a vast number of on-going construction projects. This in itself has created further challenges for us, leading to a highly competitive marketplace in terms of materials and a marked reduction in available labor resources. To combat this, we've become much more self-sufficient taking on many more aspects of the project than we have done previously and carrying out the work 'in-house' where possible. Moving away from the traditional sub-contractor route has not only allowed us to take on new opportunities, but also expand our skillset, and doing so will enable us to develop further areas of expertise which can be utilized in future projects.
Challenge 2: Logistics of installing 175 feet long beams
As you would expect with such a colossal project, there has been and continue to be major logistical challenges. This was particularly evident when it came to beam delivery and installation. Due to their size, weight and length of up to 175 feet long, the beams we needed to expand the expressway were considered a super mega load. This meant that for every trip, we needed a specific permit and were only allowed to transport two beams per night. However, our incredible team kept the project on track, installing all 105 beams in just over two months.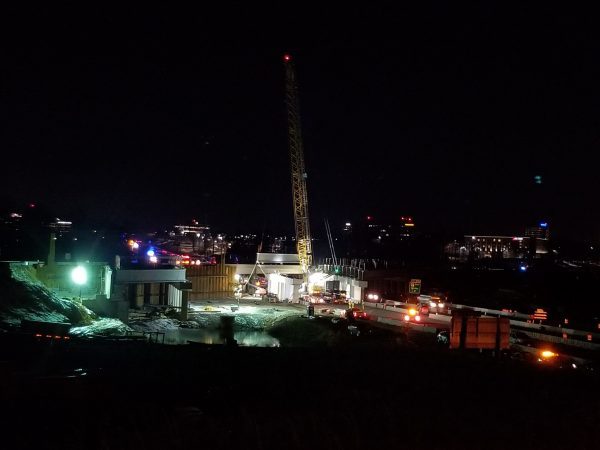 Unfortunately, this work also coincided with the coldest period of the winter, characterized by freezing conditions, well below average temperatures and constant media weather warning alerts. Despite this, the construction team ploughed on completing the task to meet the March 2021 deadline and I'm in awe of what they managed to achieve in such a short space of time. Working night after night in treacherous weather conditions, hovering 30 feet above ground level whilst battling the cold, wind and ice, their commitment, skill and dedication to getting the job finished was resolute. I'm incredibly proud of what they accomplished, and I cannot find the words to thank them enough!
Challenge 3: Nurturing relationships
Maintaining good working relationships with internal teams and external partners forms an integral part of what we do. It has been a truly collaborative project involving numerous agencies, companies and sub-contractors; so, we're negotiating with, communicating to, and updating many different stakeholders at every stage.
For example, for the beams alone we dealt with VDOT to manage the lane closures, beam suppliers to agree fabrication and shipment schedules, the Virginia Department of Motor Vehicles on the organization of all transportation permits, Webber for bridge construction, and our own Construction Technical Office which supported us when unexpected issues arose and arranged detour alteration approvals.
Numerous conversations with all of these groups and organizations were happening daily. Although we have now completed beam installation (phase 1), the list of people and organizations that need coordinating or consulting remains just as extensive as we move into phase 2.
The rewards: Real changes for real people
Though we of course do everything in our remit to minimize delays as we work on the highway, we totally understand some commuters and the surrounding community may sometimes get frustrated with lane closures and so on. Transform 66 could be likened to a thousand-piece jigsaw puzzle which motorist look at and wonder what on earth is going on! Then as everything comes together and all elements fit into place, they can see the complete picture.
It's hard to convey just how exciting being part of this journey has been. As sections of the highway reopen, the reduction in travelling times and benefits to the commuter are visible right away. This provides immediate and positive feedback for my team. I find it fascinating to be able to turn what was once a set of drawings into something tangible, watch as the physical landscape alters and notice how these new structures bring about real changes to the lives of real people. That's what makes this project so incredible, and the challenges all worthwhile.