For many of us, a highway is an essential tool that gets us from Point A to Point B. Some of us rely on it daily to make a living, or others use them to escape to far-away places. In either case, I'm sure most of the time we don't even think about how much easier highways make our lives.  
However, when there's an issue like an accident or debris in the road, our convenient tool turns into a parking lot. This is where my team comes in. In order to keep our drivers moving quickly and safely, my team works hard 24/7 to not only take care of issues when they arise but prevent them from happening in the first place. I-77 Express and the general-purpose lanes are comprised of 250 lane miles and, on any given day, thousands of cars are whizzing by at speeds of 70 mph all the while our staff is hard at work. Needless to say, this is not your average day job.  
Safety is Key
Building highways and roads is undoubtedly difficult, but maintaining them can also be difficult, time-consuming, and not to mention dangerous. Given the amount of work needed to get done, members of my team are out on the field at all hours of the day and night trimming trees, picking up litter and debris, landscaping, repairing signs, etc.- you name it, we're doing it! Now, if you've ever done yard work or attended a beach clean-up, you know how laborious and painstaking this type of work can be.  
In addition to the laborious aspects of the work, road maintenance can also be quite dangerous. Starting as a technician, I saw first-hand the dangers our road workers face day-to-day; for example, picking up sharp objects, being exposed to harsh chemicals, and of course constantly worrying about traffic. Now as the Daytime Maintenance Supervisor, I've gotten the opportunity to work with an incredibly innovative team that hasn't just made our work more efficient but has immensely improved the safety of our road workers. Here are some of the cool things my team has come up with: 
Essentially, a large truck with a sprayer on front and the herbicide container on the back, this machine allows our guys to spray weed-killer from the safety of inside the truck. Before the invention of the boom sprayer, a team member was either perched in the basket on the back of a truck or walking alongside the highway, and in both cases without any protection in the event of an accident. Now with the boom sprayer, our workers are safely inside a protective 'cocoon'. The boom sprayer also allows the user to control the pressure of the spray, minimizing the exposure to harsh chemicals. Not only is this new machine significantly safer for our workers, it also allows us to do in one night what used to take us 2 weeks!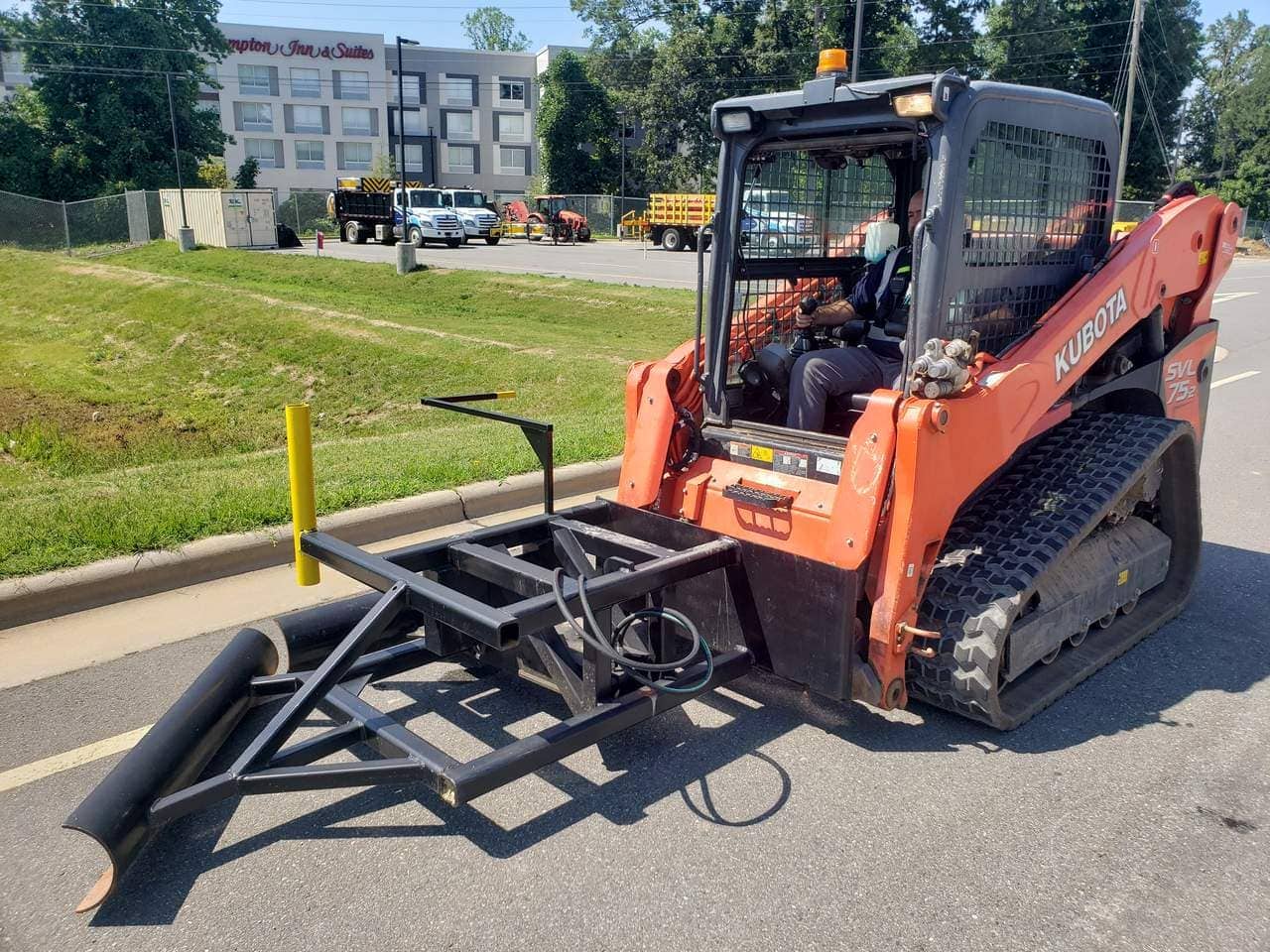 Rain collecting on the shoulder of a highway can be quite dangerous for drivers, so when it rains a lot, my team is out there on the shoulder removing the water. Before the invention of the shoulder cutter, this had to be done by hand with shovels. Our team would walk alongside the road clearing the shoulders and be completely exposed to the rain and traffic. With the invention of the shoulder cutter, the machine can quickly remove water from the shoulder at a significantly faster pace while our workers sit comfortably inside the vehicle- preventing both auto accidents and injuries to our workers.  
What's Next?
There's no question that the work our team does is difficult, but it's incredibly rewarding to drive along I-77 Express and see the beautiful North Carolina landscape and know that we have had a hand in maintaining its natural beauty.  
At the same time, we're always looking for ways to improve our work. As innovators, our team is constantly thinking up new ideas and trying to make our work safer and more efficient. In the last 10 years, I've seen great advancements in road maintenance tools and I'm sure the next 10 years will bring about even more impressive inventions as technology continues to advance. I'm not sure yet what our next project will be, but one thing's for sure, the safety of our drivers and workers is our top priority.