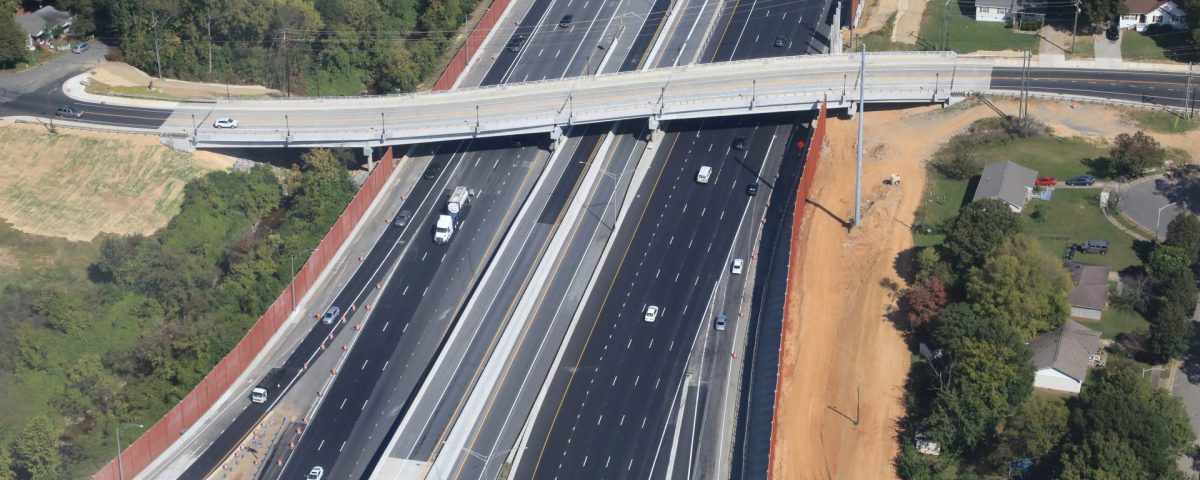 Since the full opening of the I-77 Express on November 16, 2019, more than 7.7 million trips have been taken on the Express lanes and that number continues to grow. The idea for the I-77 Express lanes started in 2007 with a study conducted by local and state officials. I joined the project in September 2014, about three months after the North Carolina Department of Transportation (NCDOT) and I-77 Mobility Partners signed a comprehensive agreement for a public-private partnership. This was unlike anything undertaken in North Carolina before as it was the first managed lanes project in the state and the first toll lanes in the Charlotte region.
26 miles of improvement
In my time as Director of Corporate Affairs I've been able to watch not only I-77 Express grow and develop but the communities and neighborhoods around it too. Back when I came to the project in 2014, I was employee number two. We had a big, new project and a lot to do. As with any large scale project we've gotten good at multitasking and luckily my background in television meant I was used to having to do a lot of things at once. Our project runs within the Charlotte, North Carolina region, running north south. It starts in one city, runs through four towns and incorporates two counties. It's the longest project of it's kind in the Cintra US portfolio so far at 26 miles.
Essentially I-77 Mobility Partners is the developer, and we finance, design, construct, operate and maintain the 26-mile I-77 Express corridor. We are the first-ever public-private partnership with NCDOT. For me it's been fun because before this I worked with the City of Charlotte on light rail where we were adding rapid transit for the first time to improve public transportation. So the move to I-77 Express felt natural for me going from introducing one large-scale infrastructure project to getting the opportunity to help bring a significant and sustainable roadway project to the region. Our business is about introducing positive change – we're not building for us, we're building for the future. It's fun to see a project from concept to reality in construction and then when it opens to the public. There are several functions in my area, from customer relations to government relations and marketing to branding but for me, it all comes back to stakeholder relations in the community.
How I-77 Express works
I-77 Express refers to the express lanes that run adjacent to the existing general purpose lanes that we also maintain. Drivers have the option of using the express lanes for quicker and more reliable travel times or they can use the general purpose lanes or a combination of both. The express lanes are divided into toll segments with eleven dedicated entrance and exit points and two direct connector ramps to safely guide you into and out of the lanes. The number of free general purpose lanes has stayed the same but we've made a few improvements so they can continue to be used for years to come. On behalf of NCDOT, we repurposed the general purpose lanes in the entire project corridor so no matter which lanes that you use, you have a smooth ride.
One very important part of the project and one we're incredibly proud of is job creation. As of September 2020 our figures stood at over 4,600 workers employed, 244 firms that worked on the project with 37 of those being Disadvantaged Business Enterprise (DBE) construction firms. There were also four DBE engineering firms.We exceeded our DBE goal by 204% with $121 million in DBE payments.
It's not only our workers and drivers who benefit
The best part of my job for me is community engagement. I help the community understand not just our lanes and how they work and who can benefit from them but to understand what else we can do for them. I'm going to take it just beyond construction and statistics for a minute and focus on the relationships we've been able to form with the neighborhoods not just this past year but over the years before we opened.
As our project approached uptown Charlotte the roadway needed to be widened a little bit in a confined area. This meant that all the utilities next to I-77 had to move to the east. That moving meant a neighborhood, which had a community garden the size of half a city block, also had to move. A whole half of that garden was going to be impacted, which could have been bad news for the community. We didn't want that so we worked with the state and the City of Charlotte to come up with a better plan than just plowing through. We were in luck. Beyond the garden there was some city-owned land that was not in use at the time so we worked with local authorities and made some arrangements. Then we went to the community and talked about our plan. We weren't going to take away half of their garden, we were going to reshape and improve the garden in a way that worked best for the community.
To improve the community garden we brought in a landscaping company who helped us redesign it. The pre-existing garden was a big square with basic amenities but now it's a bigger rectangular garden with a few great improvements. We refenced it and replaced one of the storage sheds. They had a couple of water pumps for hoses that we replaced and added three more to save residents having to run hoses so far. This is great as using the garden is now easier and safer than it was before. That was very impactful for the neighborhood but also the company as a whole. We're still working on upcoming projects with that neighbourhood and a few nearby. Our goal is to leave neighborhoods as good if not better than how we found them at the start of the project. I'm so glad that the community has welcomed us, even making me feel like a pseudo member and I'm thankful for them.
Other benefits to neighborhoods and drivers from our project include…
Updating and improving approximately 18 bridges – some were completely rebuilt, two of them were direct access bridges to the express lanes and five now include new pedestrian access with sidewalks, bike lanes and lighting.
We've installed over one million square feet of noise walls along the corridor to mitigate sound impacts from traffic.
Built a new pedestrian tunnel under I-77 in Huntersville for future connection of the Torrence Creek Greenway.
These are just some of the works for the community and surrounding neighbourhoods that come to mind. There are many more and many to come. We may be the experts in what we do, but the residents are experts in where they live. It's important to go out and have meetings and open dialogue to understand their concerns and needs. Social responsibility is so important and we, as industry leaders, need to be out there and see if we can make positive change and improvements working together with communities.
What's next?
It's been a tough year for all of us but we've had a lot of success here and we're looking forward to seeing everyone recover and grow again, not just businesses but communities. Great things have been done already but we're always looking for new ways to improve. For example, currently vehicles longer than 22 feet are not permitted in the lanes but this will change in mid-December in 2020. I-77 Mobility Partners is leading a 3-year pilot program in partnership with NCDOT that will allow all 2-axle vehicles to use I-77 Express, including vehicles pulling 1-axle trailers. This opens I-77 Express up to more businesses and more tradespeople in North Carolina and we're hoping it helps streamline that recovery we're all looking forward to together.
As someone who was here from the ground up (literally) I've seen this team work so hard to introduce this project to the community and understand how this was going to work for them and benefit them. Those years in construction and opening have been a blur! We know it's going to make a change for the community and a change for the better. To see that positive response after all of your hard work – all the team cheering when we saw those cars on the road for the first time last year and many more vehicles using it since – it's been an amazing journey and I'm looking forward to continuing it.