What was it like to be part of one of the most iconic concerts in the history of music? Take a second to imagine what it was like to feel the beat for "We Will Rock You" on Live Aid in 1984 or see Elton John at his Madison Square Garden concert in '74.
These are some of my favorites. Now, think about that concert you would die to attend or relive for a few moments. What a good exercise for today, International Rock Day, which falls right in the middle of the music festival season. Do you know the most iconic moments in music? Let's pay tribute to rock by taking a look at the infrastructures that made or are still making these moments of musical madness possible.
If one thing is clear, it's that hosting the greatest artists in the world requires huge facilities and areas that can accommodate all the people who are dying to see their favorite groups and singers.
Some of the most iconic places where the greatest musicians of each decade have played are well known to everyone: the Royal Albert Hall in London, the O2 Arena in London, the Gorge Amphitheatre, the Ohio Stadium, and Camp Nou in Barcelona.
Woodstock, the most legendary festival
Let's start with a festival – and not just any festival, but the most legendary one ever. Woodstock was announced as 3 days of music, peace, and love. The poster featured names like Jimmy Hendrix, Janis Joplin, Santana, The Who, and Grateful Dead. A 240-hectare farm in New York state hosted its 500,000 attendees. Initially conceived as a paying concert, the entrance became free when thousands of young people tore down the fences around the land. Woodstock was full of logistical problems from the start, as the space was designed for about 50,000 attendees.
The roads in New York state couldn't handle the crowds, leading to a line of cars stretching out 30 kilometers long. So Sweetwater, scheduled to play at 3 pm, started three hours later. This combined with other logistical problems, such as torrential rains, the lack of good wiring, and the total absence of security and supervision. But none of this could stop the festival from taking place. Woodstock was a crucial meeting point for a generation, and they knew it. Being there was what really mattered.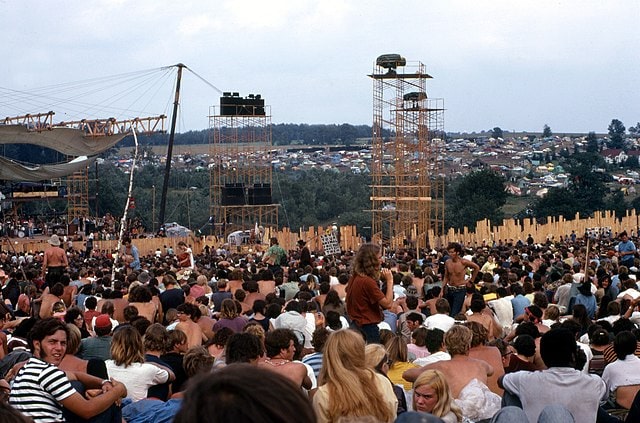 Live Aid, Queen's most iconic concert
This concert also went down in history as one of the most remembered ever. Live Aid consisted of two concerts held in July 1985 to raise funds to fight hunger in Ethiopia and Somalia. They were held at Wembley Stadium in London and John F. Kennedy Stadium in Philadelphia.
They both had an eye-catching poster. On the European side were David Bowie, Dire Straits, Elton John, Phil Collins, and of course, Queen. On the other side of the pond, there was Madonna,
Led Zeppelin, Santana, and Bob Dylan, to name a few. And we got Freddy Mercury's performance, along with guitarist Brian May. Together, they rocked the 74,000 spectators who crowded into the stadium. These 20 minutes went down in the history of rock at a concert where one of the most singular voices of the 20th century put on a real show.
U2 at Camp Nou, history for Barcelona
In 2009, the Irish group U2 visited Barcelona, Spain, to put on a two-hour concert for 90,000 people at Camp Nou. The stadium, which was renovated by Ferrovial, housed a complex set design with a revolving platform that let Bono get up close to the public.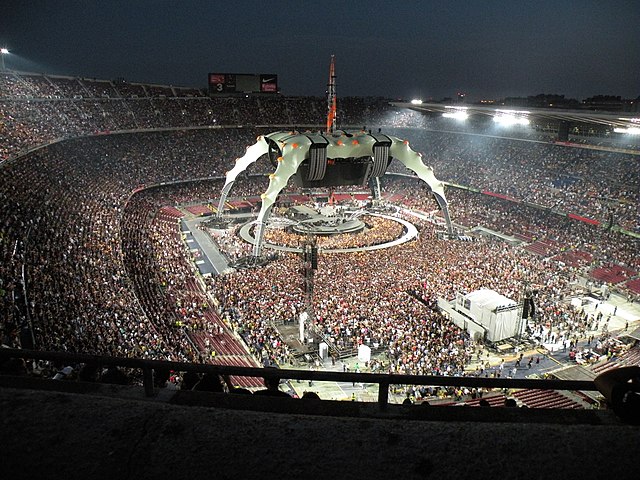 There was also a tribute to the king of pop, who died that year. Bono dedicated Angel of Harlem to Michael Jackson and mixed in verses from his songs "Man in the Mirror" and "Don't Stop 'til You Get Enough."
He even connected with the International Space Station as part of the show. It was definitely a night that went down in history for the Catalan city.
The Smashing Pumpkins playing the Guggenheim 
Chicago group The Smashing Pumpkins performed on the outer esplanade of the Guggenheim Museum in Bilbao, Spain, in 1998. As part of the presentation of their new album Adore, they offered an unforgettable spectacle in front of this incredible infrastructure. They were also the first band to use this area as a rock stage. 
Now, we're going from infrastructures to parks. Central Park in New York, Hyde Park in London, the Botanical Garden in Madrid, and the Tiergarten in Berlin are just a few of the parks that have been turned into musical venues. Then, there's Simon & Garfunkel in Central Park, playing to 500,000 fans in September 1981. Then there was the popular 1997 concert that Garth Brooks played for free, attended by 1 million people to pay tribute to Woodstock.
Concerts at other iconic sites
For music lovers, the list is endless. Stadiums, parks, and museums have all hosted concerts and made these musical moments a real experience. Some of the most iconic places in the world have also become stages for a few hours.
St. Mark's Square in Venice attracted thousands of Pink Floyd fans, the Roman Colosseum hosted Andrea Bocelli and Elton John, among many others, the Grateful Dead concert at the foot of the Giza sphinx in 1978, and even the Sistine Chapel hosted U2's guitarist for a few hours. Any place can be ideal for enjoying good music. Music fills and transforms spaces in a special way, turning infrastructure into a place that's full of art and magic. We just have to enjoy it as much as we can. Long live Rock and Roll!