Reflections on World Water Day: Sustainable Water Management and the Future of Growing Cities
As a civil engineer at PLW Waterworks, World Water Day allows me to reflect on the vital role of water in our lives and the importance of sustainable water management. Although thinking about water is quite literally my job, it's also important for all of us to take the opportunity to think about our water consumption and the critical need for sustainable consumption and production of water resources. This year's World Water Day theme, 'Accelerating Change,' emphasizes the need for immediate action to achieve Sustainable Development Goal 6 (SDG 6), which focuses on ensuring universal access to water and sanitation. Here at PLW Waterworks, we play an important role in the development of sustainable water management systems and technologies, and I'm incredibly proud to be a part of the team.
Originally from Brazil, I started working from a young age alongside my dad, who had his own engineering company. Even as a kid, I was constantly in awe of what engineers could do and their importance in providing societies with their most basic needs, such as water. I knew from this age that that's what I wanted to do when I grew up. After I graduated with my Bachelor's degree in Civil Engineering, I worked for almost 5 years in Brazil and then moved to the United States to pursue a Master's in Civil Engineering from Columbia University. I started working my journey with Ferrovial in Denver, Colorado in 2017 after I graduated. From then on, I started building infrastructure and instantly fell in love with it.
Eventually, I found my home here at PLW Waterworks (a division of Webber) in Austin, Texas where I've been working on two major water treatment plants since early last year, one in Georgetown and the other in Pflugerville. Texas has been named the fastest-growing state by the U.S. Census Bureau and is seeing a major influx of people in all of its major cities and their surrounding areas. Both Georgetown and Pflugerville are great examples of how PLW Waterworks is using innovative solutions to address Texas' growing population and the ever-increasing water shortages across the state. When these projects are concluded, the combined water capacity will increase to over 60 million gallons of water per day, giving the North Austin area the water it needs to support its growing population. 
Georgetown and the South Lake Water Treatment Plant
The City of Georgetown is a small, but rapidly growing city just north of Austin. It's currently home to a little over 75,000 residents, but just in the last year saw an increase of 5,000 people which is one of the largest percentages of growth in the country with no signs of slowing down. With growth like this, the demand for water continues to increase. In response to this demand, our team was called in to build a completely new plant on the south side of Lake Georgetown which would double the treatment capacity of water and support this rapidly expanding city.
Water Treatment Plant Expansion in Pflugerville
Pflugerville, a bit to the south of Georgetown but still in North Austin, is also a growing area that is seeing exponential population growth over the last few years. The city's current treatment plant wasn't going to be able to continue to meet the demand for water, so we're expanding the current plant and increasing the capacity from 17 million gallons per day (MGD) to 30 MGD, nearly doubling it as well. Due to the fact that we're expanding an existing and fulling functioning plant, the biggest challenge of this project is having the plant operating during the entire duration. To be successful in this, there has been a lot of coordination between PLW and the City of Pflugerville to avoid disturbances to the plant operation and at the same time to allow us to follow the project schedule. Both plants will be completed by 2026 and be able to sustain the rapid growth of these cities and their demands for water.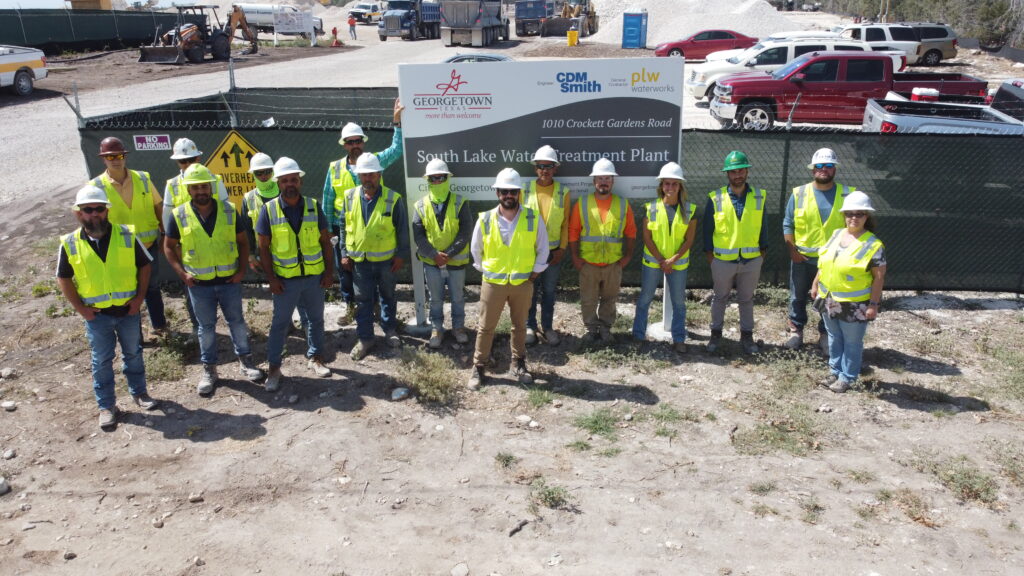 Water Management: A Critical Component of Sustainable Infrastructure
Finally, investing in sustainable infrastructure is critical for a sustainable city. The Michael Porter's 5 Forcers emphasize that available public infrastructure and how it shapes shape nations and competitiveness in all industries. Porter's Five Forces is a model that identifies and analyzes five competitive forces that shape every industry and helps determine an industry's weaknesses and strengths. Five Forces analysis is frequently used to identify an industry's structure to determine corporate strategy.
Transportation, communication, and energy infrastructure are good examples, but we must not overlook the critical role that water management systems play in creating a sustainable city. Innovative solutions and coordinated efforts between public and private entities, as demonstrated by the projects at PLW Waterworks, can help meet the growing demands for water in rapidly expanding cities. On this World Water Day, I can't help but be thankful for the opportunity to be a part of a team that is working hard to provide one of North Austin's most basic needs while also making it a great place to live.