Maria Beatriz Fuentes Castaños-Mollor
Equal parts architect and aid worker. After finishing my studies in architecture, I specialized in international cooperation, a sector where I've pursued most of my career to date. This profession has allowed me to travel and to come to know many different striking realities – the lights and shadows of the world. I am currently learning about new horizons thanks to Ferrovial.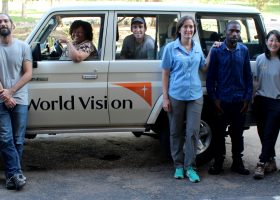 The vision of an aid worker that dominates our col...
Subscribe to our newsletter
Subscribe now and you will receive our top posts and keep up to date on the latest from our blog.
Utilizamos cookies propias y de terceros para posibilitar, personalizar y analizar la navegación, mejorando la calidad de los servicios. Haciendo click en el botón "Acepto todas las cookies", acepta su uso conforme a nuestra
política de cookies
. Puede cambiar sus preferencias tanto en su navegador como en el panel de gestión de cookies que aparece a continuación. Si desea más información, consulte la
Política de Cookies
.
Accept all cookies
Cookies settings