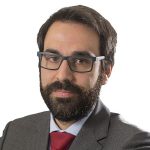 Javier Gómez
Project Manager of the Asset Management Department at Ferrovial Airports and Power Infrastructure, Javier is responsible for the management of the division's power transmission assets. Likewise, he is the General Manager of Transchile y Centella, two power transmission assets in Chile. Before joining Ferrovial, he was Project Manager of the Chilean affiliate Celeo Concessions and Investments, investment branch of the Spanish infrastructure group Elecnor. Javier began his professional career in 2008 at Iberdrola Engineering and Construction.
Subscribe to our newsletter
Subscribe now and you will receive our top posts and keep up to date on the latest from our blog.
Utilizamos cookies propias y de terceros para posibilitar, personalizar y analizar la navegación, mejorando la calidad de los servicios. Haciendo click en el botón "Acepto todas las cookies", acepta su uso conforme a nuestra
política de cookies
. Puede cambiar sus preferencias tanto en su navegador como en el panel de gestión de cookies que aparece a continuación. Si desea más información, consulte la
Política de Cookies
.
Accept all cookies
Cookies settings