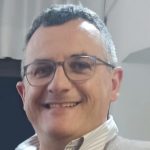 Jose Pedro Lopez Camus
I'm a civil engineer who brags about the beaches of my native Santander and its sea to the entire world. At Ferrovial, I discovered a profession that I'm passionate about: building. Since I started as an intern in 1995, this is where I've learned everything I hadn't already been taught at the University of Cantabria School of Civil Engineering in Santander. I've managed people and engineering projects, first in Spain and then for three years in Colombia as Section Director in the Ferrocol Santander Consortium, which is working on the Bucaramanga-Barrancabermeja-Yondó corridor for the Ruta del Cacao Concession. Colombia has been a new challenge where I've discovered how deeply-rooted values held at home, such as putting in the effort and striving for excellence, still manifest even in such a different environment. This is also a new opportunity to continue learning along with young engineers and to continue making friends and meeting colleagues around the world. Experiences and people always leave a deeper mark in our memories than projects. My family has always been my source of motivation, and I'd like to express my gratitude for them.
Subscribe to our newsletter
Subscribe now and you will receive our top posts and keep up to date on the latest from our blog.
We use first and third-party cookies, which are necessary for the website's correct functioning, and which allow us to analyse your browsing and offer you several functionalities within the website.
For further information, please check our
Cookies Policy
. In order to accept all the cookies, click ACCEPT ALL; in order to refuse them or change your settings, click COOKIES SETTINGS.
Privacy Overview
This website uses cookies to improve your experience while you navigate through the website. Out of these cookies, the cookies that are categorized as necessary are stored on your browser as they are essential for the working of basic functionalities of the website. We also use third-party cookies that help us analyze and understand how you use this website. These cookies will be stored in your browser only with your consent. You also have the option to opt-out of these cookies. But opting out of some of these cookies may have an effect on your browsing experience.
Inicia sesión
Para guardar tus lecturas y seguir en otro momento, necesitamos saber quién eres
Not registered yet?
Sign up
Enter your email address and we will send you an email to activate your profile
I'm already registered
¿Has olvidado tu contraseña?
Introduce la dirección de correo electrónico con la que te registraste para recuperarla.
¿Has olvidado tu contraseña?
Password changed
Aviso
No se ha podido cambiar su contraseña de acceso.
¿Has olvidado tu contraseña?
Please, check your email to get the confirmation link
Aviso
No hay ningún usuario registrado con esa dirección de correo electrónico.
Aviso
Este usuario no tiene permitido el restablecimiento de su contraseña.
Sign up
Check your email
Please, click on this link to get advantages of having a user account
Aviso
Ya estabas registrado con este correo electrónico
Aviso
Sorry we have had a problem completing your registration, please try again. .
Aviso
Lo sentimos, pero ese código de validación ya se ha usado en el registro de una cuenta de usuario.
Complete your registration info
¿Qué te interesa?