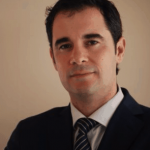 Sergio San Martín
Sergio San Martin is currently Data Analytics Manger in Ferrovial Services. He is a Degree in computer Engineer (UCM) has also completed an Executive Program in Big Data & Business Analytics at EOI Business Scholl.Sergio is seasoned business professional with experience in new ways to develop operational business and discover new market opportunities based on the intelligent use of information.
Subscribe to our newsletter
Subscribe now and you will receive our top posts and keep up to date on the latest from our blog.
Utilizamos cookies propias y de terceros para posibilitar, personalizar y analizar la navegación, mejorando la calidad de los servicios. Haciendo click en el botón "Acepto todas las cookies", acepta su uso conforme a nuestra
política de cookies
. Puede cambiar sus preferencias tanto en su navegador como en el panel de gestión de cookies que aparece a continuación. Si desea más información, consulte la
Política de Cookies
.
Accept all cookies
Cookies settings