Human resources
Carlos Pérez, volunteer in Peru: "When you live through this experience, you realise that the benefits go both ways…"
Carlos Pérez is a Technical Industrial Engineer working in the Rail and Transport Division, where he is currently Head of Production for the Castellbisbal-Martorell stretch of the Mediterranean route. Since joining Ferrovial in 2001, he has worked on different rail projects including infrastructures, superstructures, and provision of facilities and ancillary services.
For two weeks, however, he left behind his normal life to volunteer at the Alto Larán district in the Ica region of Peru. Today he talks to us of his stay there, and of how the benefits are mutual for both parties: community and volunteers.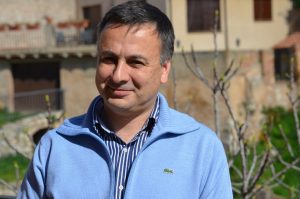 Carlos Pérez talks to us about his experience as a volunteer in Peru
What made you put yourself forward as a volunteer?
I wanted to give something to people in socially marginalised communities. It helped that I was at a time in my life where personal and professional circumstances allowed me to do this.
What was your actual contribution?
This development project was being delivered within the context of the implementation area, and in accordance with terms set out by the relevant authorities. In this case, the terms of reference for the project followed the guidelines of the municipal water company.
We arrived in the area at the implementation stage, so our work was focused on supporting the leading engineer at CESAL (Ferrovial's partner NGO for the project, and the organisation that looked after us) to meet the required quality standards.
In addition to this, and together with the rest of the volunteers, we worked on improving the water systems within the family homes. Some of the houses had no water facilities; in others the condition of such facilities was very poor. Our contribution was to improve the design (network, setting up of the washing facilities included in the project, external boxes and metres, etc.).
What was for you the highlight of the trip? 
Personally, I would say this was the sense of appreciation we volunteers felt from the families in all the different villages, including the mayoress. At the end of our stay, the families themselves organised a dinner for us in the community centre.
What would you say to encourage others to volunteer?
It gives you the opportunity to support the development of disadvantaged areas and the people that live there. When you actually live through an experience like this, you realise that the "benefits" go both ways: you not only give, you get a lot back in return. I am truly grateful for this experience, and for having had the opportunity to live within the communnity of Alto Larán.
Find out more about Ferrovial's Corporate Social Responsibility projects