There are a lot of good things about living in Madrid. One is the northern mountain range where I often go to spend the day or go mountain biking. Working on pavement and biking is a good combination. Even with a mountain bike, it is always necessary to go along paved paths to avoid impossible trails or muddy paths. And since you go back over time, you keep on innately analyzing it, focusing on each detail, like the roadway and how the previous season affected the path.
Vaya día ??‍♂️camino Cercedilla? pic.twitter.com/JXoyv14aUx

— José Javier García (@jjavier_garciap) 8 de abril de 2018
For years, I noticed how, after it snowed and there were salt treatments on the highways and streets, at dawn they would be covered with aggregate (the small rocks in pavement, along with the bitumen that glues it together). That is, the effect of the water and the salt partially strips the layer of asphalt where we travel.
.@ferrovial @ferroser @BudimexSA #ditecpesa in the XVth International Winter Road Congress https://t.co/iCuuXwKduF ?️?❄️☔️? 22th Feb 11am https://t.co/tUySurb2nO pic.twitter.com/6xdjhJfC2K

— José Javier García (@jjavier_garciap) 17 de enero de 2018
When you think about it, it is logical in terms of chemistry. We actually make highways with two elements that do not have much affinity a priori, even though we are capable of resolving this. Bitumen and aggregate, the first of an organic nature and the second inorganic – in a rather distant metaphor, it would be like mixing oil and water. Then, how have we gotten a good mixture over the past century? The key is simple: in the process of mixing aggregate and bitumen, we add a high amount of thermal and mechanical energy.
Aggregate and bitumen come into contact around 160ºC, and this makes bitumen have the viscosity of water, and the temperature of the combination facilitates the perfect mixture accompanied by a mixer with metallic blades of large dimensions, as shown in the photo below.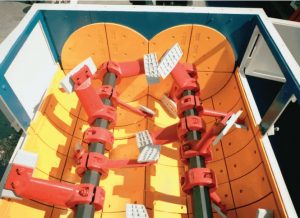 But in the end, even though we may have achieved a perfect conglomerate, the lack of aggregate- bitumen affinity is always latent, and when extreme conditions appear, above all in winter, the physical union that we have created between aggregate and binder may be dissolved.
At FERROVIAL, as chairpersons and owners of many roadways, we started to work on the chemical assault that ice, snow, and salt (whose combination is an oxidant electrolyte) unleash on pavement 3 years ago. We started to research the reality of roadways, and all the sources we consulted confirmed that, after heavy winter seasons, with these compounds the roadway effectively has noticeably deteriorated, and in spring/summer, it is necessary to replace stretches of roadways that are not that old.
Within FERROVIAL, in the sector specializing in bitumen (DITECPESA, S.A.), we started to think that we could, with a small amount of chemical modification, make improvements on the union between aggregate and bitumen, so, in addition to the physical union, the chemical union could become significantly stronger. We thought about all the usual solutions: polymers, surfactants… but they did not give us much. Finally, we thought about nanotechnology, with which, if we managed to get a good compound, we could have a large effect with a small amount. During the first year, we lost count of how many tests we did. There was a moment when we felt like Thomas Edison, knowing the many ways not to get it right, just as he said with the lightbulb. Of course, we are not at the same level as him, but the feeling was the same.
.@ferrovial #ditecpesa @ArgusMedia Europe Bitumen Lisbon 15th June explain+show effect water+salt normal bitumen vs extreme climate bitumen pic.twitter.com/GtpKNfAoIL

— José Javier García (@jjavier_garciap) 13 de junio de 2017
After a lot of effort, we presented the first bitumen in the world geared toward this problem. "Bitumen for Extreme Climates, BEC," was in the Argus Europe Bitumen, Lisbon, May 2017, and the XVth International Winter Road Congress, Gdansk, February 2018.
Multiple construction projects have been completed, the most important being the freeway between Madrid and Barcelona on the Calatayud-Alfajarín stretch, where the lab results have been very good, and additionally, after a very harsh winter season this year, it is confirmed by the actual roadway that the stretches made with Bitumen for Extreme Climates are in better conditions than other controls made at the same time with conventional bitumen.
Innovating is exhilarating, and since then we have taken a path to improvements beyond the initial objective, solving new problems and facing new situations. Sometimes, I say that innovation is evolutionary, and, like a tree branch, you start to grow in one direction, but along the way you keep seeing new opportunities and keep branching out. It is important to go in the right direction, like the branches that grow towards the sun.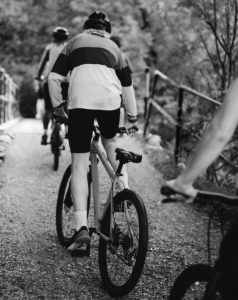 And in the end, there is a little bit of the butterfly effect. Biking brings about research to improve bitumen through nanotechnology, ending up with the most original Bitumen for Extreme Climates, designed for this problem in the world.