Communication is the process through which two or more people effectively transmit information.
For communication to be effective, the person transmitting information must be capable of doing so in the best way possible in order to have the maximum impact on the listener (assertiveness). In addition, the receiver must be open to receiving information and understanding it (empathy).
A good communicator develops their assertiveness by practicing their abilities so that they are understood by the other party. The use of language adapted to an audience, verbal and non-verbal manners of communicating, voice tone and speed, and the ability to connect with listeners are the fundamental bases to for getting listeners to be more open to hearing the message.
We have so many daily examples of people that can hear but are not listening ("and don't be thinking about what you're going to say, rather than finding out what the other person is saying" Rafael del Pino – Manual against Waste). They wait their turn to give their opinion, but they are not capable of listening to others' opinions. They simply convey their vision, thinking that it is the most appropriate one, but they do not strive to understand others.
For communication to be effective, it is necessary to get the listener to listen actively, that is, to get them to understand the message.
The message is just as important as how it is delivered.
Often, we are not capable of using the right words adapted to our audience, and messages can be misinterpreted and give rise to problematic situations. When we are communicating information, we must make sure that the audience is receiving precisely what we want to communicate.
The fundamental part of a presentation is the audience, not the speaker. To make the message effective, the speaker must analyze and understand the audience members' characteristics, needs, and what they hope to gain by attending. The audience's respect and the message's credibility are determining factors in achieving successful communication.
Human beings are accustomed to storytelling. Stories are always remembered, and they get the listener to put themselves in the speaker's place (empathy). For this reason, communication through examples and experiences improves the reception of messages. Stories convey emotions, and emotions reach people. People will forget what you said and how you said it, but they will never forget what you made them feel.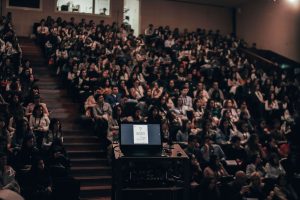 One is not born a good communicator but becomes one, and so it is very important to understand what constitutes the communicative process, analyze our abilities and our shortcomings, and strengthen them through training and practice. To communicate effectively, one must practice continually. Nowadays, there are numerous tools to help us practice and develop our communication skills in a personalized way.
Using technology in training
Over the course of six weeks, I had the opportunity to participate in a pilot project launched by Human Resources Management in order to improve my public speaking skills, making use of the abilities that technology offers.
The project was done using a mobile app, complemented with immersive virtual reality glasses that let you feel like you are in a virtual space, where you face up to 24 different scenarios.
It was my first experience with virtual training, and I have to admit that, when I first put on the glasses, I found it rather unsettling and strange to hear myself speaking alone in a room where only virtual people were present.  While I was giving my first presentation, I hoped no one would enter the room and ask themselves what could possibly be happening with me speaking and gesturing by myself, and with these big glasses covering my face.
The immersion is very realistic, and from the first moment, you feel like you are part of the "virtual stage" where you sometimes talk about your project in small meetings, and other times you are speaking to auditoriums with more than 100 people.
Each of the eight course modules starts with a short theoretical introduction on aspects that should be taken into consideration to give a quality presentation. Afterward, you are given a topic and the length of the presentation to be prepared.
Once the message is ready to be given at an unknown virtual setting, we enter an anteroom where we receive information from some of the attendees. This helps us understand the profile of participants and what is expected from our presentation.
We cross the virtual threshold to the audience, our nerves on edge, and an unfamiliar scene appears. Sometimes, it is a small room with few participants. Other times, it is a wide auditorium full of people awaiting our first words.
From the moment you start your presentation, things start happening. Some of the people you are speaking do not seem interested in your message, and they disconnect to "play with their phones" or talk among themselves. Others, however, show profound empathy with you, nodding to the messages that you share with them.
During the presentations to larger groups, new people suddenly enter the room, and at other times some of those present leave the room. Sometimes, they do so silently, other times noisily, exposing the speaker to the stress of trying not to lose their train of thought.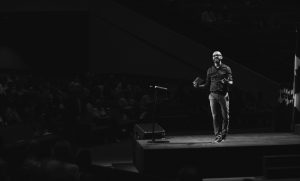 There are times when you hear conversations, applause, or moving furniture coming from nearby rooms or from outside…. In short, nothing that wouldn't happen in real life, which helps prepare you to stay concentrated and not lose the heart of the message you are conveying, in order to come to a successful conclusion.
In the virtual presentation, you can have previously incorporated supporting material that must be very simplified along general lines.
To get the most out of the tool, you have to prepare your presentation in depth and focus on how you are saying things and how you are connecting with your audience.
Once the presentation is over, you exit the room, and you leave your nerves and the virtual glasses behind. A few seconds later, you receive thorough feedback on your phone.
The app works with software based on artificial intelligence, and it objectively tells you how you expressed yourself and the clarity of your language, whether you had control over your nervousness, whether you used any filler words and how to avoid them, the modulation, tone, and speed of your voice, whether you connected with audience members, and how you managed the time you had.
In addition, you receive advice and recommendations for improving as you go through the subsequent practice sessions. As the course progresses, it lets you incorporate and strengthen skills until you reach an optimal level of exposure.
The app does not evaluate what you say, but rather how you say it. This technology helps improve communication skills and build your solid foundation directly and in a personalized way, which is necessary for being able to give high-level presentations in various situations. It has particularly helped me manage voice modulation as needed at each moment and improve connecting with audience members in very large auditoriums.