When it comes to traveling cross-country, there are a lot of things you will have to take care of. You will first need to prepare your car for a long-distance journey and familiarize yourself with the route you plan on taking. And you need to prepare yourself and any supplies that you might need during your journey. Now, while those preparations are necessary for a safe and smooth journey, they won't address one of the key elements. And that is how to pass the time while traveling. So, with that in mind, let's look at various ways in which you can make your trip a bit more interesting.
Pass the time while traveling
To better explain various ways in which to pass the time while traveling, we are going to separate them into two groups. Ways that you will use when traveling with friends, and ways that you will use when traveling with kids. Now, neither of those are set in stone and you should feel free to mix and match as you see fit. But, they should at least give you an idea of how to consider the time you will spend traveling and how to plan for it.
Audiobooks and podcasts
So, let's say that you are dealing with a simple relocation from one state to another and that you are journeying with a couple of friends. How should you prepare? Well, our advice is to first find some audiobooks or podcasts that all of you will like. Talk with your friends about your shared interests and find something that sounds fun. Podcasts and audiobooks are a great way to pass the time while traveling since they often provoke further discussion. And, while you can discuss everyday subjects with your friends, it's nice to have something to fall back on. Ideally, you want to save your audiobooks and podcasts for when the journey becomes quiet and you all start to feel a bit bored.
Listening to Music
Enjoying music is the most straightforward way to pass the time while traveling. But, since all of you will probably bring your own playlists on your phones, you don't have to deal with much preparation. All you need to do is ensure that your car speakers are working properly and that you have a phone charger at hand. Also, try to have a designated DJ who knows how to connect music with the mood in the car.
Stimulating conversation
Cross-country journeys are a great opportunity to connect with your friends. If a small group of you is traveling, you can and should opt for deeper conversations. Topics can range from religion to philosophy and even robotics. This, of course, should have a natural flow and you shouldn't push deep subjects if your friends are not up for it. But, if they are, feel free to put away the small talk and the music and to focus on something meaningful.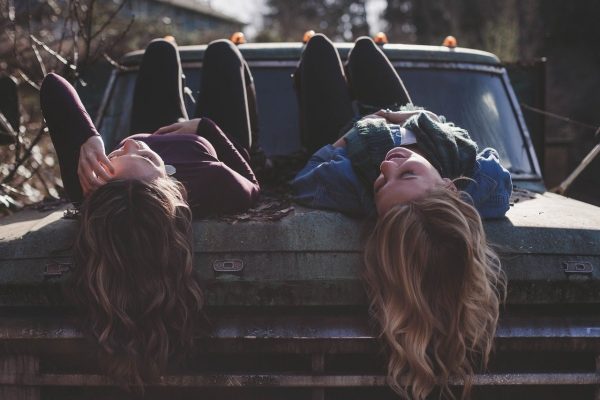 If you pass the time while traveling properly, the journey can be more enjoyable than the destination.
Traveling with kids
Ok, so the tips we laid out so far were related to going on a cross-country journey with friends. Now, if you are going to travel with kids, there are other methods that you should consider. After all, kids are not usually interested in meaningful conversations and long journeys tend to make them restless. So, in order to make your cross-country trip more manageable, you need to find ways to engage them.
Games
Video games are such a useful tool for traveling with kids that we wonder how people ever managed without them. Especially now where phones have better games than ever. So, for your next journey with kids, consider getting them a new phone game. Either look online for which ones are currently popular or check which oldie but goodie they haven't played yet. Mind you, your kids probably already know what they want to play. Therefore, simply asking them could be the safest route to take. But, keep in mind that some mobile games are great to play for the first 30 minutes. After that, they usually set up a paywall that you'll have to cash out for.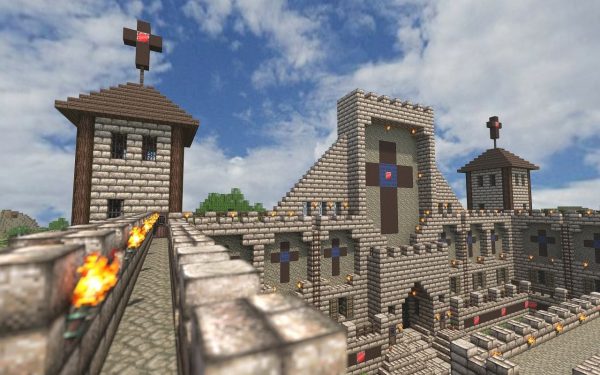 Minecraft is a tried and true game that you can get for your kids.
Furthermore, it will be a good idea to avoid competitive games. While competing online with other players is a lot of fun, it can leave kids frustrated once they lose. And the last thing you need is for your kid to get extra frustrated during your cross-country journey. So, what you are looking for is a fun construction game that your kids will have an easy time getting into.
TV shows and movies
TV shows and movies are another great way to pass the time while traveling. If you can set up your kids with a decent screen in the back seat, you can rest assured that they will remain quiet and content throughout the journey. Ideally, you want to find something new for them to check out. A long journey is a great opportunity for them to binge a series and really get into it. You can even use stops to discuss the series with them and help them pique their interest. But, as it is with games, the safest bet is usually to simply ask them what they would like to watch. You can even let them have direct control of the screen, but this can easily lead to conflict. So, ideally, you want to ask them what they want and play it for them.
Frequent stops
The final thing we would like to mention is to make frequent stops. Even though your kids will be quiet, watching a screen for a long time is not healthy. So, in order to keep them healthy, make frequent stops. Your journey will seem much shorter if you manage to cut it up into smaller bits.