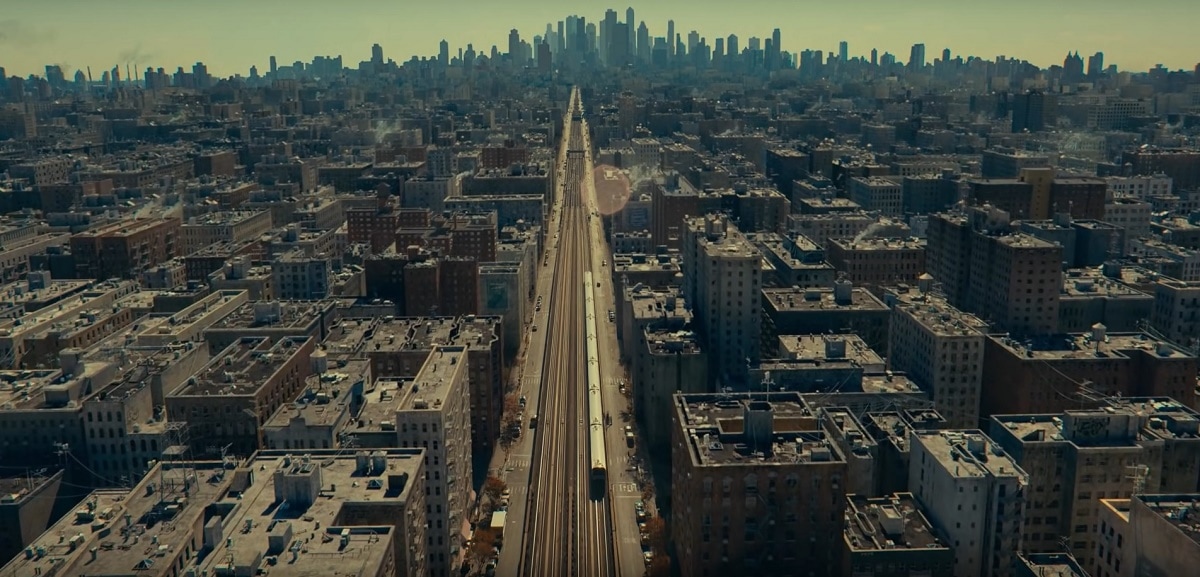 The Oscars is a social event that transcends cinema. Oscar-winning films are a reflection of reality, even when they step into the world of science fiction. Why is that?
These films rely on realistic, believable sets and infrastructures, which sometimes gives the film a definitive edge – and the votes to earn the prized statuette. We've analyzed the infrastructure of the winning films at the 2020 Oscars. No spoilers, of course.
Joker: how to build an oppressive Gotham
"All I have are negative thoughts," says Arthur Fleck during Joker. Played by Joaquin Phoenix, winner of the Oscar for Best Actor, Fleck is only half of the puzzle that forms this oppressive atmosphere. Gotham City (above) was never a bright or friendly city. But how do you make a city darker?
It is impossible, almost inappropriate, to spend just a few paragraphs on this iconic city, born in 1941 in the DC Comics universe. But in Joker, all of the details have been given the utmost attention, including making the buildings so high that sunlight can't touch the ground. How do you build a city that only generates negative thoughts?
Se ha hecho popular el hecho de que la película #Joker estuviera toda rodada sin usar pantallas croma. Lo cual es cierto. Pero eso no significa que no lleve trabajo de VFX digitales. Aquí un par de ejemplos de nuestro trabajo en este proyecto modificando escenarios.#VFZ #cine pic.twitter.com/ckMWzwf0zb

— Carolina Jiménez G. (@Okinfografia) January 30, 2020
From 2010 to 2014, MIT developed a program called Place Pulse to determine which cities we felt safest in. Joker makes use of all the elements that make us feel uneasy: the city doesn't have a single tree, the buildings are incredibly tall, the sidewalks are narrow and dirty, social interactions are scarce and strained, and everything is dilapidated.
The city is so suffocated that even people without problems seem to be lost, and streetlights don't brighten the environment. Instead, their rays seem to be lost early in an atmosphere so charged that the only thing they can offer is shadows.
The two urban worlds of Parasite
Bong Joon Ho's Parasite is the clear frontrunner at the Oscars. Best Film, Best International Film, Best Director, and Best Original Screenplay. However, the focus on the script and the characters makes us lose sight of the spot-on sets. Can a movie show social inequality through a building?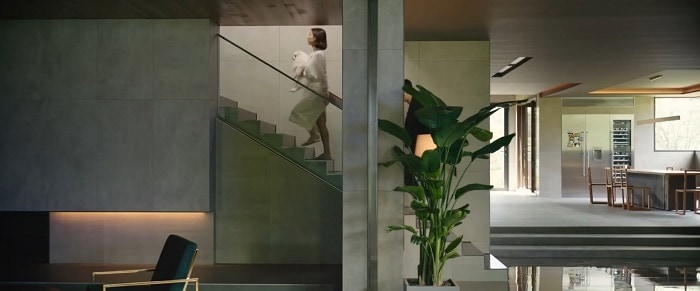 In the film, we meet two families, a poor one in the suburbs and a rich one in a secluded yet urban area, as well as a number of architectural features that are quite noticeable, such as the cables and wires crossing the sky (below). This overhead web of light and telephone cables is characteristic of the world's poorest neighborhoods, like favelas or slums.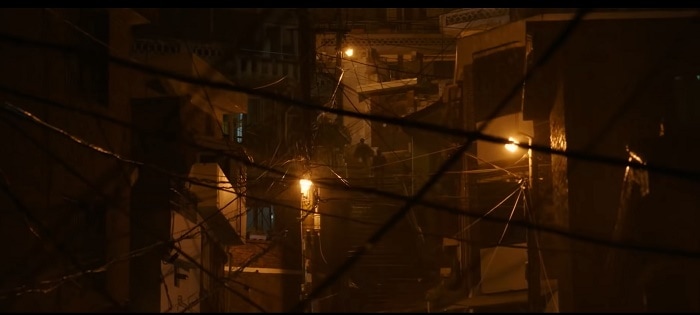 These appear in an unplanned housing development where houses are built on top of each other, unchecked. Light stands out for its absence, as do open spaces. On the other end of the architectural spectrum, the wealthy family lives in a spacious neighborhood with a garage for privates vehicles at the door, a tree-lined garden in their single-family home, and its vast, well-lit rooms.
Chaos versus calm. The cultural clash presented in Parasite goes beyond the mere capital accumulated by both families. The way that the urban environments are contrasted, and how inequalities between characters are shown, are clear and accurate: everything from the characters' food to their schedules and orderliness, yet with a focus on the housing projects that one of the two families can't escape. We are the city we live in, for better or worse.
The Irishman and Ford v Ferrari: rebuilding the past
Both The Irishman, set in Philadelphia from 1950 to 1975, and Ford v Ferrari, in the 1966 French commune, were great Oscar nominees – even though only Ford v Ferrari went home with a couple (best film editing and best sound editing). And what about the Oscar for best historical reenactment?
It's not easy to press rewind on a city and rebuild not only its streets, highways, and public characteristics. The Irishman features sets from Philadelphia and Detroit, but also interiors such as restaurants, bars, bowling alleys, and hotels, all built with exquisite attention to detail.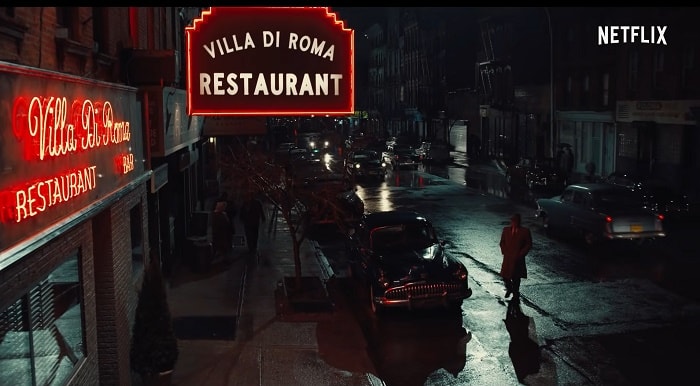 Something similar happens in Ford v Ferrari, with a focus on outdoor and industrial environments. In this film, we can see something particularly interesting with regard to construction and engineering: a fully-restored vehicle assembly line for what are today classic automobiles. At least as far as VFX and visual effects are concerned, of course.

Ford v Ferrari takes us back to a time and place where engineering had a vital role. The rivalry between Ferrari and Ford, and their respective engines, has played a part in the tug-of-war in many competitions for decades, with both of their countries of origin (Italy and the U.S.) being standards in the fight.
And the truth is that the film knows how to show the race between the two firms over the long haul. We saw similar reenactments in A Marriage Story, set in postwar America, and Once Upon a Time in Hollywood, which was praised for its precise depiction of Los Angeles in the 1960s.
1917: when infrastructure protects you from bullets
1917 took the Oscar for best photography, which was no surprise. The war film, set in World War I, takes place in northern France during the spring of 1917. Along the way, the protagonists go through quite a few infrastructures, perhaps not in the best conditions.
Abandoned bunkers, trenches, buildings about to collapse, cities left without roofs, factory courtyards, and even a wooden barn. Why is this interesting? Because almost all of these structures are hit, burned, or subjected to harsh conditions, and the realistic visual treatment of these conditions hits the nail on the head every time.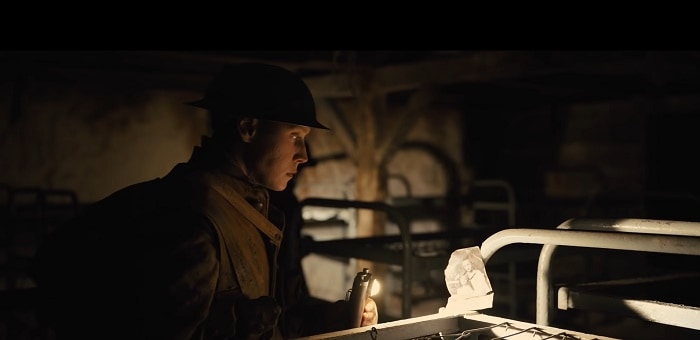 They perfect the way a roof caves in, the way a bunker burns and how its structure collapses, how a patio with porticos holds up when it's bombed, the way a bridge is deformed by gunfire, and even the way a barn burns.
The process of technical documentation must have been an arduous task, and the result is a believable film where steel is realistically bent and twisted by heat. Often, these details in movies go unnoticed: this is the sign that a lot of attention has gone into them.
Images: Youtube