Until recently, Isolina Acosta was selling fruit on the side of a highway in Santander Department in eastern Colombia. That was her livelihood for 25 years. She started her business informally, following her instinct and enthusiasm. She shared her workdays with other sellers from the rural environment; like her, they offered their products and services on the side of this road. This is also the case for Josefina Pinto González, as well as Robledo Charry and Flor Ángela Pico's husband and wife team.
Everyone saw their life take a turn when construction began on the Ruta del Cacao, Ferrovial's only concession in Colombia. At about 153 kilometers long with two lanes in each direction, the project aims to remodel part of the existing road and build a new one to improve traffic conditions in the region. This infrastructure will strengthen opportunities for economic development and bolster employment and the supply chain in eastern Colombia. At the moment, the first section of the new highway has already been delivered and is being reviewed by the National Infrastructure Agency, while the third section for which works are still being carried out is scheduled for delivery in July 2022.
Development Project for Productive Units
When work began in 2016, fear arose among those who had businesses stationed on the side of the road, seeing the only way of life they knew in danger. However, the start of renovations also brought the launch of the Development Project for Productive Units. This initiative resulted from joint work between the government, local administrations, and the concession.
This program, still underway, aims to work with those affected by construction on the Ruta del Cacao. Its goal is to search for and create new economic opportunities without being forced to separate themselves from their way of life or their community.
The Project, which directly impacts five municipalities in this region of Colombia, comprises several stages. The first consists of characterizing all productive units and recording the non-formal activities created along this route. The next step is to create a network for raising awareness to inform those affected of the changes that will occur with the widening of the road and invite them to share their proposals.
As the program is carried out, their skills and abilities will be strengthened through various training sessions. They will be the ones proposing their projects and receiving advice. Lastly, they will implement their formal business ideas with fixed assets and working capital. This will enable them to become service providers for their community, as well as contributing to its economic development.
A route lined with stories
As for Isolina Acosta, She stopped selling fruits and vegetables on the side of the road and remodeled her house to turn it into a beauty salon. Along with her daughter and son-in-law, she made a significant investment to set herself apart from the rest, and she's managed to establish a family business with permanent income.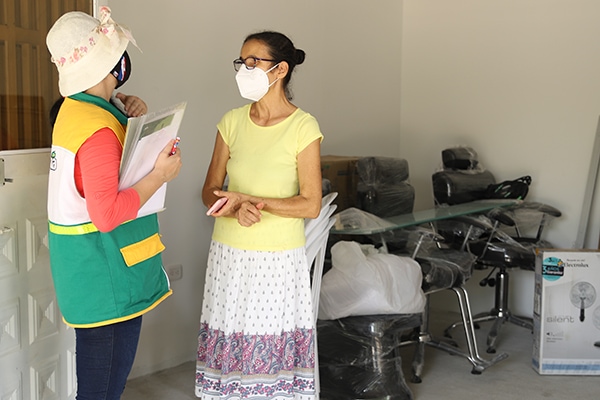 Isolina Acosta talking to a worker of the Development Project for Productive Units. 
Josefina Pinto, who is also a fruit seller, joined the program and decided to diversify her selection by purchasing laying hens and broiler chickens. The outcome has been decent work and improved quality of life.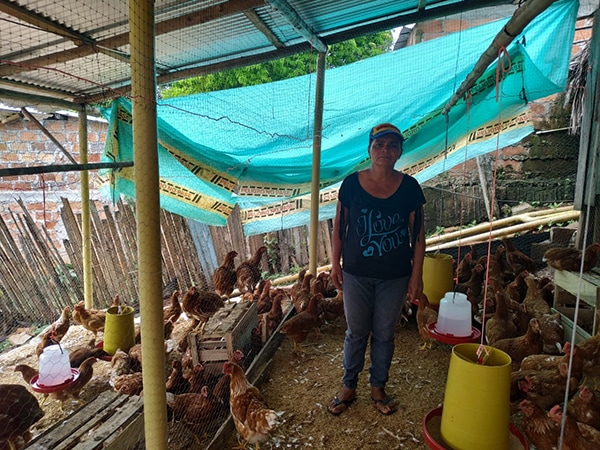 Josefina Pinto is the space dedicated laying hens. 
The husband and wife team, Robledo Cherry and Flor Ángela Pico, left their street vendor stall and set up a company where he offers transportation services for light cargo while she sells fish. These vendors have learned to work with administrative tools, run a business, and have a formal job.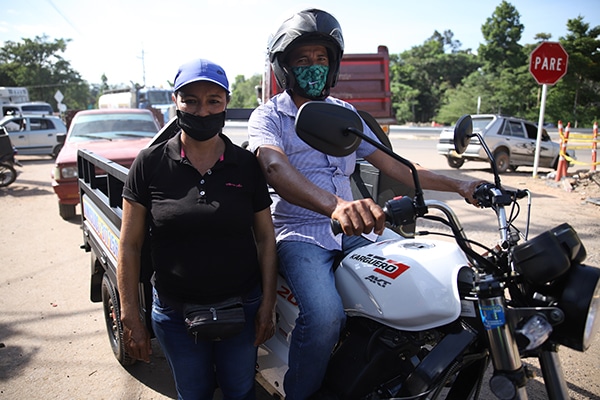 Robledo Cherry and Flor Ángela Pico posing with their cargo bike. 
To date, the program has helped develop 46 new micro-enterprises that are helping strengthen the social fabric in their surrounding areas and have generated two direct jobs. Most of the businesses are dedicated to supplying and selling products and services. The total investment was €103,400, €42,900 of which came from donations.
The first phase is completed, and the second phase is already underway. We estimate that around 40 families will benefit from it. This time, the businesses, which are also located near the Ruta del Cacao, will be oriented around proposals dedicated to leisure and turning it into a meeting place for the entire community.