Airports are ecosystems – lively, ceaseless and full of inventiveness. Here, a community of thousands comes together to connect people, economies and cultures with clockwork precision.
The ecosystem generates its own magical buzz. This is where adventures begin, emotions flow and opportunities become real. This is where you start the trip you've been planning for years, take a flight to close your biggest-ever deal or meet the grandchildren you've never yet seen. An airport is for joyful reunions and tearful goodbyes – for life lived to the full.
The world stays at home
COVID-19 forced the world into lockdown, grounded aircrafts and brought airports to a standstill. Hugs and kisses are exchanged for masks, sanitisers and distance keeping.     The magical buzz fell silent. For people like me who love the aviation industry, the silence hurts.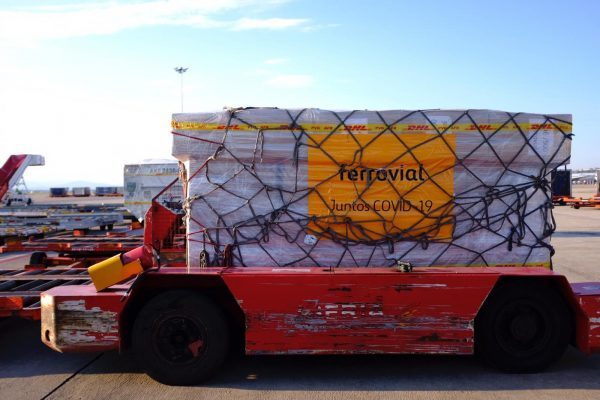 By mid-April 2020, international air traffic in Europe was down by 95 percent from its 2019 level. According to IATA, of the 88 million people whose livelihoods depend on aviation, more than half have lost or are at imminent risk of losing their jobs.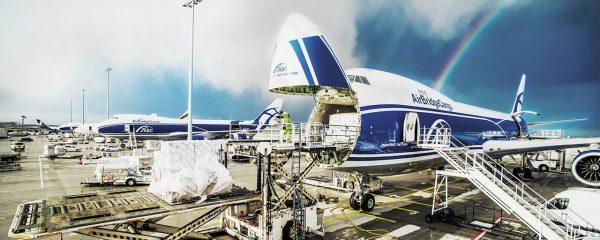 Heathrow Airport
Airports played a vital role during the pandemic. They remained open for essential services, such as repatriation flights, freight, air ambulances, or life-line services to remote communities & islands. Our airports maintained the flow of medical supplies, masks, PPE, respiratory fans, medicines, and, at long last, vaccines to stop the virus.
Making dreams sustainable
Aviation is a source for good. It plays a vital role in the social and economic development of the countries, regions and cities they serve. But decades of rapid growth have also led to a growing carbon footprint caused by greenhouse gases emissions, which cause climate change.
The growing understanding of aviation's impact on the environment and climate change has forced the industry to re-think how we do things.
Passenger perceptions and behaviours are changing too. The views of NGOs and activist organisations, such as the Scandinavian Flygskam (Flying Shame) movement, the Greta-Thunberg-inspired Fridays for Future and Friends of the Earth, are creating traction worldwide.
A sustainable road to recovery
Despite the standstill caused by the pandemic, the call for action on aviation's environmental & health impacts is louder than ever.
Recovery is dependent on the vaccine effectiveness, and the speed at which the population is vaccinated.  The sector is also heavily dependent on governments readiness to reopen borders and agree on robust confidence-driven international hygiene standards.
COVID-19 has tested the resilience of our business, people, operations, and our financial strength.  The industry acted quickly, make tough decisions. Protecting colleagues and passengers was and continues to be the main priority. But 2020 has also been a year of people restructuring, salary sacrifices, significant talent loss, cutting non-essential spending, and delaying or cancelling capital expenditure.
In an industry in a fight for survival, will the pandemic threaten global efforts to address climate change and the wider sustainability challenges?
I believe it's not an option. We have the opportunity to accelerate the changes required. Our challenge is to find the right balance – to invest and grow responsibly in sustainable solutions. A task of this magnitude cannot be faced in isolation. Everyone has a role to play—a partnership with government, business and the community must come together in a single voice for a common goal: a better world for all.
If we do the right thing, we can keep moving forward on our environmental agenda. By rethinking how we design, develop, and operate airports by embracing innovation, automation, and developing new technology and digitalisation, we will become stronger, greener, and more efficient, providing a seamless, touchless, safe and secure passenger journey.
Working together with the industry and Europe
Europe's aviation sector launched an ambitious plan to reach net zero CO2 emissions by 2050:  Destination 2050 – A Route to Net Zero European Aviation
Inspired by the Paris Agreement and the European Green Deal, the plan set the roadmap to reach net-zero CO2 emissions by 2050 through a mixture of measures that include, among others:
Continuous investment in the operation decarbonisation
Development of fuel-efficient aircrafts, hydrogen-powered and hybrid-electric aircrafts
Infrastructure to support new green technology.
Scale-up SAF (sustainable aviation fuel) production and uptake
Compensate remaining CO2 emissions by removing carbon dioxide from the atmosphere
The plan is the first ever that shows collective leadership by Europe's airlines, airports, aerospace manufacturers, and air navigation service committed to reducing CO2 emissions. The final objective is making leisure and business air travel in Europe, and globally, more sustainable and resilient.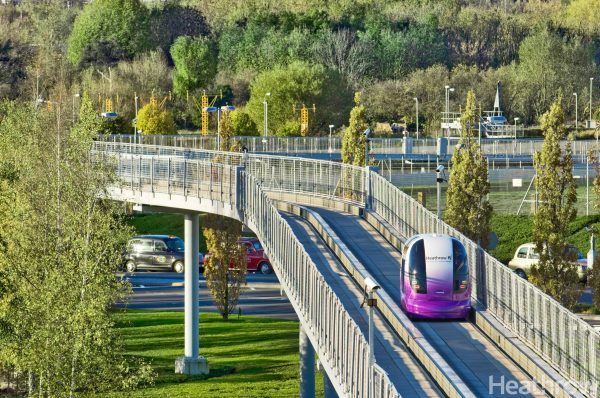 Heathrow Airport, Terminal 5 Personal Rapid Transport (PRT) vehicle.
Our Company's ambition
At Ferrovial and our airports, we continue to reduce carbon emissions of our operations. Our roadmap leads to complete decarbonisation by 2050. We also support and advocate on behalf of industry partners, work with governments and build partnerships to deliver sustainable solutions
We know we can do things better. Our goals and actions are measured, monitored, reviewed and submitted to independent evaluation to benchmarking against the industry and best practices.
We have been on the Dow Jones Sustainability Index for 19 consecutive years. We achieved the highest rate "A" in the CDP (Carbon Disclosure Project) for our commitment to the fight against climate change.
Our determination to measure the performance against environmental, social and governance (ESG) practices also won us places on the FTSE4Good (we were included for seventeenth year in a row); MSCI and Vigeo indexes.
Our airports at the forefront of airport sustainability
We continue to develop comprehensive programmes to reduce and offset its carbon emissions.  We are committed to being as green as possible, caring for the community, creating jobs and social welfare, investing in green energy, looking after biodiversity, and restricting CO2 emission. Our airports use 100% of renewable energy bought-in or generated onsite. We offer reduced landing fees for greener and cleaner aircraft.  Charging point for electric and hybrid vehicles are across the airside and landside area. To minimise noise pollution, we have a cap of night flights and provide noise-insulation schemes for eligible properties.
During 2020 we continued to move forward:
Heathrow, Glasgow and Southampton became carbon neutral.
GRESB recognised Glasgow as the best-performing airport within the benchmark. GRESB.com
Southampton was the first UK airport with LED lighting for runways, aircraft stands, terminal and car parks.
AGS airports were the first in the UK to test oxo-biodegradable security bags.
Heathrow became the world's first Sustainable Fish Airport, with all retail business partners at Heathrow adopting a sustainable fish buying policy. This covers four million meals per year.
Glasgow's all-new fleet of electric vehicles for internal transport was the first of its kind at a UK airport.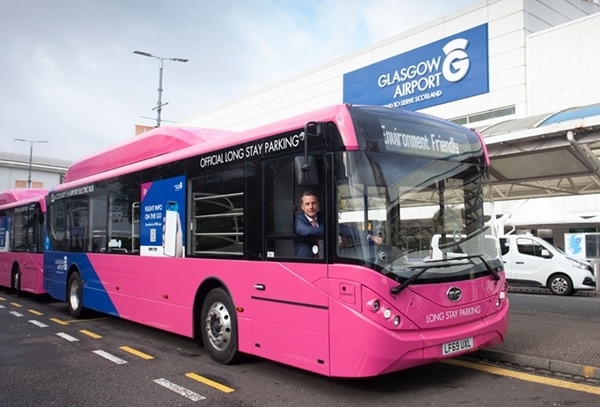 Glasgow Airport
Heathrow continues to fund restoration of peatland (a natural habitat critical for biodiversity), woodland creation and regenerative farming projects across the UK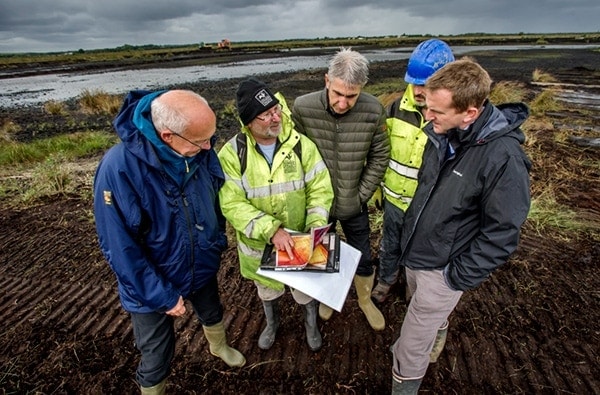 Bringing back the magical buzz
Recovery will take a few years. There will be hugs and kisses again, a world to travel, a world to enjoy – a world full of opportunities for generations to come. The magical buzz will be back.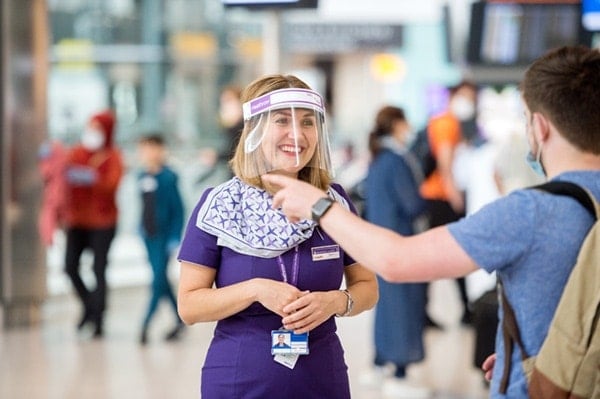 Heathrow Airport