As far as iconic roads and highways go, Route 66 is up there with the most famous, most recognised in the world. Starting in Chicago, Illinois and finishing at the Pacific Coast in Santa Monica, California, it covers an impressive 3,940 km (2,400 miles). Today, most of Route 66 exists in its original form, so you can have your own driving adventure on the well-known highway. From east to west the highway travels through:
Illinois
Missouri
Kansas
Oklahoma
Texas
New Mexico
Arizona
California
It crosses an impressive 8 states and 3 time zones. Knowing this, if you're planning to complete the entire route, you'll want to consider taking at least 2 or 3 weeks to properly enjoy the experience.
However, Route 66 does not just attract road trippers and travellers. The famous highway has fascinated and inspired generations of artists, creators and filmmakers. "The Mother Road" featured heavily in John Steinbeck's American novel, "The Grapes of Wrath". And what road can say it had its own soundtrack? "Get Your Kicks on Route 66" was composed in 1946 by American songwriter Bobby Troup and has since been covered by countless musicians ranging from Chuck Berry to Aerosmith.
How was America's "Main Street" built?
So how exactly do you go about putting together a highway of this magnitude? Route 66 was commissioned in 1926 and existed originally as a collection of mismatched roads – many in poor condition. In the beginning, much of the road consisted of dirt track or gravel or was paved with bricks or wooden planks. Real paving began after the road was commissioned. The dirt tracks and mismatched paths were steadily replaced, though it wasn't until 1938 that it became a fully paved route.
Numbering of routes fell in the hands of the federal government, though construction of individual roads was the responsibility of each individual state. And so the highway was built in segments, which explains in part why many of the roads were discontinuous or patchy for the first 12 years. When it came to constructing the highway, the majority of the work was completed by laying new road over pre-existing auto trails. Route 66 exists as a number of alignments because over the years it withstood various improvements, changes and re-routes.
When driving it today, you will find there is no one single Route 66, but a series of choices and options. Drivers get to choose which alignment they want to follow, which road they want to take. For example, an original alignment in New Mexico went through Santa Fe, but in 1937 a re-route was created that meant travellers bypassed the state capital.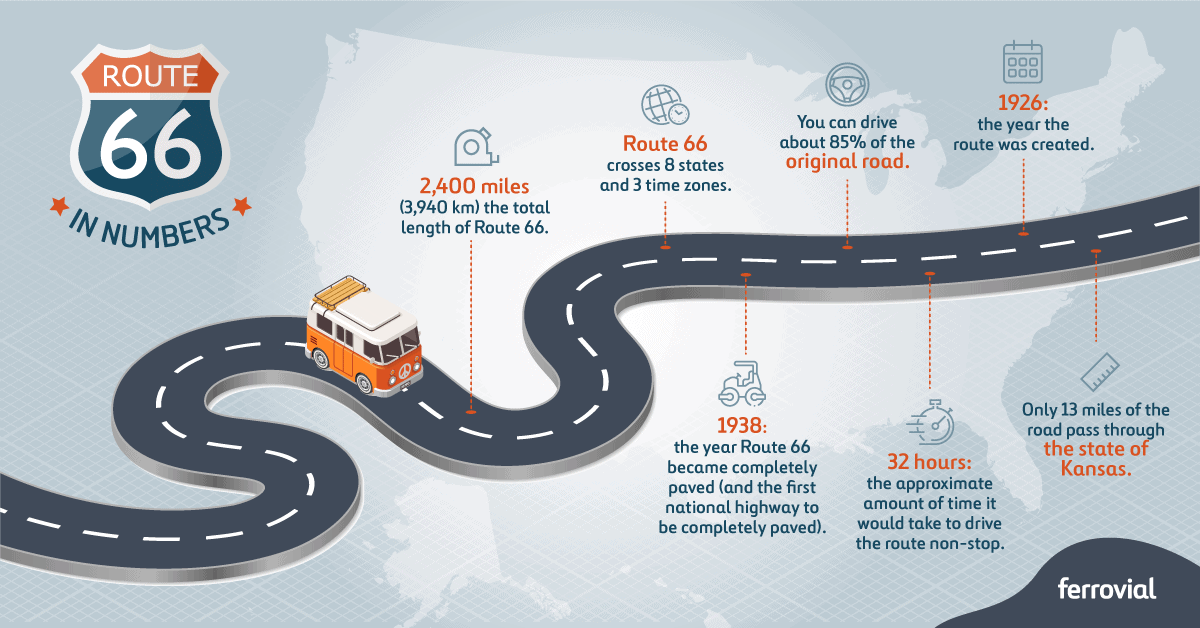 The significance of a new highway
From 1926 until it was decommissioned in 1985, Route 66 served as a vital connection for many rural towns and villages along the highway. It brought economic prosperity and cohesion to those previously unconnected. It brought truckers and road trippers – aka passing trade – to towns and cities.
In the early days (the 1930s), it served as an important passage for those trying to escape the Dust Bowl and ravages of the Great Depression. Many journeyed west on the "road of dreams" in the hope of reaching a better life. At one time, it was the most travelled route between the Midwest and the West Coast. As its popularity grew, so too did its reputation. It symbolised America's post-war freedom and economic recovery, and it represented a new optimism. It quickly became an American icon, epitomising free-spirited adventure in the land of plenty.
Today, the spirit of travel, freedom and adventure of Route 66 lives on. Although decommissioned in 1985, you can still drive the majority of the road – 85% of the original highway remains. And although its popularity peaked in the 1950s and 60s, road trippers make the journey year on year to explore the iconic roadside culture that's synonymous with the highway.
Many choose to drive the highway in classic American cars such as Mustangs or Chevys, stopping at restored gas stations, car repair shops, retro diners and classic motels along the way. You can explore old towns that appear frozen in time, offering tourists a taste of nostalgia. For some, travelling Route 66 is like taking a drive back in time, following the same journey they took on a family holiday.
Ironically the road's popularity led to its downfall and disuse. Alternative, faster roads were created as a means to provide a direct route and an efficient way of getting from A to B. Small towns and cities were bypassed in the process. Route 66 was decommissioned in 1985, though it still retains its popularity with today's travellers.
What can I see along Route 66?
Many who travel this highway do so for a glimpse of Small Town America. Much of the draw is in the roadside culture found in small towns and businesses. Much of the fun is found in sleeping at a simple motel, eating a hamburger or an ice cream soda at a classic American diner and wandering around a small town – all while feeling like you're experiencing a taste of American history.
Many of the businesses that existed to support the influx of traffic and trade in the 1950s and 60s have since closed their doors. Though there is new interest in the demise that followed. Some may find it interesting to explore signposts to the past – old signs, dilapidated buildings and even isolated ghost towns. If you are looking for more to do, keep an eye out for tours of Jessie James hideouts and caves, live rattlesnake shows and horse riding. You can watch a Wild West show or visit Native American reservations, and it would be difficult to miss the quirky statues (including giant dinosaurs and a blue whale) that may keep you pondering their existence long after you get home.
The star attractions outside of the road and your vehicle are the many natural wonders. A few of the natural sites to explore include:
The Mojave Desert
Painted Desert
The Petrified Forest
Meramec Caverns
The mighty Mississippi River
You could also take a detour to visit the Grand Canyon.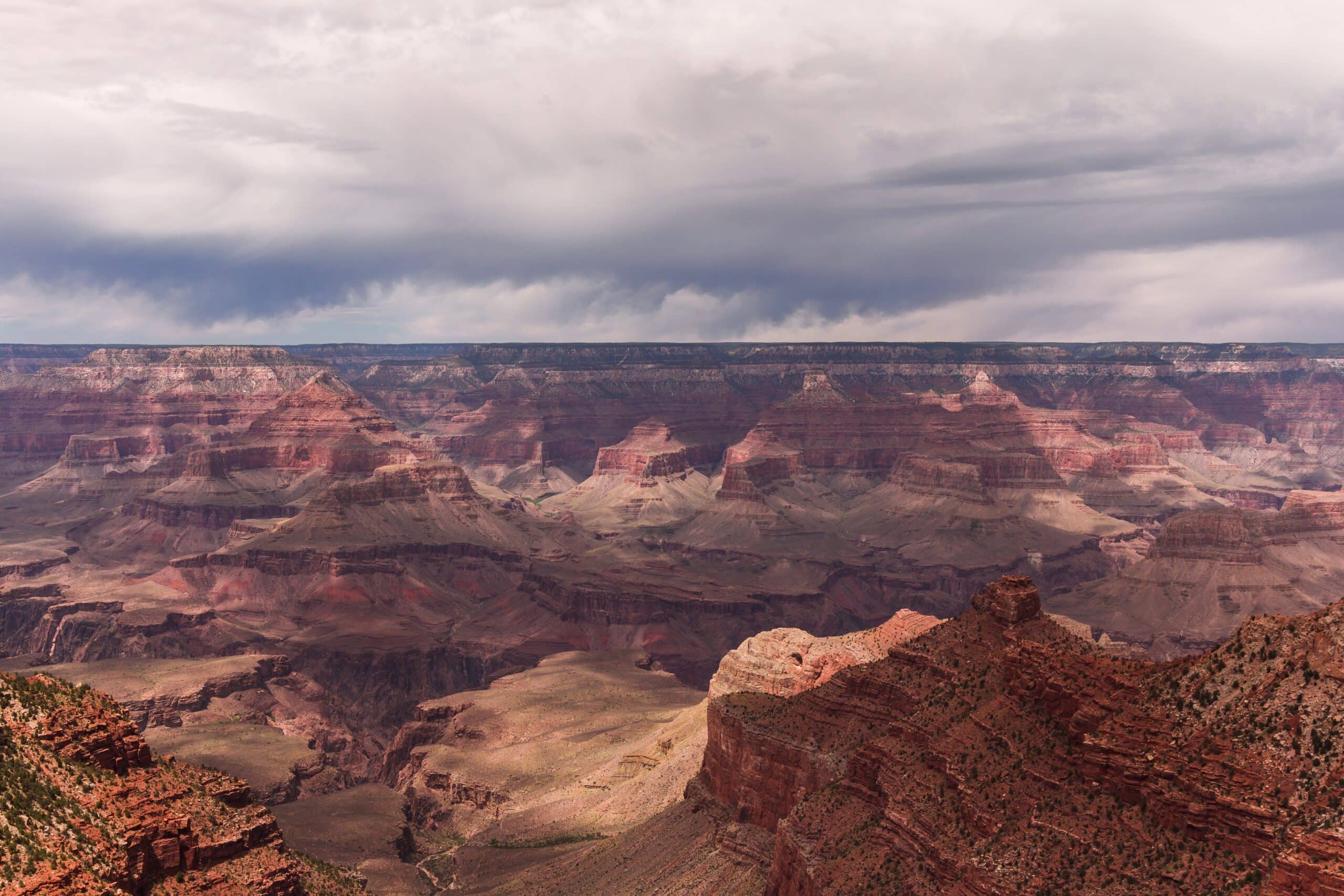 When is the best time of year to drive Route 66?
One of the reasons Route 66 earns its reputation as an adventurous highway is the vast number of states, time zones and landscapes covered. It takes you on a journey through mountains, deserts, plains and grasslands. The climate can vary from alpine to desert during a single trip.
Generally, it is best to visit when you've got the highest chance of good weather. Between May and October is a good time to travel for fair weather. If you can go outside of the school holidays (between May/June or September/October) then you might experience a winning combination of fair weather, fewer crowds and lower prices.
How to choose your transportation for Route 66?
Considering the amount of time you'll spend driving, choosing your mode of transportation is an important decision.
You should consider first whether you want to stay in lodging along the way or take a tent and pitch up at campsites. Alternatively, you could hire or use your own motorhome/RV and sleep in your vehicle every night.
Many travellers choose to drive this iconic road in a hire car, opting for a classic ride such as a Mustang or Chevy. Those wishing to do so should expect to pay a higher price for hire. But for many this extra fee is worth the price for a chance to drive in an iconic vehicle. Care hire companies are plentiful in both Chicago and Los Angeles. Many hire companies offer a one-way rental, allowing you to pick up in one city and drop off in a different one. However, bear in mind that usually there is an extra fee on top of your car hire cost for a one-way rental. Another option if you hold a valid licence is to hire or drive your own motorcycle.
However you choose to travel historic Route 66, you can guarantee it's a trip that won't disappoint!