Train station
The impact of the Renfe's Cercanías commuter rail networks on cities
It's been more than 30 years since the
Renfe Cercanías
business unit was founded. It's more commonly known as just
Cercanías
in Spanish cities like Madrid and Seville and
Rodalies
in Catalonia and Valencia. The idea was simple: to manage all the networks, stations, and suburban trains that connect the provincial capitals' peripheral cities homogeneously, using dedicated routes or routes shared with long-distance trains. It currently provides coverage for
12 Spanish cities
, and its impact on daily mobility for many residents is remarkable.
A HISTORY OF NETWORKS OF CERCANIAS CONTINUALLY EXPANDING
The creation of Renfe Cercanías as such is usually attributed to engineer
Javier Bustinduy
, who came up with the plan to manage these suburban networks around the major capitals in a homogeneous way in 1989. At that time, there were 40 lines and 500 stations in those networks, but they were not unified or managed in any one common way. As part of this renovation, the trains of that time – the classic
440 series
models – were updated as the new
446 series
and subsequently the
Civias
, designed specifically for the Cercanías services. These were more
modern and modular trains
with greater power and acceleration, but they didn't have as high a top speed since this wasn't as necessary for their situations.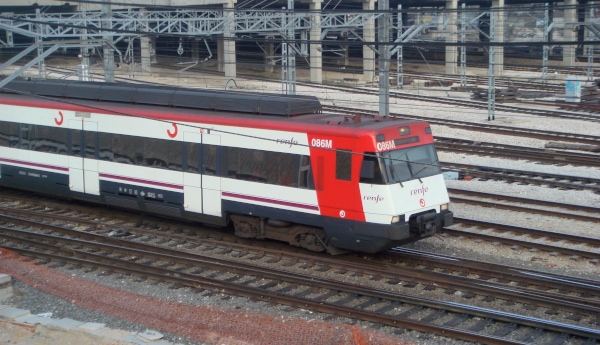 These commuter lines and networks had been developed since the mid-19th century to connect the most important towns and cities of the day, such as the Madrid-Aranjuez line (1851), Santander-Solares (1892), and quite a few others. Many of these lines
shared long-distance railway tracks
; sections were added to these, and tracks were duplicated as necessary to reach all localities. These were precarious times: trains weren't very comfortable or practical for relatively short journeys, and sometimes there were even stops to change the voltage at particular stations. In 1989,
cardboard tickets
were still used, not the magnetic stripe.
The way in which this data from services and infrastructures is analyzed is always important. Bustinduy himself would explain at a conference years later that, even though 87% of train travelers in Spain are commuters, that same 87% only travels 32% of the "kilometers traveled" by trains throughout the year. On the other hand, 6% of the individuals who travel by AVE account for 55% of the kilometers traveled by that mode of transportation. This shows how
small changes to certain local services and infrastructure can affect huge population groups
. An improvement to very specific places can improve the day-to-day commute to work or nearby towns for a high percentage of people.
WHAT IS THE IMPACT OF SUBURBAN COMMUTER NETWORKS IN CITIES?
All major European cities have suburban networks, though their significance – like that of the underground metro in large cities – is specific to each country. In Germany, for instance, there are almost 20
S-Bahn
networks of various sizes. On the other hand, Paris's RER has 5 lines and 256 stations with long routes totaling about 600 km. In Spain, there are currently
12 Cercanías hubs
in all and about 530 stations.
The key cities in Spain's Cercanías service are, in this order:
Madrid

Barcelona

Valencia

Bilbao

Seville
One of the main impacts of having a network like Cercanías in cities is the increase in the
use of public transit
over private vehicles, which are usually more polluting. In this regard, trains are
a perfect example of sustainable transportation
; at the same time, they're a means of public transit that pollutes less, generating only 0.3% of the total emissions from all forms of transportation. The more people who park their fossil fuel cars to take commuter rail, the better for the environment. Electric trains also produce zero emissions, with most of them running on electricity from 100% renewable sources.
DO YOU KNOW THE MAIN STATIONS OF THE SUBURBAN NETWORK?
According to the
2020 Report by the Railway Observatory
, the top three stations in the network by the number of commuters would be the
Atocha Cercanías
and
Nuevos Ministerios
in Madrid, and
Sants
in Barcelona. The first of these saw 33 million travelers, almost 11% of the total from all over Spain that year.
The Cercanías stations with the most passengers in 2020 are:
Atocha Cercanías with 33 million passengers.
Nuevos Ministerios with 13 million passengers.
Sants with 10 million passengers.
Sol with 9 million passengers.
Chamartin with 9 million passengers.
Plaça de Catalunya with 6 million passengers.
Méndez Alvaro with 5 million passengers.
Villaverde Alto with 5 million passengers.
Passeig de Gràcia with 4 million passengers.
Valencia-Nord with 4 million passengers.
Rest with 210 million passengers.
As you can see, there is a direct relationship between the population of each city and its suburban environment with the
volume of travelers
.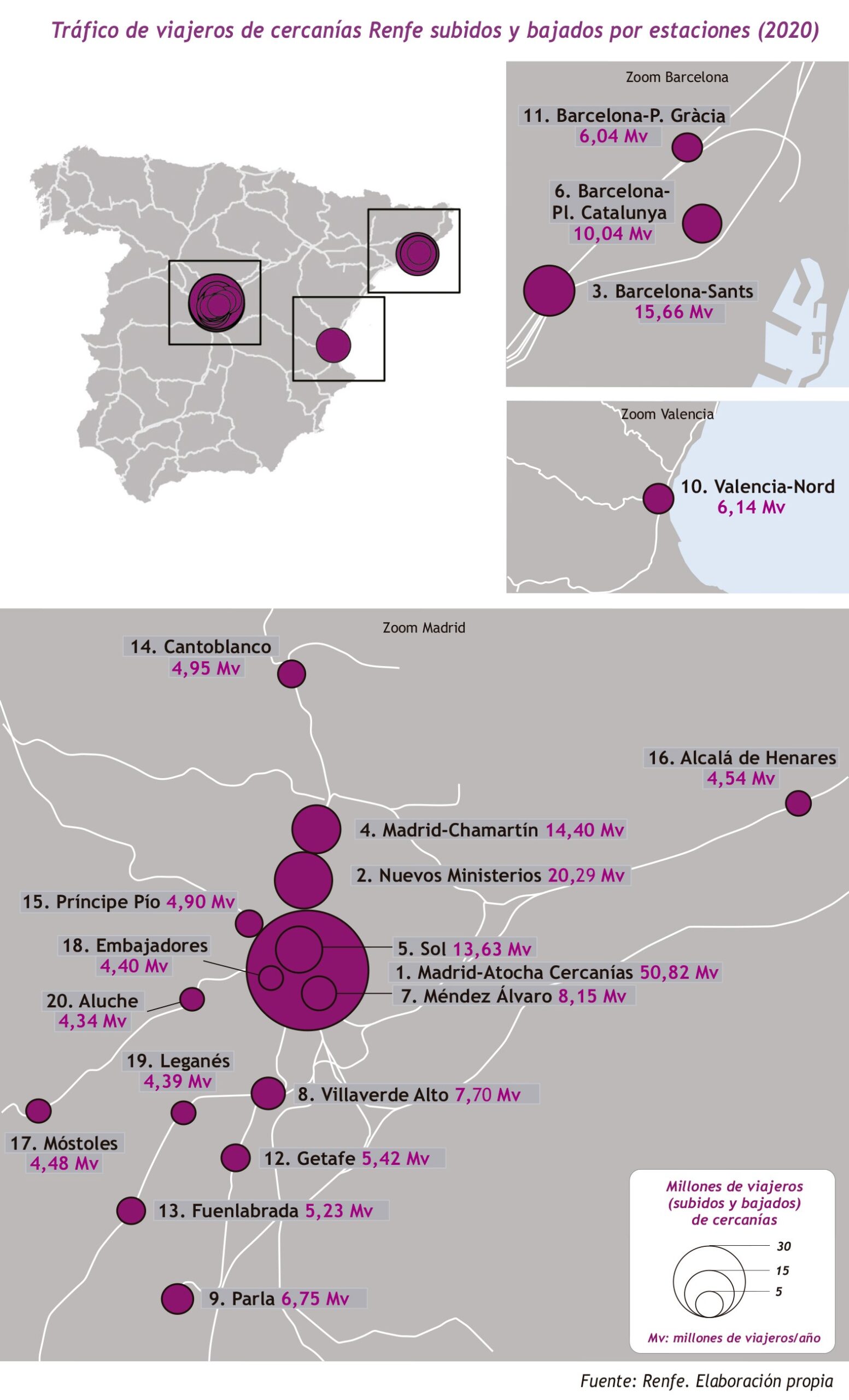 We can't overlook the fact that nine out of ten people use commuter trains. For example, more than 50% of this type of travel is concentrated in Madrid, with 160 million people a year in 2021, 17% more than in 2020 – a year heavily impacted by the pandemic – but at the moment, somewhat less than the 2019 figure of 253 million
. In Madrid, there are currently 95 commuter stations and 280 trains making about 1,290 trips every day (970 on Saturdays, Sundays, and holidays).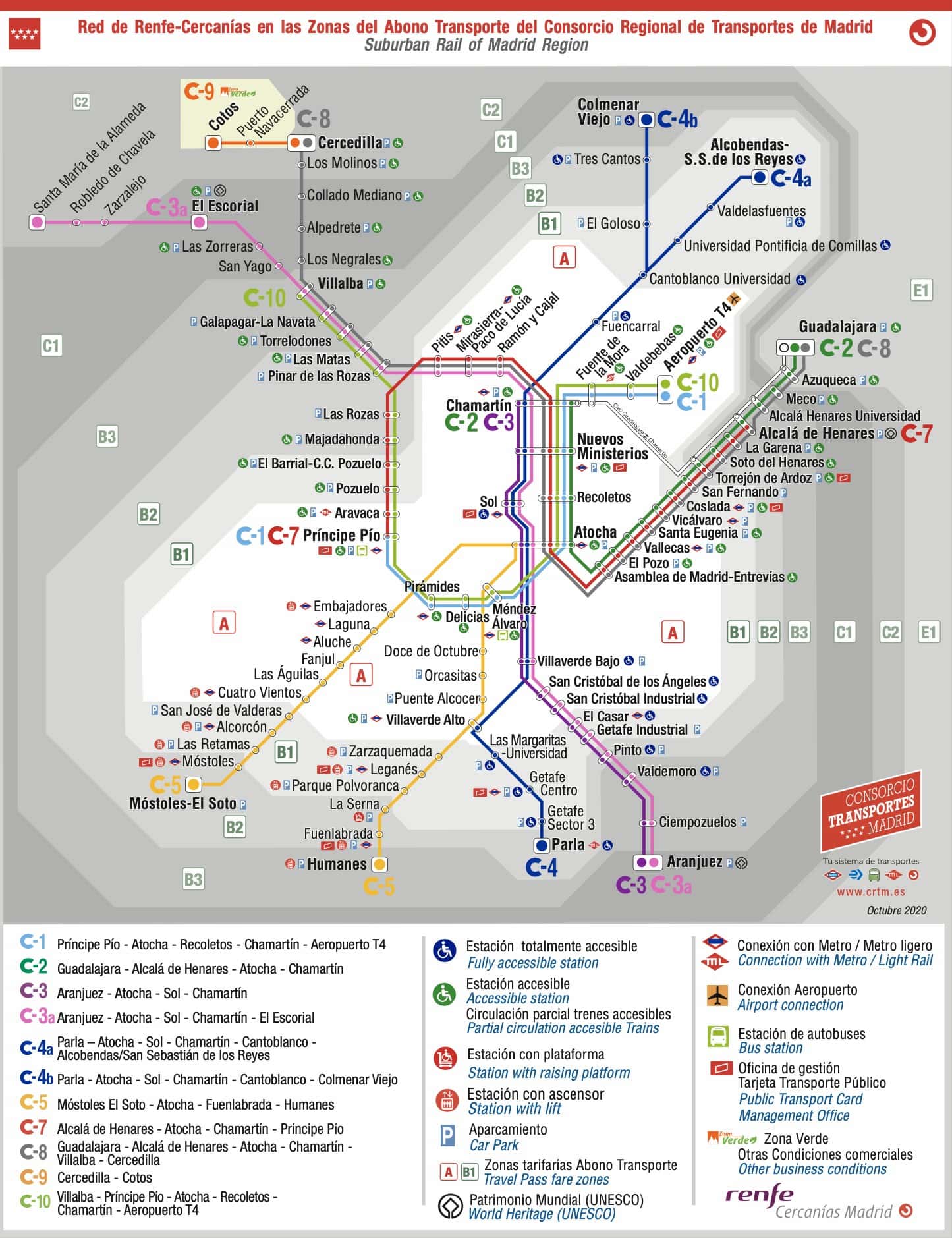 Schedules
,
fares
, and
maps
are available on Renfe's website and
app
. Some of the maps, like the
metro layout of Madrid
, are truly paragons
of design and usefulness in getting around the city and the entire suburban area. For those of you who like
data and statistics
, you'll want to check out the
Renfe Open Data Portal
(data.renfe.com), which offers over 60 up-to-date data sets with all the details about networks, stations, schedules, and so on.