The urban air mobility (UAM) industry is a nascent one, but it holds the promise to transform how we move thru and between cities, in a safe, efficient, and environmentally responsible way.  As with many nascent industries, there are new technologies, innovative approaches, new competitors, and divergent business models at play. Any industry that promises great transformation supported by new competitors and several models, it will inevitably evolve, expand, and adjust to the changes in the market, just as we expect the electric vertical take-off and landing aircraft (eVTOLs) to evolve through improvements to battery life, flight distance, and load capacity. In sum, change and evolution are inevitable, so it's critical that the vertiport networks that we are developing in the U.S. and Europe can accommodate, not only current but future variations in eVTOLs and business models. That is precisely why we're committed to building vertiports that are "agnostic" to any particular business model and are "future-proofed" to accommodate second, third, and fourth generation eVTOLs aircraft. 
This innovative, sustainable, and convenient form of transport will transform urban mobility. What most don't appreciate is that it is almost here; we're just a few years away from the introduction of live commercial services. What will they look like? Although we're entering a new, anything's-possible world, we can already see three distinct business models for passenger transport: intracity, intra-airline, and intercity. Vertiports may serve one, two, or all three models to suit local demand and promote the greatest traffic flow. Let's take a brief look at each one:
Intracity
The intracity business model serves short routes (< 50 km) within a metro area with a high volume of daily passenger-transport operations. Think 'air taxi', which is how many people tend to describe eVTOLs. Air taxis will clearly provide a convenient, time-saving alternative at any time of day. And during periods of high congestion or when passengers are in a hurry, they will be even more appealing.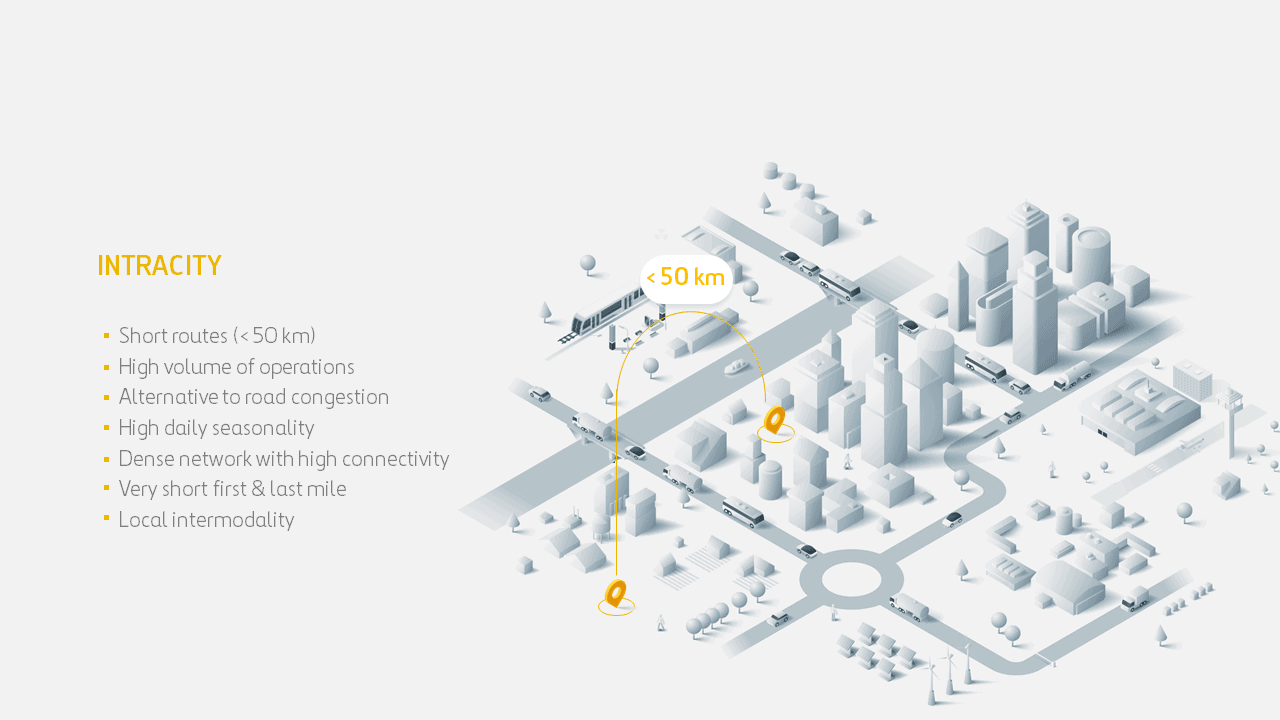 The intracity model requires a dense network of well-connected vertiports with short first and last-mile connections to make vertiport access easy and convenient. For maximum city-wide speed and efficiency, vertiports serving this business model should seek to be integrated into local intermodal transport connections, to the greatest extent possible.
Three original equipment manufacturers (OEMs) pursuing this model are Joby Aviation, Volocopter, and Archer.
Intra-airline
The intra-airline business model serves short to medium routes (<50 –150 km) and provides point-to-airline operations. This approach connects regional passengers and nearby communities directly to airports and airlines. It's especially useful to communities that do not have commercial air services or other viable travel options to the nearby airports and airlines.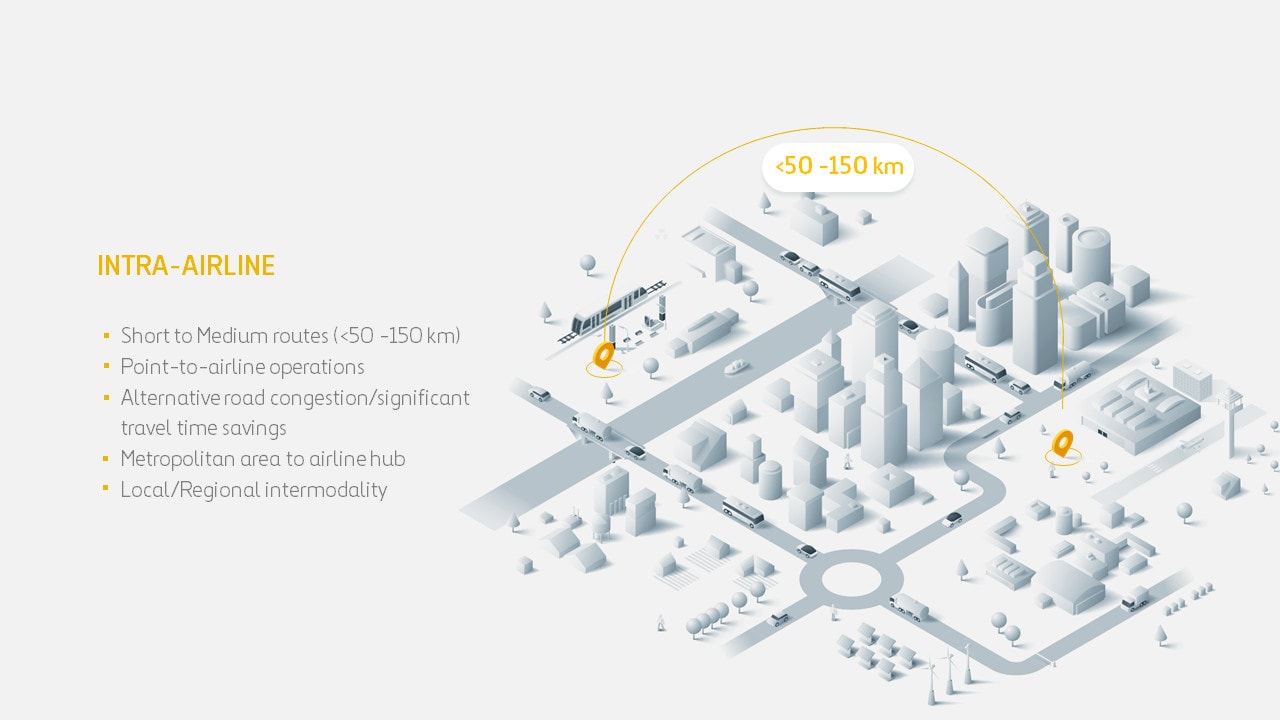 Intra-airline services will strengthen passenger feed into hub airports and boost traffic demand.  Some of the world's largest airlines, including American.
Delta, and United in the U.S., and Japan Airlines in Asia, are already embracing the promise of UAM. They have plans to buy eVTOLs and operate themselves or provide connecting services through an operating partner.
In addition to the three OEM's referenced above,  Vertical Aerospace and Eve Air Mobility, are prime examples of manufacturers pursuing this particular model.
Intercity
The Intercity business model serves much longer routes up to 300 km, providing point-to-point operations and significant time savings compared to traditional travel modes. Intercity eVTOL flights are an alternative for routes that have limited, poor, or no connectivity and a useful supplement for those with weekly or seasonal limitations. In all cases, good regional intermodal connections are vital to keep total travel time down. This business model will naturally evolve as manufacturers improve battery capacity.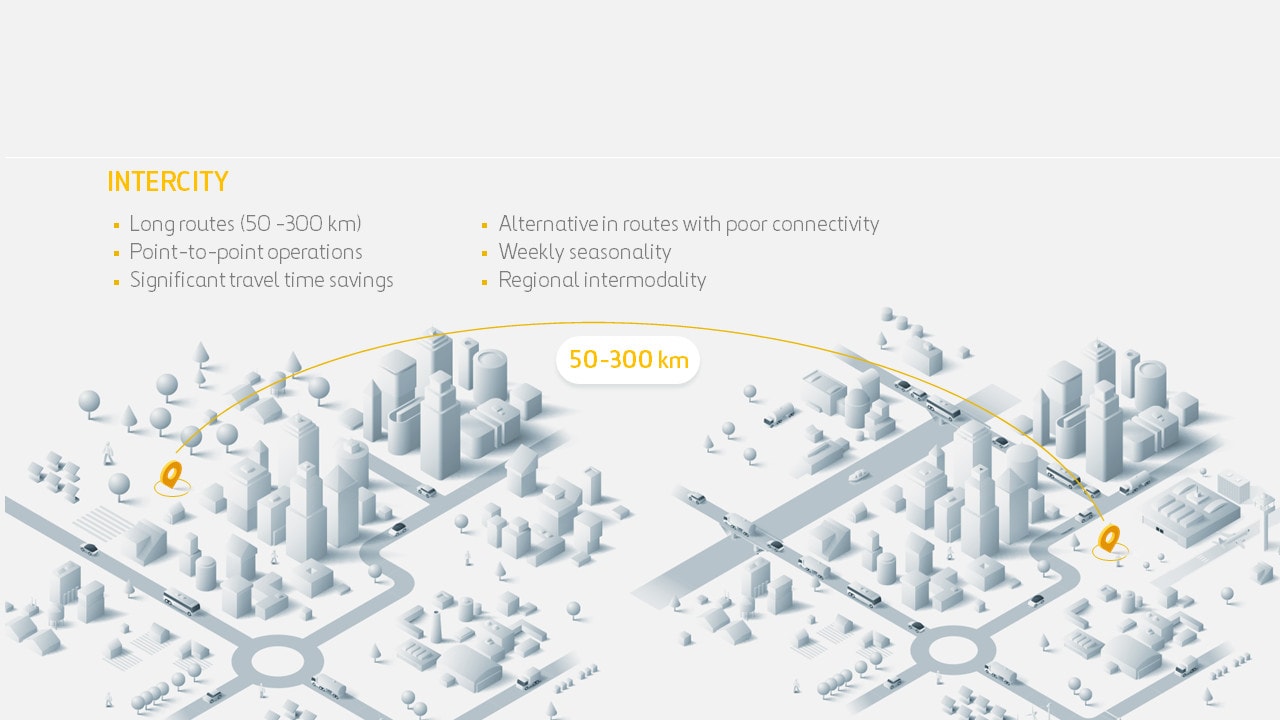 Lilium, an eVTOL OEM, is pursuing this model in various markets in the U.S. and Europe.
All three primary business models are attracting numerous OEMs offering a variety of eVTOL designs. Whilst all of these OEMs are pursuing certification of their aircraft to be flown by a pilot, Wisk, another OEM backed in part by Boeing, has a longer certification timeline because they are pursuing certification of a "pilotless" or "autonomous" vehicle. Nevertheless, one factor common to all OEMs is the need for vertiports to operate successfully. As noted previously, successful vertiports must be agnostic to UAM business models and the aircraft that serve them.
Vertiports should enable quicker transit times
A fundamental concept we have learned from studying the UAM industry over the past five years is that the vertiport is not the destination. It is instead, a critical part of a passenger's seamless journey from their origin to their destination. Our service is not just curb to gate, but an intuitive, free-flowing, and sustainable component of a longer journey. For the best possible passenger experience, we have to provide the technologies and digital tools that make travel faster and cut flight waiting times from hours to minutes. We also have to build using sustainable construction techniques and materials and design our vertiports to integrate into the surrounding environment and community.
The right skills and capability for the challenge
UAM gives us a once-in-a-multi-generational opportunity to develop a new transport mode that will benefit communities around the world. With 70 years of transportation infrastructure experience, including nearly 25 years' global experience in developing and operating airports, Ferrovial is applying its broad resources and capabilities to deliver on the promise of UAM.
For example, we recently completed our first-ever Ferrovial AECOM Vertiports Design Challenge (click here), a competition established by Ferrovial Vertiports and leading design architecture firm, AECOM. The challenge was to create efficient, convenient, and sustainable vertiports that would serve the three primary business models and meet all current passenger and community objectives, plus those that are yet to come.
The challenge for our two 12-person teams (one in Madrid, one in Miami) was to design concepts for vertiports. The teams included experts from each company in architecture, design, engineering, operations, health and safety, and sustainability. Their experience levels ranged from newcomers to senior leaders. We intentionally included younger-generation professionals because they will be among the primary consumers of this technology for decades to come.
Team Europe was the winner of the challenge, but both teams came up with creative and practical solutions that we will incorporate into our designs. The challenge's most inspiring aspect was how participants, team leaders, advisors, and jurors came together to help create this new era of mobility.
The next step is to take these exciting and innovative plans from the drawing board to reality. To put it simply, we want to transform the way people move across and around the world. So, join me next time when I'll discuss the elements of a vertiport and the critical part that each one plays in the overall journey.