The more you know about Türkiye's Turquoise Coast, the harder it is to travel anywhere else.
If gazing out over a sparkling sea of azure and emerald isn't enough to make your jaw drop, how about wandering through charming historic towns and traditional markets; exploring ancient Lycian, Greek, Roman and Byzantine ruins; unwinding at trendy rooftop bars; or paragliding down to a golden beach from a rocky mountaintop?
Not to mention all the delicious Turkish breakfasts and fresh seafood you'll be savoring.
To visit the most beautiful places on the Turquoise Coast, the best place to start is Dalaman Airport, located in southwest Türkiye where the Aegean Sea meets the Mediterranean. It is well connected both nationally and internationally, with a wide variety of flights going in and out each day, the perfect landing spot for our journey.
Let's begin by heading west.
Relax by the riverside in Dalyan
40 minutes northwest of Dalaman Airport
This idyllic riverside town is located between the tourist hotspots of Marmaris and Fethiye, making it the perfect destination to rest up and enjoy a laid-back atmosphere before hitting the coast.
Riverboats connect the fishing village to a variety of offbeat activities.
Just across the river from Dalyan you will find the ruins of the ancient city of Kaunos, with its famous rock-cut tombs dating from the 4th century B.C.
Cruise south down the river to İztuzu Beach, where you can sink your toes into the fine sand and swim in the dazzling blue waters of the Mediterranean. Popularly known as Turtle Beach, this protected spot is where loggerhead sea turtles lay their eggs, so be careful not to disturb the turtle nests or interfere with any freshly hatched turtles making their way to the water.
Take a riverboat north to visit the natural hot springs and therapeutic mud baths of Sultaniye on Lake Köyceğiz. Slather the mud over your skin, splay out in the sun while it dries, and soak in the springs to wash it off. Not only is it fun, the practice is believed to be beneficial for the skin as well as various health ailments.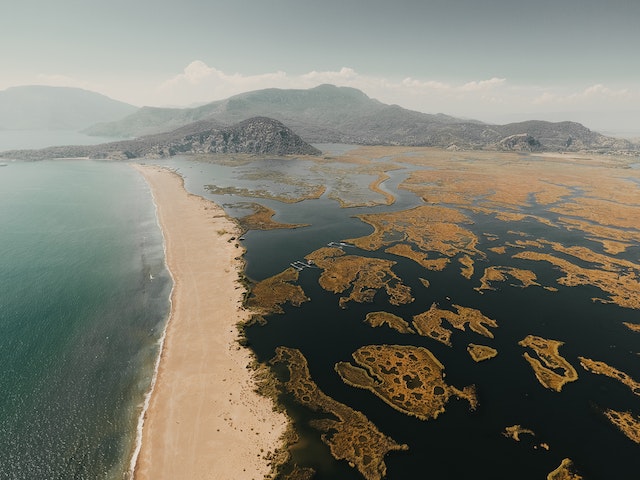 Image by Lokman Sevim from Pexels
Brighten up your days and nights in buzzing Marmaris
1 hour 30 min northwest of Dalaman Airport
Marmaris is one of the most popular cities on the Turkish Riviera thanks to its gorgeous coastline; lush pine forests; and thriving restaurant, bar and club scene.
Enjoy beautiful beaches right in the city, or hop on a boat tour to enjoy swimming and snorkeling in the iridescent waters around Marmaris's neighboring islands and coves. Icmeler Beach, Turunc Beach and Cleopatra Island are just a few breathtaking spots to discover. You can also take a ferry from Marmaris to the picturesque Greek island of Rhodes.
After a day of sunbathing, water sports or hiking through national parks, choose from a variety of indoor and outdoor restaurants, bars, beach clubs and nightclubs to relax or ramp things up. Wander through the winding cobblestone streets of the Old Town and climb up to the top of the medieval castle for a stunning view overlooking the harbor.
Explore secluded beaches on the offbeat Datça Peninsula
2 hours 30 minutes west of Dalaman Airport
If you prefer to escape the hustle and bustle of Marmaris, you may want to visit the rugged and romantic Datça Peninsula, where the Aegean Sea meets the Mediterranean.
Datça, the main town, is divided into two parts. In New Datça, gaze out over deep blue waters at one of the cafes and restaurants lining the shore called Sevgi Yolu, or the "Path of Love." There are 3 Blue Flag-certified beaches to enjoy right in the city center. Old Datça is nestled into the hills above town, with cobblestone roads, historic stone houses and bright splashes of bougainvillea.
The peninsula is dotted with dozens of delightful coves, beaches and small islands where you can swim, surf or go scuba diving. The most secluded spots are only accessible by water; luckily, there are boat tours that allow you to explore several in a single day.
You can't leave without visiting the ancient city of Knidos, located at the tip of the peninsula, or tasting the local almonds and thyme honey.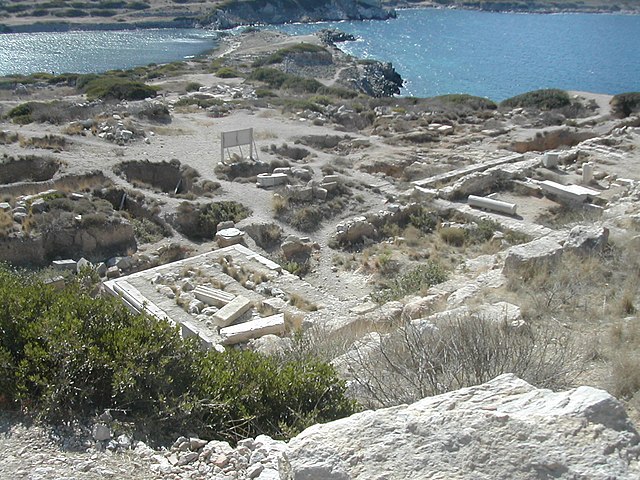 Image by Thérèse Gaigé, CC BY-SA 3.0
Want to travel east from the airport?
Enjoy the taste of luxury in Göcek
30 min east of Dalaman Airport
The pretty harbor town of Göcek is famous among the international yacht community for its 6 world-class marinas and spectacular turquoise bay dotted with 12 islands and lined with coves.
Thanks to its protected status, the town has no multi-story buildings, guaranteeing magnificent views and adding to the area's upscale appeal. Don't be surprised if you see a famous face or two as you enjoy fresh fish and seafood at one of the many seaside restaurants.
Head to the harbor to rent a boat or even a yacht to explore the hidden coves and islands around the bay. Or perhaps you'll want to host a boat party!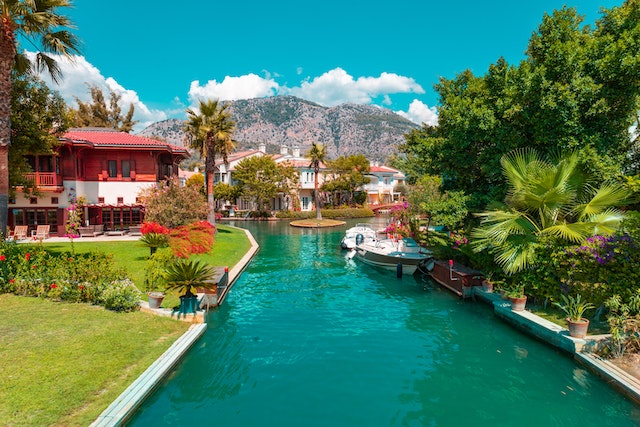 Image by de Hobi Photography de Pexels
Find your sense of adventure in Fethiye
50 minutes east of Dalaman Airport
Fethiye is an absolute paradise for beach lovers and adventure junkies alike.
One of the top attractions is Ölüdeniz and its incredible Blue Lagoon, just a short bus or taxi ride from Fethiye. Swimming and snorkeling in these crystal-clear waters is a dream, but to see the full range of sapphire and aquamarine colors, the best view may be from the sky. Babadağ, the mountain directly behind the lagoon, is world-renowned for paragliding.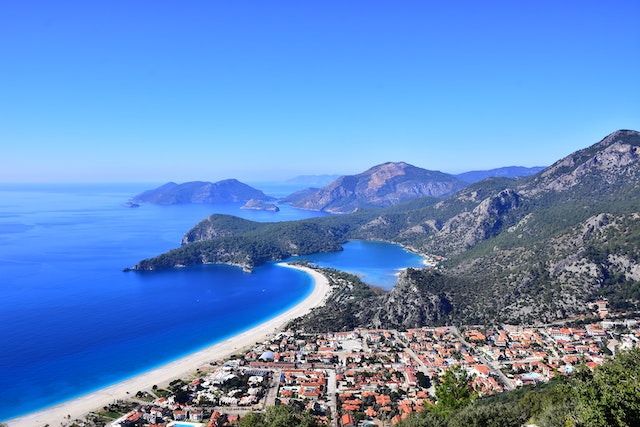 Image by de Cemgazi Yoldaş de Pexels
Another popular spot is Butterfly Valley. This natural protected area—only reachable on foot or by sea—is home to 80 species of butterflies that lend a magical quality to any hiking or camping you do here.
The city of Fethiye itself is a lovely place in itself, with buzzing restaurants and cafes, traditional markets, and the ancient Tomb of Amyntas (along with other Lycian rock tombs from the 4th century B.C.) all within walking distance.
Wine and dine on the rooftops of Kalkan
2 hours southeast of Dalaman Airport
Over the years, this former fishing village has become a cosmopolitan resort town known for its trendy bars and flourishing rooftop restaurant scene.
There is an excellent public pebble beach right next to the harbor, while a variety of fabulous beach clubs are sprinkled along the bay. These are usually built on platforms with sunbeds, parasols and direct access to the alluring blue sea.
If you're up for exploring, the sun-kissed sands of Kaputas Beach, considered one of the best beaches in Türkiye, are a short drive away, along with the region's longest beach, Patara.
Kalkan is located on one of the world's most famous hiking trails: the Lycian Way. You have all sorts of trails to choose from, whether you prefer to hike along the coast, around the Taurus Mountains, or through small villages and ancient ruins.
Discover hidden coves by boat in Kaş
2 hours 40 minutes southeast of Dalaman Airport
You will never run out of things to do here. Most people are drawn to the glorious turquoise sea bordered by towering cliffs, but there's more to Kaş than scuba diving and spectacular beaches.
The Old Town is perfect for eating a traditional Turkish breakfast, wandering through cobblestone streets, browsing the local markets, and watching the sunlight bounce off whitewashed walls and shine through colorful flowers.
You can also go bar hopping after watching an unforgettable sunset at the town's iconic Hellenistic amphitheater from the 1st century B.C., which overlooks the sea.
For a taste of nature with a side of adrenaline, try canyoning. This adventure sport involves hiking into beautiful canyons, jumping into clear pools of water, swimming through narrow gorges, and rappelling down waterfalls.
That said, the best way to explore Kaş is by boat. Along with the mysterious sunken city of Kekova and the postcard-worthy Greek island of Meis (Kastellorizo), the coast has countless hidden coves and beaches to discover, each with its own blend of turquoise hues.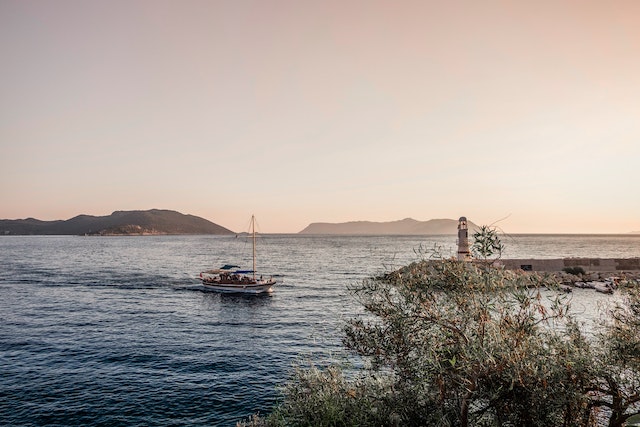 Image by de Ahmet Çığşar de Pexels