In the second half of the 19th century, the demand for ivory and tortoiseshell to create all kinds of objects – from billiard balls to combs or glasses – endangered animal populations like elephants and turtles. Young John Wesley Hyatt set out to find an alternative and experimented with creating a new type of hard, moldable, durable material: celluloid.
Celluloid became not only a substitute for ivory, tortoiseshell, and coral but also the first plastic that could be commercialized on a large scale. At that time, Wesley could not have imagined that plastic was starting on a dizzying race to become a material used all over the planet and, ultimately, a problem for the natural world that he wanted to protect.
A century and a half after Wesley created celluloid, another young woman decided to experiment with creating materials. This time, to give plastic a new life. Today, Nzambi Matee is at the helm of Gjenge Makers, a company that turns the garbage that accumulates on the streets of Nairobi into lightweight, durable bricks.
A second life as bricks
In Nairobi (Kenya) alone, more than 500 metric tons of plastic waste are generated every day, and more than 20 million plastic bags are thrown away every month. Much of this garbage ends up in the giant Dandora landfill, and much more accumulates on the streets. This made Nzambi Matee take action.
In 2017, Matee quit her job as a data analyst in the Kenyan oil industry sector to focus on setting up her own business. She went from an office to a small lab that she set up in the yard at her mother's house and began to design different materials out of plastic scraps.
Thanks to a research grant that allowed her to research in the labs at the University of Colorado at Boulder (United States), she perfected these materials and designed the machinery necessary to create them. In 2018, she made her first brick prototype, and in 2019, she created her company, Gjenge Makers, to start manufacturing them. Just one year later, the UN named her one of the Young Champions of the Earth, a distinction that recognizes the work of young people carrying out brilliant initiatives to protect the environment.
Gjenge Makers produces low-cost, sustainable bricks, pavers, and manhole covers made with sand and recycled plastic waste. Every day, they produce between 1000 and 1500 blocks, thus giving new life to waste that would otherwise end up in landfills, on city streets, or in the environment.
What are the Gjenge Makers bricks like?
The process of creating the Gjenge Makers bricks begins with collecting plastic, which is obtained from local companies that would otherwise have to pay to get rid of it. The company primarily selects fragments of low- and high-density polyethylene, polypropylene, and polystyrene that, due to their size or condition, could no longer be recycled.
These plastics are reduced to small pieces measuring just a few centimeters and mixed with sand in an extruder machine at high temperatures. The resulting material is fed into a compressor, which shapes the brick. Once this is done, it just needs to be cooled and polished.
Gjenge Makers manufactures four types of bricks in different designs and colors. The lightest ones (weighing just over a kilo, which reduces transportation costs and the complexity of the facilities) are intended for use in housing.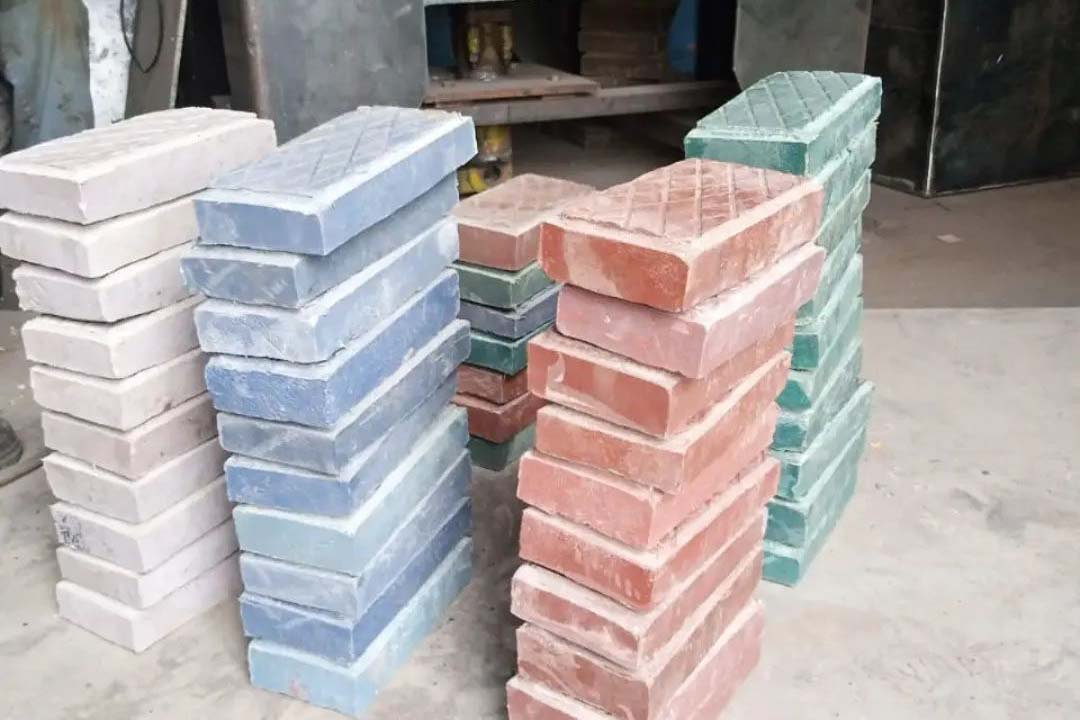 Piles of bricks of different colors. Source: Gjenge Makers.
The most resistant ones are designed for industrial use, and they can be put on roads and even in places where heavy machinery is going to be used. They are between five and seven times more resistant than cement bricks, and they are highly useful in cities since they require little maintenance.
A global solution
The company is working to manufacture other products like bricks that can be used in housing construction in the near future. Its objectives also include creating an online platform for posting informative material and sharing its technique. This demonstrates their commitment to the social and economic development of other communities.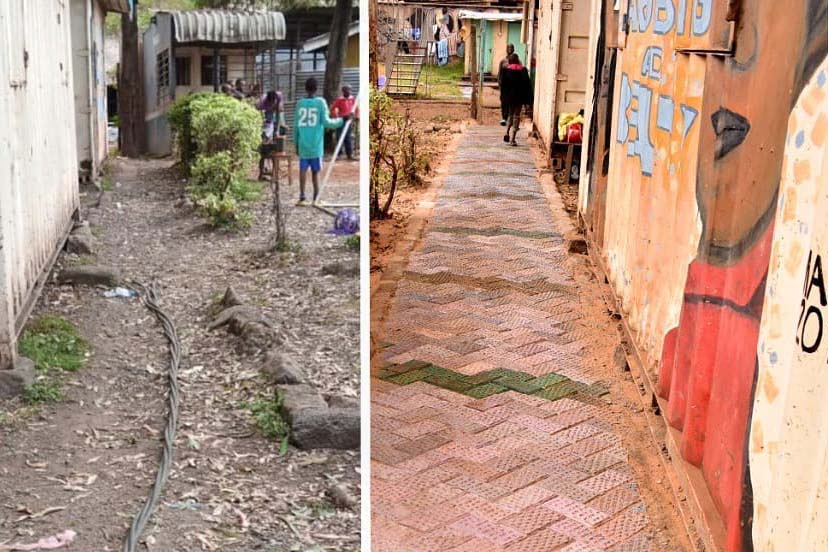 A street in Nairobi, before and after having pavement made with bricks from Gjenge Makers. Source: Gjenge Makers.
"Plastic waste is not just a Kenya problem, but a worldwide problem. We'd like to motivate others and other young people to do similar things in other places. Act for nature!" said Matee after being recognized as one of the Young Champions of the Earth in 2020.
The company's goal, as indicated on its website, is to manufacture alternative, beautiful, sustainable construction products for Kenya and the rest of the African continent while creating job opportunities for young people and women by promoting recycling culture.
In its four years of life, the company has created more than 100 jobs and has recycled more than 100 tons of plastic waste. In addition, it has also transformed Nairobi's streets, schools, and private homes with new paving that's colorful, original, and resistant.