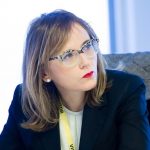 Beatriz Castillo
Chief of Circular Economy Projects at Ferrovial Services' Centre for Excellence for Environment.
She joined Ferrovial Services in the year 2006. She currently holds the position of Head of Special Projects in the Centre of Excellence for Environment, where she provides technical advice for the Division of Waste Treatment, nationally as well as internationally. She leads and coordinates strategic projects and Circular Economy for the CEE, analyzing new opportunities for the company within the waste sector. She represents the CEE at different national and international forums about Circular Economy and waste management.
Subscribe to our newsletter
Subscribe now and you will receive our top posts and keep up to date on the latest from our blog.
Utilizamos cookies propias y de terceros para posibilitar, personalizar y analizar la navegación, mejorando la calidad de los servicios. Haciendo click en el botón "Acepto todas las cookies", acepta su uso conforme a nuestra
política de cookies
. Puede cambiar sus preferencias tanto en su navegador como en el panel de gestión de cookies que aparece a continuación. Si desea más información, consulte la
Política de Cookies
.
Accept all cookies
Cookies settings