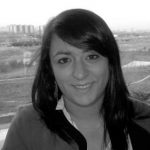 Ana Salgado
Ana Salgado is a Higher Computer Engineering graduate in the Artificial Intelligence department of the Autonomous University of Madrid, she holds an Executive Marketing MBA from EOI and has completed the GMP (Global Management Program) at ESADE. More than 11 years' experience in IT, managing multi-cultural teams to provide business solutions. International experience across a range of sectors: Telecommunications, Banking, Transport and Business Intelligence. She is currently the manager of the Ferrovial DataLAB, working with new technologies: big data, IoT and advanced analysis. She is passionate about doing things with data, about working with and for people, about laughing and music
Subscribe to our newsletter
Subscribe now and you will receive our top posts and keep up to date on the latest from our blog.
Utilizamos cookies propias y de terceros para posibilitar, personalizar y analizar la navegación, mejorando la calidad de los servicios. Haciendo click en el botón "Acepto todas las cookies", acepta su uso conforme a nuestra
política de cookies
. Puede cambiar sus preferencias tanto en su navegador como en el panel de gestión de cookies que aparece a continuación. Si desea más información, consulte la
Política de Cookies
.
Accept all cookies
Cookies settings