Today, we're celebrating our female engineers this International Women in Engineering Day
Over the years Ferrovial has seen some outstanding engineers come through its doors. This talented group have worked on some of the most important and demanding projects ever undertaken by the company. Today, to celebrate International Women in Engineering Day, we're focusing on some of our most highly skilled and award winning female engineers.
Not just outstanding in their field, this talented team are an inspiration to all up and coming engineers looking to hit the heights that they themselves have reached.
International Women in Engineering Day was first launched in the UK on June 23rd, 2014. Fast forward four years and the day has become an international sensation, trending across social media with over 150 events taking place throughout the world last year alone.
This year, International Women in Engineering Day is aiming even higher. With the goal of #RaisingTheBar, all groups are being encouraged to organise their own events and come together.
To help mark the day, we've reached out to three of our previous award winners, Concepción Vicente, Sara Collado and Belén Marquina, to recount their experiences in the industry.
Concepción Vicente, WICE award, Best Woman Contractor 2017
Concepción took home the WICE (Women in Construction and Engineering) Award for Best Woman Contractor in 2017, and in a career that has spanned 17 years in the construction and engineering sector, she now finds herself in the position of Project Manager on the ground-breaking Thames Tideway Tunnel Project in London. But what was it like when she started working as a female engineer?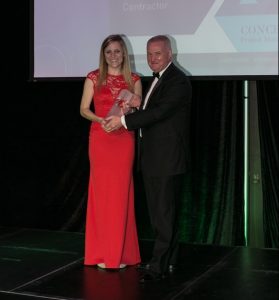 "I remember when I started to work on my first construction project I used to sing every morning on my way to the site while driving. That was quite significant for me. I was thrilled as I was at the beginning of my professional career doing what was my passion and, more importantly, my choice."
Though she mentioned "the singing has now stopped (probably due to many other reasons)", she added that "the fulfilment and the personal satisfaction remain and encourage me to carry on as I did those initial days."
But with the majority of today's engineers still being male, Concepción had some advice for us.
"Working as a minority within a male dominated industry usually demands extra effort and courage and quite frequently takes you outside your comfort zone. However, and in exchange, it gives you the exceptional opportunity to improve and develop yourself on a wider scale of skills, some of them priceless."
Belén Marquina, WICE award, Best Woman Contractor 2016
But it's not just Concepción who has been an award winning Ferrovial Engineer. The previous year, Belén Marquina won the award for Best Woman Contractor at the 2016 WICE awards. She recounted an amusing exchange she had with a male colleague on one of her projects.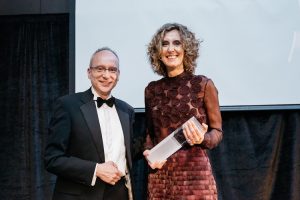 "What's a woman doing in a place like this?" she was asked. "Can you tell me where I can find the Project Manager?"
"I'm sorry, it's me…"
"Who's the person that's going to decide this contract?" he persisted.
"I'm sorry, but they're standing right in front of you." She replied.
Marquina began as a new and recently graduated architect in 1991 and for the last 27 years has called Ferrovial home. Today, she says, there is no sorry: "There's no need to apologise. We're all engineers and this is what really matters, not your gender. Let's focus on doing our job the best we can."
Sara Collado, WICE award, Best Woman Engineer 2018
More recently, Ferrovial's Sara Collado was awarded the title of Best Woman Engineer at the 2018 WICE awards. She said that although there still aren't as many women engineers as there should be, it has changed a lot since she first started 15 years ago.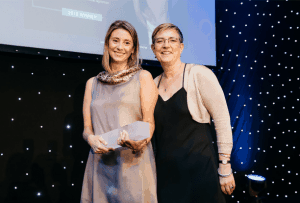 "Every year you see more women beginning in the industry. The mindset has changed a lot, and it's now a more comfortable working environment for women as everyone, regardless of gender, is seen as an integral member of the team."
We asked Sara if she had any moments she cherishes most from her career.
"I remember three specials moments during my career." She began. "The first was finishing my studies and graduating from University with my degree. It was the recognition of a very big effort."
"The second was when I joined Ferrovial, because I've always wanted to work in construction and I was a bit afraid of not being able to get a job at a construction company because of my gender. Fortunately, this wasn't the case."
"Last but not least was, of course, wining the WICE awards, because it's a wonderful appreciation to a dedicated life in my profession.The preparation for the award also helped me a lot personally, to understand where I am and where I want to be in future."
With so much experience between them, Sara, Concepción and Belén have a huge wealth of knowledge that is evident when you speak with them. And although you'll find plenty of inspirational words out there this International Women in Engineering Day, we're going to leave our last ones to Concepción:
"One of the many things I have learnt during my career is how important it is to believe in ourselves, our achievements and capabilities. As long as you work according to them, your success will always be well deserved. We have to be proud of it and share it with others, leaving modesty and insecurities behind."