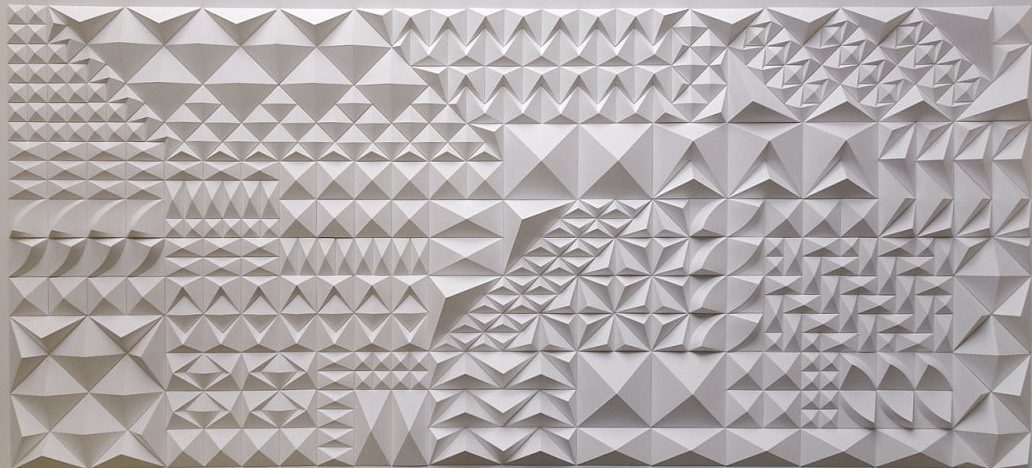 Folding paper can simply be for fun, but when taken to its limits, it can also be a useful technique in several fields of science and engineering.
Matt Shlian is an artist who creates unique works out of various materials, particularly folded paper. His works are a sort of engineering of complex, varied structures that ranges from harmoniously conceived paper sculptures to objects reminiscent of plants or foldable mechanisms that take impossible shapes. But beyond the pure art of his work, it is also being used in research in science and engineering.
An important mathematical principle is evident in his work, and Shlian himself recognizes that he was really good at algebra and geometry in school – although he doesn't consider himself to be a mathematician, but a professional paper engineer.  Some of his designs follow precise curves, have a peculiar geometrical distribution, or form complex patterns reminiscent of works such as those by Buckminster Fuller.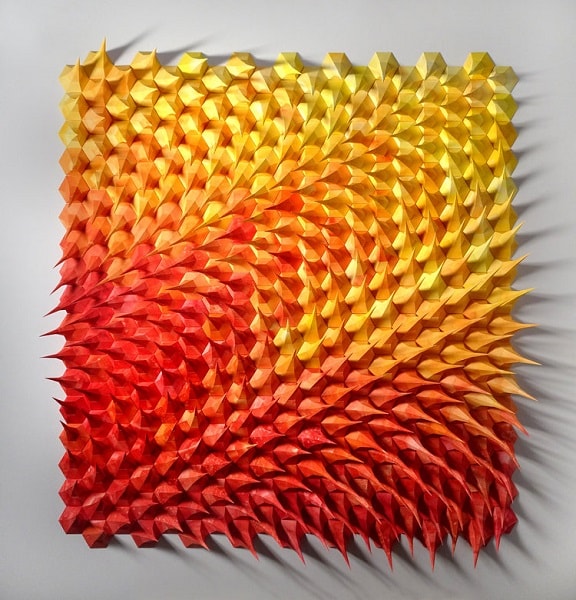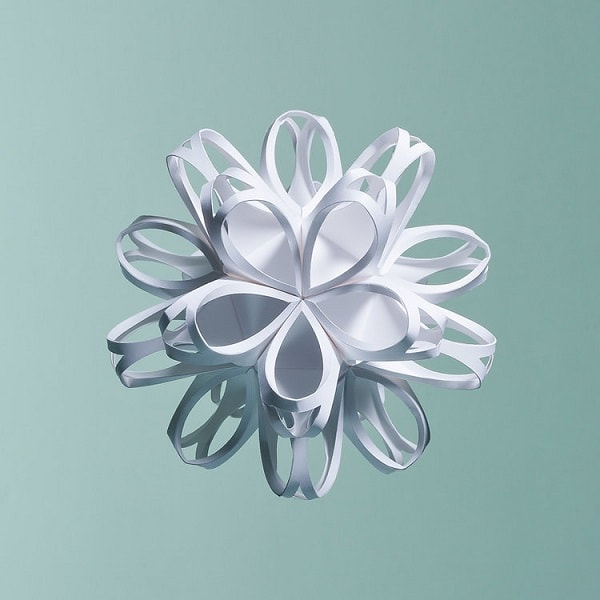 For most of his work, he simply uses white paper, but for some, he uses brightly colored metallic paper with textures, as well as eye-catching light and shadow displays. Shlian says that his inspiration comes from many sources and that his art "doesn't try to answer any questions," as that is left up to those who reflect on his creations. Why paper? The main reason is its immediacy and geometrical simplicity, the fact that folding it in different ways is somewhat like solving a puzzle. He believes that what is truly important is the path from the raw material to the final result. His work cannot be easily classified: it is both art and science, architecture and engineering.
From art to science
As Shlian  recounts in one of his videos, it was simply by chance that he found a practical application for his artistic techniques when he tried to reach out to university leaders to see if his interest in folding paper could be of any use there. That led him to give a talk at the molecular biology department and forging a relationship with a team that was very interested in his techniques.

There, they noticed that some of the paper folds were highly similar to those in cell membranes and living tissues. So for years, they worked together to explore how the mediums fold, rotate, and move: to first illustrate scientific concepts and then move on to something more practical: research on protein folding, which could lead to better understanding of certain diseases and developing new drugs. From there, they switched to designing "mobile" photovoltaic panels , and finally to experimenting with flexible nanoscale materials  with interesting properties, all related to different types of folds. There are essentially two techniques: origami (folded paper) and kirigami (trimmed paper).
Matt Shlian's various videos on the Internet include a TEDx Talk, an appearance on Sesame Street, and a talk on his scientific work for the National Science    Foundation at the Materials Science Department at the University of Michigan. On his YouTube channel, you can also see  some of his moving designs "in action."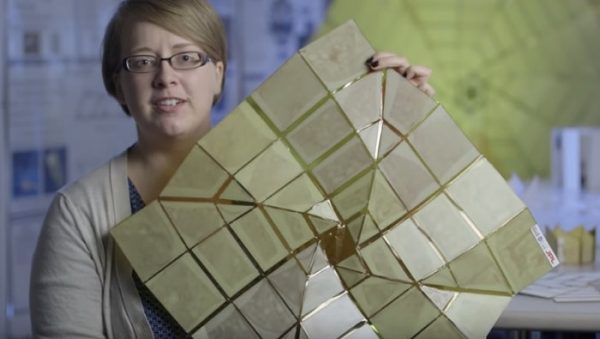 From paper folding to engineering and architecture
Origami and its ability to collapse a large area into a small space has long served as inspiration for designing folding structures, such as solar panels  on space probes (this video shows them in action).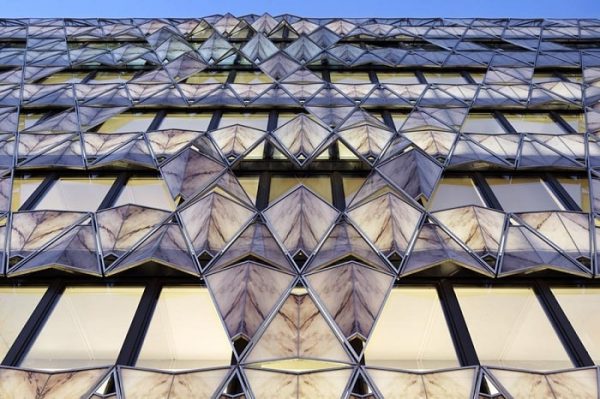 The structures of geometrical origami can also be adapted to construction, and in fact, there are architects who find in them inspiration for their designs. One example is the  Manuelle Guatrand's Origami Building in Paris, which serves as the headquarters for Barclays. When it was renovated, they added a façade that looks like origami folded out of marble and glass, instead of paper. The result is 30 meters of continuous facade along a seven-story building.
In Spain, this style can be found in a few buildings by Coll-Barreu Arquitectos: Bilbao's Osakidetza Building and the E8 Building in Vitoria's Technology Park: polyhedrical faces clearly mirror folded paper structures. The flat, glass structures around the building are integrated into the park's natural environment, including large atriums and a sort of two-layered skin that provides dynamic insulation to minimize changes in temperatures, thereby making them more sustainable.