Who didn't enjoy playing with building blocks in their childhood? They are a great way to experiment with the laws of physics, develop coordination, and begin to understand objects in three dimensions. Over time, toys such as Legos and Meccanos have become more and more specialized for different sorts of construction. And some have gone far beyond those colorful little square houses.
Lego is especially adept at enabling fans from all over the world to imagine or recreate technical vehicle models to scale, with editions such as Mindstorms (robotics) and Technic (advanced technical pieces). And in the field of construction and engineering, they're not just flashy; they're also quite functional – for their size, at least.
Can a Lego machine build bridges?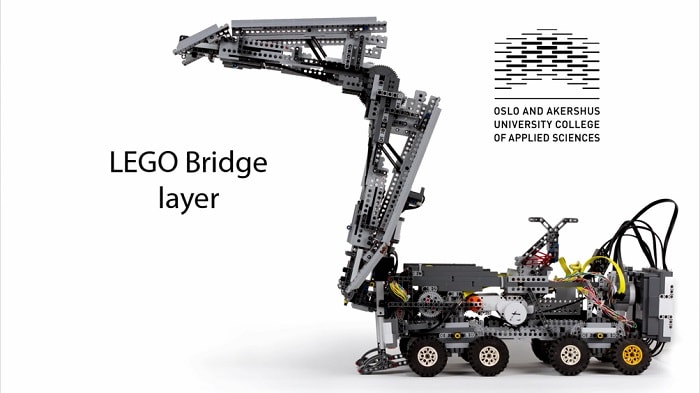 The Internet is full of videos of these miniature yet complex wonders of engineering that are built piece by piece. A good example is this machine, called the Bridge Layer, which builds bridges. It was made some time ago by two students named Ger and Ola from Oslo University College (Norway). It is run with two Lego Mindstorms Nxt 2.0, four servo motors, two linear actuators, and several optical and touch sensors, which communicate via Bluetooth.
The machine is elegant: it raises the scissor bridge, approaches the section to be laid, lowers it into place, and can then move to the other side by crossing the bridge as it lays it, and then may turn and pick it up again. It may seem a bit slow, but played at double speed, it is more spectacular.
What real vehicles, used to build Scissor bridges, are the lego machines inspired by?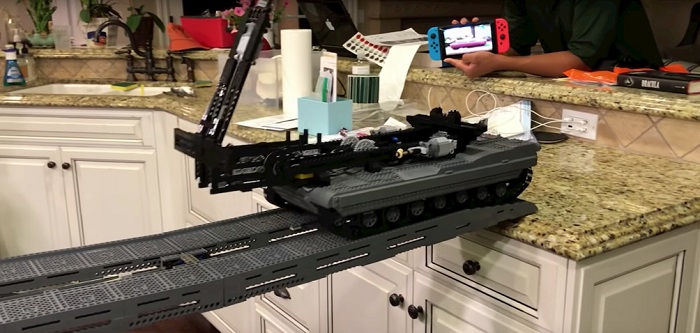 This similar Lego machine was inspired by the M1074 military vehicle. In this case, the invention uses the chassis of an M1 Abrams tank built to scale, which is attached to a 1.22-meter long scissor bridge. This makes it a "bridge launcher" model, of which there are currently variants for both military and civil use.
Some 2,000 Lego pieces were used to build this bridge launcher – which you can see in action, intrepidly crossing its creators' kitchen – along with two large motors, three small motors, and even some fishing materials: several counterweights and special fishing line that help pick up and lay the scissor bridge.
How does a lego machine make a "
mega construction"-style of bridges and viaducts?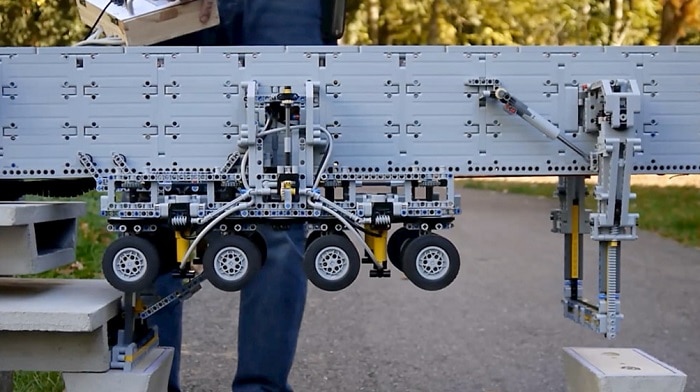 Wolf Zipp's Collection of Bridge Building Machines deserves special recognition. These models built with Lego Technic are capable of performing true feats, at least for their size. They move parts of enormous weights and sizes, set them in place, and move them with absolute precision, guided manually by their creator and operator. They're controlled by a wired remote control, but the most remarkable thing about them is their ability and ingenuity.
The SLJ 50018 model, for instance, is used to move large pieces and beams of various sizes with their eight double-wheel modules (16 in total), which can spin independently or in a coordinated fashion to up to 90 degrees. The 32-wheel KSC 500 vehicle (Kirow) on its 16 independent axes can be used to move some parts, as it can withstand heavy weights and move them over longer distances.
Once the sections of the bridge are hung, they can be put into position on the beams of an aqueduct, for one example. The tricky part is approaching the edge of the stretch that has already been built [in the video: 03:45], raising the vehicle on jackscrews, slowly moving the entire structure over the span, and lastly, placing the lift legs on the other side. These lift legs can also be moved along the vehicle, thereby "creeping" forward until the concrete section is put in place to complete the bridge's deck.
The larger version of the SLJ 50018 Lego machine comes in at two meters and weighs 10 kg; it can lift bridge sections of up to 60 cm and 2.5 kg in weight. It was inspired by the gigantic Chinese SLJ 900/32, a Wowjoint Holdings machine that has been used for  years: it weighs 580 tons, is 91 meters long, and moves on 64 wheels in 4 sections. It is said to be capable of raising more than 700 bridges in its 4-year lifespan. Zipp's humble Lego machine can't raise bridges that big, but it does have at least the same longevity.