If there's one thing that has always defined the team of people that make up Ferrovial Agroman (Ferrovial's construction business), it is commitment. A commitment that has always come through in the passion for what we do, the continuous desire to improve what we do with our innovative drive, and the team spirit that makes us talk about "our company" and "our projects."
Once again, we've shown this commitment in the serious health crisis that we've been going through. From its start, the display of solidarity from the company's teams has been praiseworthy.
Support for the Covid-19 Medical Emergency
On March 17, Ferrovial Agroman decided to take an active role in the emergency created by the COVID-19 epidemic, making its organizational skills, resources, and logistics capabilities available to authorities. Ferrovial Agroman participated in several different specific projects.
Vehicle-based rapid testing centers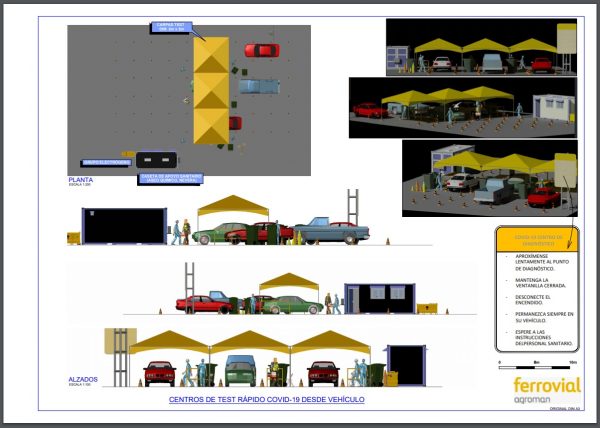 In different countries, rapid detection points were created, and tests had to be carried out from vehicles as a way to pre-filter in a non-hospital setting and to avoid exceeding capacity in emergency rooms. Here at Ferrovial Agroman, we planned and designed a specific rapid detection center that could be easily scaled and replicated by geography, working with health authorities to identify appropriate locations in the shortest time. The prototype was designed and ready to be implemented in 48 hours, and it was offered to several administrations.
In the Balearic Islands, two of these centers have been set up in the towns of Manacor and Inca, allowing an average of 70 to 80 samples to be collected each day without leaving the vehicle. It is expected that up to five units will be set up in different locations on the Island of Mallorca.
A 250-bed field hospital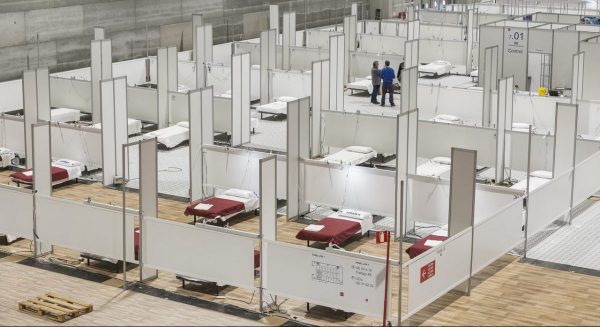 Faced with the rising infection rate, Ferrovial Agroman made itself available to Spanish health authorities for developing Field Hospitals by adapting existing spaces and transforming them into hospital units with a capacity of up to 250 ICU beds.
After Ifema's adaptation as a field hospital was up and running, we participated in the organization and contribution of personnel qualified for designing and installing medical gas pipes in Pavillion 9 at Madrid's fairgrounds.
Supply of sanitary materials and equipment
An interdepartmental team led by Supply Management has been providing authorities with all of its abilities and resources for purchasing sanitary material and equipment since the beginning of this health crisis.
This week, that effort has resulted in the arrival of 620,000 masks on the first aircraft from China. The first shipment of respirators is also expected to arrive.
Protective screens made from construction helmets
Based on the initiative of a Construction Manager working with personnel from the Machinery Park and Supply Management, they manufactured and delivered more than 500 protective screens made from the fasteners in construction helmets to various hospitals, health centers, and nursing homes in record time.
Ensuring the water supply and sanitation
Cadagua's Operation and Maintenance team knew what to expect with the arrival of the pandemic to ensure continuity in the service it provides to the population, preparing and implementing their own specific contingency plans with measures to face Covid-19 before the State of Emergency was declared. This has allowed over 500 people to continue to provide these critical essential services of water supply and sanitation at full capacity. Our municipal treatment plants, which serve a population of over 3 million inhabitants, are continuing to operate 24 hours a day, 7 days a week. Likewise, we have kept the drinking water supply service running, desalinating more than 6 million cubic meters of water each month.
From home, too
Everyone is demonstrating our commitment. The team that is teleworking is also doing their part from home to address this crisis.
This includes the volunteers who have joined the Adecco Foundation's initiative, "Estamos en contacto" ("We're in touch"), offering telephone support for individuals with learning disabilities, or our contribution of healthy recommendations for staying at home with the #Healthyathome initiative. Of particular note is the initiative that is connecting employees and those caring for them, keeping them connected and supported by their colleagues in case they need any kind of help at home.
And on the global level
A state of emergency was declared in Spain before any of the other countries where we work. From then on, and today still, there are solidarity initiatives in all of the regions.
At Budimex, our Polish subsidiary, employees have worked with the MSWia Central Hospital Clinic in Warsaw to adapt the facilities for admitting patients with COVID-19. And in the UK, the Northern Line Extension and Tideway projects are donating personal protective equipment to the National Health Service (NHS).
All of these initiatives, which came from our teams' solidarity, show beyond a doubt that, together, we can get through this crisis.
Meanwhile, in the US, the commitment of our Ferrovial Agroman and Webber teams is apparent each and every day. The projects, which are essential for the communities where they are being carried out, are still underway, thanks to the commitment of all the teams involved. Additional protective measures are essential to ensure everyone's safety, and we thoroughly support and appreciate them.
This is also the case in Spain. Since the return to work on our projects last Tuesday, we're continuing to demonstrate our firm commitment to making recovery a reality.
With everyone's commitment to the personal protection measures taken in all workplaces, we will succeed. Continuity in our sector ensures the future and a return to normalcy because today, more than ever, infrastructure will get the world in motion again, and it will be in part thanks to all of us and our commitment.