The COVID-19 pandemic is pushing healthcare systems in countries around the world to their limit. Hospitals and health centers are the first line of defense against the new coronavirus (SARS-CoV-2), and their workers are now redoubling their efforts to contain the disease. However, the materials that protect them, such as masks and personal protective equipment (PPE), are in short supply.
Demand for this equipment has skyrocketed around the world, and the market and industry aren't always able to supply it. This is where those of us here at Ferrovial realized that we could take action. That's why we're relying on 3D printing technology to design and develop sterilizable respiratory protection masks in hospitals themselves. Additive manufacturing has proven to be an effective tool to shorten production times and offer alternatives in the absence of masks.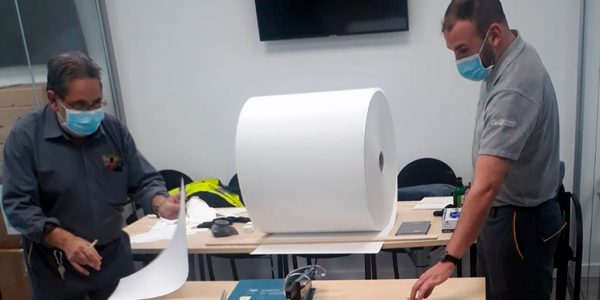 An initiative for extraordinary times
The idea originated among our hospital team, which ensures that services at the maintenance and operation level don't decline at hospitals and that services are still running in such a situation. The hospital team sent us their questions, asking if we could perhaps do something at the 3D printing department to develop masks that would substitute the short supply.
So we started to study what the best adaptation of 3D printing technology would be and what materials we had. Right now, there are several types of masks: surgical, respiratory protection, and, as a subset of those, various levels of protection (FFP1, FFP2, and FFP3). The goal was to design a mask for working in low- or medium-risk environments, equivalent to an FFP2.
This was how we came up with the first design and produced an initial prototype with additive manufacturing, using FDM (Fused Deposition Modeling) technology. We started adapting it with different tests and got to the final design. From that moment on, we started looking for a material that could be sterilized in an autoclave, a laboratory sterilization device available in the hospital environment itself, and that wasn't porous to minimize the risk of contagion through the material.
We then decided that the easiest thing to do would be to manufacture them with P12 nylon using HP's Multi Jet Fusion  (MJF) technology. Simply put, it is a powdered material that is solidified through light and generates a 3D structure. And with these results in hand, we contacted our 3D printing partner, Sicnova, in Jaén, to print the masks.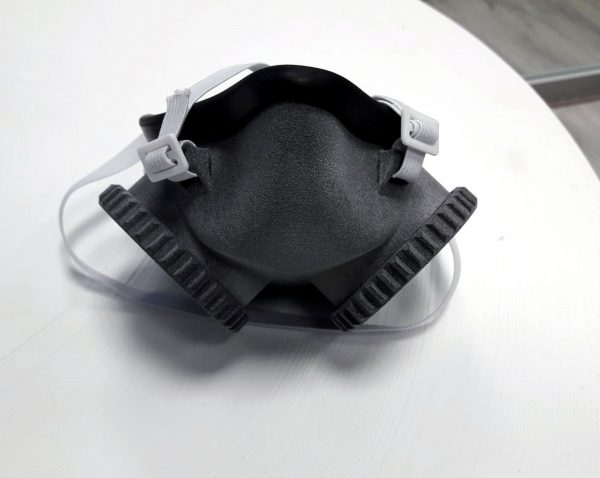 A functional design on track to being approved
The material used in hospital settings follows an exhaustive approval process. Validation and authorization are essential to using 3D printed masks in hospitals, so the entire innovation process serves to protect the staff on the first line of containment for the pandemic.
In the first case, we're printing and testing them with different organizations for approval, such as the Instituto Nacional de Técnica Aeroespacial (INTA). We are doing this simultaneously and in parallel to try to get a response as quickly as possible.
Once we have approval, there will be no time to waste.  We'll start assembling the parts of the mask (the main body, adjustment straps, and filters) and distributing them. We can produce about 3,000 masks every ten days.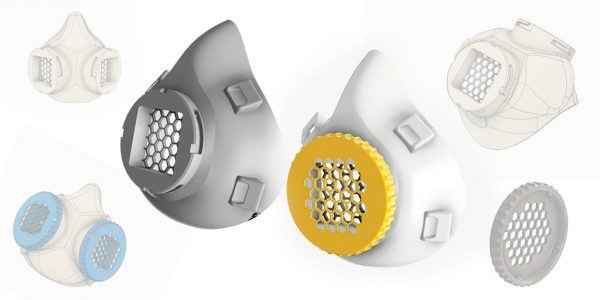 Flexible, fast, and open
The most interesting thing about this project is that the design is open, and we've already shared it with many companies in Spain. Anyone can follow the exact procedure we've set out in the corresponding dossier to print these masks.
Additive manufacturing technology not only allows us to share the procedure easily, but it has given us the advantage of speed, which is essential in a situation where every second counts. 3D printing has allowed us to have a final model ready for evaluation and approval in a very short time, something that would have taken several weeks in traditional industry.
Other traditional manufacturing methods, such as the injection process, enable producing a minimum of 2,000 sets per day,  while 3D printing takes four or five days to reach that volume. But with additive manufacturing technology, it's possible to start manufacturing from the beginning.
Lastly, this project has opened the door to working with other companies of all sorts, all united in moving forward and finding solutions. Getting in motion to help play our part at an extraordinary time for the whole world.