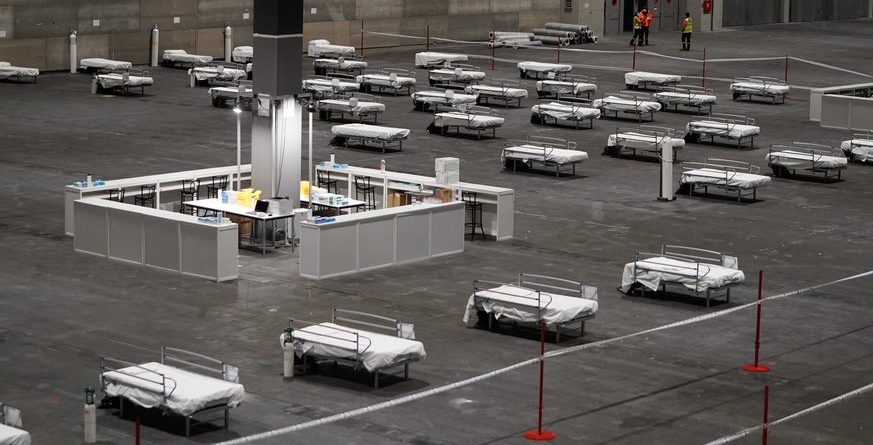 In response to the Covid-19 health crisis in Madrid, an order was given to build a 5,500-bed field hospital from scratch at the IFEMA fairgrounds on Friday, March 20. By the end of that Sunday, Pavilion 5 was attending to more than 1,000 patients, and hundreds of professionals, volunteers, and members of UME, the military emergency unit, were hard at work.
Pavilion 9 had oxygen lines stretched out in record time, and it began operating as an ICU on Wednesday night. At the time this article was written on Saturday, March 28, the news broadcast confirmed that "200 patients are coming into the IFEMA field hospital each day." Tremendous work by all kinds of professionals went into building this hospital.
As soon as they heard about the project, 300 volunteers with varying degrees of technical training were at IFEMA's doors, ready to help. A small battalion of plumbers led by engineers managed to build a hospital oxygen system for 1,500 beds in just three days. The ICU complex came a few days later.
The complexity of building a field hospital
If we over-simplify, a field hospital can be described as a set of temporary medical tents, a group of doctors from different disciplines, and some medical equipment. But it just so happens that theory lies far from practice, and one of the main points to consider is what that field hospital is needed for.
Unlike hospitals that at large events like concerts or festivities, the IFEMA hospital was designed and built specifically to increase the number of beds available for a disease that attacks the respiratory system, among others. Factors such as oxygenation, ICU beds, and distance are essential.
IFEMA's pavilions, which are about 300 meters long, were chosen not only for their large interior spaces but also for all of the galleries already there that have been transformed into hospital facilities in record time.
These facilities also include secure Wi-Fi access to Madrid Digital's hospital platform so that doctors can work as they do in a permanent hospital; providing hospital services such as CATs or radiology set up on-site; and new power lines.
Sanitary conduits, those great forgotten
The video below by Segovia 24/7 shows from the underground service galleries the enormous complexity of providing essential services to patients who need, among other things, greater oxygenation. Wearing a protective mask and gloves, a firefighter tells the camera what they have accomplished in record time.
On Monday the 23, the gallery under Pavilion 9 didn't have any special runs or tubes installed beyond those normally used by the different fairs. But within 48 hours, an army of volunteers, many of them there of their own accord, led by firefighter engineers, managed to set up a facility that will serve more than 600 ICU beds.
We're talking about straight piping along 300 meters that has an even longer total length. For each vertical duct, located every 5 meters, a herringbone installation (丰) forks out on each side and holds an air duct, an oxygen duct, and a vacuum duct. There are over two kilometers of pipes that are essential for running the hospital.
A field hospital is its people
The most important part of a field hospital is the people who make it possible. That's why it is essential to highlight the different roles and some of their basic contributions.
Members of the Unidad Militar de Emergencia and firefighters. The partnership between the Unidad Militar de Emergencia, firefighters, and their material resources have been indispensable in assembling the entire operation. In the videos, we can see how they have put up tents and screens and transported material into the pavilions.
Medical personnel. Staff from Samur, Summa 112, and some 54 local health centers and offices have been mobilized, prioritizing care for this pandemic over other emergencies, as the latter has significantly reduced in number. Retired medical volunteers and last-year students have been called on to treat patients.
Nursing personnel. It would be impossible to treat so many sick people without a small army of nurses from the public sector, including those from the military and private sector.
Cleaning personnel. Even though the hospital is open and minimalist in terms of furniture, there are vertical panels separating areas that require continuous cleaning. There is also medical equipment that needs to be disinfected and cleaned thoroughly.
Civil Protection. Throughout the weekend, this public service hasn't stopped making trips to transport medical equipment, organizing staff, and supporting authorities in the field hospital's internal management.
Engineers and technicians. Invaluable help from all kinds of technical knowledge made it possible to transform a completely open space into a field hospital in 48 hours.
Ifema staff. Management mobilized on Friday, and a few hours later, dozens of employees came to help. Since then, they haven't stopped working to help manage all of the services.
Private companies have joined in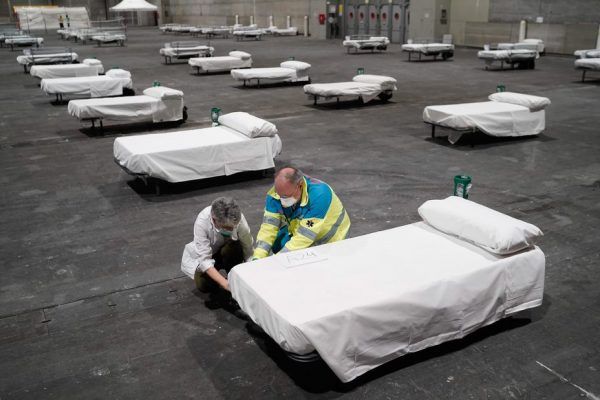 Support from the private sector through donations is similar to what we saw with the express construction of the Huoshenshan and Leishenshan hospitals in Wuhan. This support also made it possible to buy, transport, and install medical equipment, but other essential goods have also been donated.
This includes beds, bedding, pillows, staff clothing, gloves, general PPEs, cleaning products, clothes hangers (which are sometimes used for IVs), etc. One particularly exciting highlight is uninterrupted food delivery from caterers and fast-food restaurants, along with bottled water, so that the staff listed above don't have to worry about this.
In addition, many manufacturing companies are known to have changed their production processes, adapting them to manufacture other materials like hydroalcoholic gel, masks, or medical gowns. Furthermore, there are medicalized hotels, which offer more space for beds and workspace to attend to the growing number of infected patients.
Public, private, and volunteer mobilization brings to mind how we worked together after the 2004 train bombings in Madrid – all of us doing our best to help others. We're fighting against an invisible enemy who treats us all equally, a world war where none of us are fighting each other. This is what we are capable of when we all work together. Thank you.