The fight against coronavirus has started in every country around the world, and field hospitals have been set up everywhere to provide medical support for the health system. Even though the pandemic is global, it is notable how solutions in different regions are adapted to each country's resources, resulting in different approaches to similar needs.
Some countries are choosing to expand hospital beds generally, while others are working to take ICUs where they are most needed. Most have taken a mixed approach. Expanding both types of infrastructure — each with its own technical requirements — serves different purposes: mass testing, freeing up hospital beds, providing intensive care, and so on.
Modular field hospitals
The two most well-known field hospitals in the battle against the coronavirus were likely the first two. Wuhan, the epicenter of the global pandemic, built the Huoshenshan (1000 beds) and Lei Shen Shan (1500 beds) hospitals in a two-week period. This is quite a logistical achievement and a successful health strategy.
While this type of hospital is remarkable and particularly useful, the model cannot be exported to other countries like Spain or even the United States. Wuhan is a large region compared to these two countries, but it is relatively small compared to the rest of China, which mobilized containers and material from across the continent to get them to the Hubei province.
In the case of other much smaller countries like ours, the resources available are much scarcer, and though external support exists and must be appreciated, it is more limited. Building a modular field hospital using hundreds of hospital containers is beyond our reach in terms of resources, no matter how much we know that patients will benefit from such a space.
As they were the first, Huoshenshan and Leishenshan have been both praised and criticized. The rapid execution of both hospitals was amazing, but sometimes, the mistakes in execution called the need for speed into question. There is no doubt that it was necessary to curb the pandemic and that the best way to build a hospital is not to do it fast.
Indoor field hospitals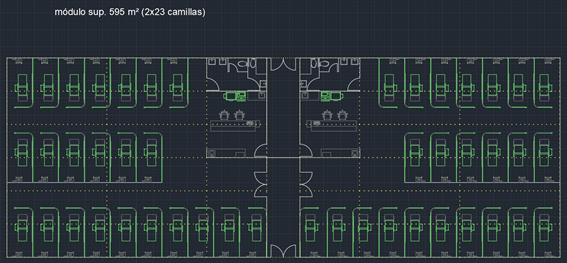 The Spanish case is also paradigmatic, both because of how the pandemic is affecting the population here and for using one of the most interesting field hospitals in the world. This is so much the case that the "Ifema model" is being replicated in other regions and countries.
A few weeks ago, the Community of Madrid asked us for some possible locations and interior designs for these hospitals – above is a module with 46 beds and two nursing posts – and other facilities, such as the diagnostic centers – below, a vehicle-based COVID-19 rapid test center. One of the sites we mentioned in the report was this fairground.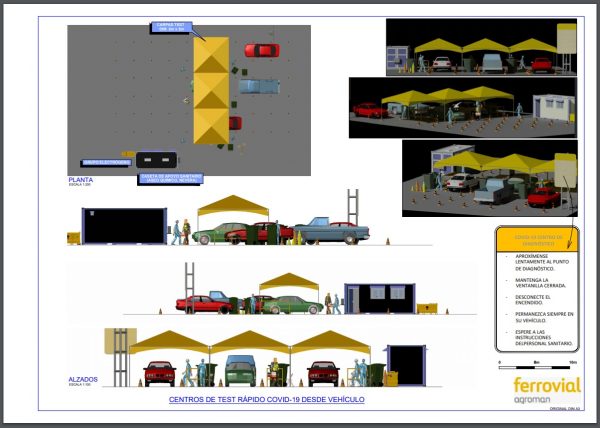 Its considerable size and open plan, along with air conditioning and safe electrical currents, made it a site of interest for both basic hospital beds (Pavilion 5) and the ICUs (Pavilion 9). Generally speaking, hospital beds need electricity, air conditioning, and mostly medical gases, as well as sanitation.
The IFEMA compound already had the first two, and the plumbing and sanitation network for staff was already in place (though not the case for patients), along with support installations, like security and communications. The technical work done by specialists to adapt the services was arduous and done in record time. Still, having the basics partially covered accelerates the process of building ICU beds.
Because response time can save lives, this sort of analysis and solutions are the most adequate. This was shown days after the construction of the second field hospital with 400 beds in the region of Aragon, which is being carried out in the facilities for Zaragoza's fairgrounds.
There are other plans similar to these. In Sabadell, a brigade of engineers is building the temporary Salut Vallès hospital (200 beds) in an indoor athletics track. In Barcelona, a very similar design to the sketch shown above is being set up at the Hospital Fira Salut on the FIRA fairgrounds.
L'hospital temporal ? a la Fira de Barcelona comença a prendre forma per engegar en cas que sigui necessari ✅

Anomenat Hospital Fira Salut, estarà a disposició del Sistema de Salut si convé incrementar espais ?️ per fer front al ? #coronavirus#JoActuo ? #EnsEnSortirem pic.twitter.com/hqQXGnG0Zw

— Salut (@salutcat) April 1, 2020
New York opts for a mixed solution
The case of New York is particularly interesting due to its size. New York is, to date, the largest hub of contagion in the United States. Manhattan's high population density and lack of isolation measures over the past few weeks helped accelerate the spread of SARS-CoV-2, so the response must be proportional.
As such, field hospitals and other temporary hospital setups have aimed their strategy at separating patients without symptoms, those with mild symptoms, and ICU patients into completely isolated centers. The arrival of the medical ship USNS Comfort (1,000 beds) must help absorb some of the patients who do not have coronavirus.
This vessel's goal is to free up space in local hospitals by targeting patients with mild symptoms who need basic medical treatment. It will keep them from being crowded in corridors, which would certainly worsen their medical condition. Meanwhile, several field hospitals are being built, including:
A field hospital in Central Park with tent-like solutions is transforming the Upper East Side. This site was chosen for several reasons: there is an increasingly saturated hospital in the East Harlem district, and the open park allows for increasing the number of tents, as was done with booths in Hubei.
Field hospitals in various large, indoor spaces, such as the Javits Convention Center and the USTA Billie Jean King National Tennis Center (known for being the location of the Tennis Open). These solutions are similar to those already providing services at Madrid's Ifema.
The USNS Comfort is fully equipped to meet the highest medical demands. As for Central Park, all of the service equipment was built on-site (the electric grid, air conditioning) or is based on portable solutions, such as the generator sets and oxygen cylinders like those used at Javits and USTA.
The pandemic is global, but local solutions are designed with that population's needs and available resources in mind. As far as designing field hospitals and the engineering involved, it is fascinating to learn about the different approaches used in each region. We can also definitely take notes on those solutions and see what we can use.