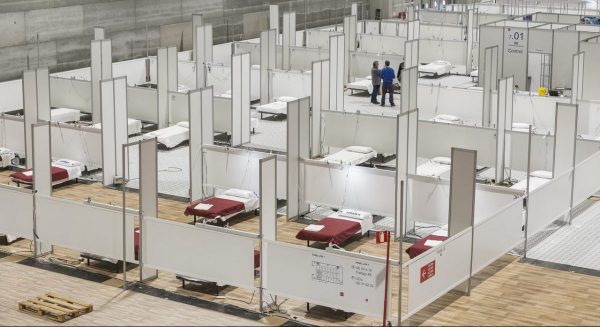 Managing this health crisis transcends civil, political, or even health responsibilities. We all can and must provide experience in areas as necessary and diverse as logistics, which supplies supermarkets; volunteer telephone lines with specialized psychological support; or the engineering that goes into field hospitals.
It is in this last sphere that a large team of technicians has made their expertise, know-how, and workforce available to public leaders to save lives. This is the case for various subsidiaries of Ferrovial Group that have supported the construction of the IFEMA field hospital, along with everyone else who contributed to this.
Welders needed to save lives
Late on Sunday, March 22, Mr. Juan Luis Junguito, Director of Madrid y Castilla la Mancha Edificación, Extremadura y Unidad dc's at Ferrovial Agroman, called on his teams to manage the urgent organization and contribution of specialized personnel in plumbing work. A joint response from Ferrovial is expected so that all available personnel will be located and on-call for receiving materials and the coordination to be done on the premises. This need will be transmitted immediately to the entire production chain, which is actively participating, especially from the facilities department at the Madrid office, through all the technicians from construction facilities and Ferconsa. Ferrovial Services has been present at the hospital for several days, with technicians carrying out all kinds of technical tasks along with the Military Emergency Unit, IFEMA staff, and several other groups.
At this time, telephone demand was high: this requires workers who know how to work with PVC, copper, and polyethylene to work on medical gas installations. Ifema's Pavilion 9 is of particular interest in setting up an ICU field hospital, as it has a host of basic services such as electricity throughout.
But even though this space has air conditioning, lighting, and even internet connection (which has been adapted to provide hospital service) the most important task of the week ahead (the 23-29) was designing and installing medical gas pipes (air, oxygen, and vacuum) of sufficient quality to provide care for patients in serious conditions caused by coronavirus.
Unprecedented staff mobilization
Faced with this challenge, we here at Ferrovial Agroman began to mobilize our resources first and then others, going through the agendas and cataloging which technicians could be in service. With the current national alert, it is helpful to have such a database, though the reduced mobility or some companies' temporary redundancy plan may affect management.
On top of that, the pressure is high. Conditions are uncertain. The goal of saving lives is forcing us to work against the clock to have a reserve of technical staff who can support this work, aiming to make IFEMA the largest hospital in the country by the number of beds.
As we mobilized plumbers, air conditioning technicians, and searched suppliers for necessary materials, our Ferrovial Services colleagues continued to work on site. A few hours before, after several days of hard work on their part, Pavilion 5 had begun to receive patients, a milestone in staff mobilization.
It is true that the requirements for putting together the different ICU service lines (Pavilion 9), as well as the difficulty of obtaining specific material for this type of assembly, required fewer staff members than were available as a backup. On-site, there were already a large number of workers, so installers were kept on hold for potential critical moments. It is comforting to know that there is a team of volunteers who will step up when summoned.
It is also encouraging to find that Bruce Aylward, COVID-19's lead expert at the World Health Organization, has praised the work of the technicians involved. In the words of this expert, "remember what we saw in China, where enormous infrastructures were quickly renovated to care for patients," adding nuance to the different situations.
The race against time
The problem with pandemics is that their exponential behavior is confusing to us. Unlike linear behaviors, the number of COVID-19 cases grows every day, at least until the results of mass quarantine become evident in a few weeks. This makes our work a race against time.
A couple of weeks ago, before the idea of IFEMA's field hospital existed as a possibility, Ferrovial Agroman was asked to design a 250-bed ICU field hospital in Madrid. IFEMA was one of the locations proposed by its facilities, though there were other viable locations of varying levels of technical difficulty.
When we imagine a hospital, we often think of a building, but the most relevant elements, especially in the fight against a pandemic, are not the walls or the ceiling, but what is behind them. Installations that keep patients in critical condition alive are often shown as discreet outlets, invisible but essential.
At field hospitals, the design is sturdier and less aesthetically pleasing, but just as effective. Gas cylinders sometimes replace fixed wall lines, but they also help breathe. Portable generator sets are less efficient than power lines, but they supply energy to keep medical devices functioning. Air conditioning units are visible and sometimes noisy, but they maintain the right temperature for patients.
When you have to build a hospital in record time to save lives, aesthetics and even some technical elements must be put on the backburner. The end product has to work, and it has to work fast. If this doesn't happen, people are in danger.
To give us an idea of the size of Pavilion 9 (the ICU), it took 48 hours to finish a temporary facility that would have taken months of planning and construction for a conventional hospital, which probably would have had a much better finish, style, and quality. We don't have that kind of time right now, but finishing is overwhelming in itself.
Bottlenecks in management
Even with optimization techniques, bottlenecks are reality each day for any project, and this is certainly the case in managing the pandemic. We have seen it in materials (PPEs, ventilators), the number of beds and ICU beds, the healthcare personnel needed, and so on. El País's video tells of the difficult roadblocks in the medical field, which may extend to other areas.
In terms of installations in field hospitals, and in assisting patients who face respiratory failure as a result of COVID-19, there may be bottlenecks in both the specific material needed for medical gas lines and the number of technical operators able to build them.
So it was not unexpected to see IFEMA plumbers crafting some parts for these installations to hold over until they got a batch of material, or to see volunteers mass at the door.
This is the problem with working with tight deadlines and highly specific needs. Transporting medical gases won't work with just any pipes or materials, just as treating a COVID-19 patient admitted to the ICU requires specialized healthcare providers.
This is why it has been amazing to see how these bottlenecks and congestion smoothed out as the field hospital went into operation. We've seen this throughout its construction in various instances: with the pipelines; in opening the changing rooms, which are now more open and spacious than a week ago; and in the arrival of the PPEs, now more organized.