Maintenance
A Team Committed to Holding the First Line of Action Against the Pandemic
The last 30 days have gone by at a different speed. The COVID-19 pandemic has pushed our health system to the limit, with hospital admissions skyrocketing across the country, especially in the Community of Madrid. It is at those hospitals and health centers that the real war against the virus is being waged. That is also where our service personnel have taken over disinfection, cleaning, and hospital maintenance in this extraordinary situation.
Backup to halt the coronavirus
Here at Ferrovial, we're carrying out different services while in constant, direct coordination with hospital management. For instance, we're keeping up cleaning services in seven hospitals in the Community of Madrid, including La Paz, 12 de Octubre, and Severo Ochoa in Leganés. We're carrying out maintenance in five other hospitals, such as Puerta de Hierro Majadahonda or the Universitario Fundación Alcorcón, where we also manage energy, like at the Príncipe de Asturias de Alcalá de Henares and the Hospital Universitario de Móstoles. We're also carrying out maintenance on the electro-medical equipment at the Hospital Infanta Leonor de Vallecas.
Activity has skyrocketed at all of these locations, and our teams have risen to the occasion at each one. For example, for cleaning, which is the service that has seen the highest increase in workload, we have increased staff by around 20% on average. These increases are much higher at some hospitals, such as La Paz.
Over the past three weeks, hospitals have requested backup. Some emergency areas have seen work increase by tenfold, and these are all areas that require much more thorough cleaning and disinfection services.
Normally, we have job boards for temp workers, workers who are already trained, know the center, and can cover for others. But this surplus staff, which is usually enough to cover absenteeism or surges in work, has not been enough. That's why we launched a call to hire new staff urgently last week.
What's more, these additions cannot be made immediately because they have to be trained at the center and on biological risks. They have to be perfectly prepared to know how to put on personal protective equipment (PPE), gowns, gloves, masks… After all, we're working at high-risk sites that require proper training. This means significant work for the departments of human resources and workplace hazard training and prevention.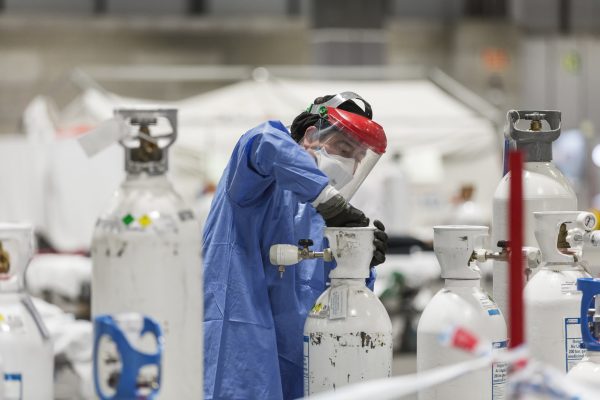 The importance of waste management
One of the most common questions these days is what happens to all of the material used to treat a COVID-19 patient. Masks, gloves, and hospital gowns are considered biosanitary waste. That means that they are potentially contaminated with biological substances that have come into contact with COVID-19 patients, so they are segregated and stored in specific containers for subsequent management.
In each specific case, hospital protocols are followed, which are also under current legislation. The same is done for sheets and towels, which are deposited in double-bottomed cloth bags for easy handling before being sent to specialized laundry services.
In any case, our colleagues in waste treatment and management are authorized to handle the end waste management. Our work includes the collection of materials and their classification at hospitals, but their transportation, storage, and disposal are carried out by authorized waste management companies, such as our own Environmental Treatment and Management division.
Libraries with beds
and field hospitals
Since the beginning of the crisis surrounding the COVID-19 pandemic, a top priority has been bolstering the capacity of hospitals across Spain, particularly in the most concentrated areas of contagion. The hospitals themselves have changed in record time, turning waiting rooms, rehab gyms, classrooms, and libraries into rooms with beds and medical equipment.
For example, Príncipe de Asturias in Alcalá de Henares took on a significant jump in patients at the start of the outbreak in Madrid, so there was an immediate need to increase the number of beds. In record time, we set up a field hospital in libraries, gyms, classrooms, and so on. What we do in these cases is to remove all the furniture and set up temporary facilities with bottles of medical gases, beds, stretchers, and low voltage lines for the necessary equipment.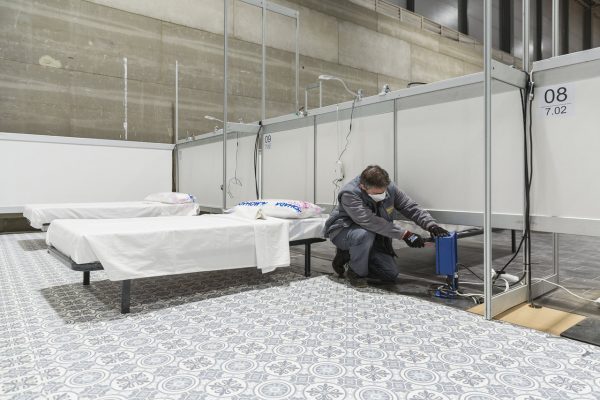 If there is one illustrative case of the involvement of our teams and those from other companies in addressing this crisis, it is IFEMA. The fairgrounds in Madrid were turned into a field hospital with 5,500 beds in ten days. In comparison, the complex at La Paz, one of the largest hospitals in Spain, has only 1,300.
On the same day that IFEMA's head director of operations, Juan José Pérez Blanco, was called to lead the field hospital, he asked us to take over assembly of one part. For ten days, we had a team of about 60 people working daily on setting up the hospital. This committed team worked from 16 to 17 hours a day, assembling facilities as the first patients started arriving.
The pressure and emotional stress on our people has been high. For example, the team leader walked 33 kilometers around IFEMA in a single day. In the end, we set up pavilions 5, 7, and 9, which have a total of 1,500 beds. Now, we're doing less maintenance (transporting bottles of medical gases, outlets that might fail,etc.) with a block of three shifts with three people each.
Team safety – a priority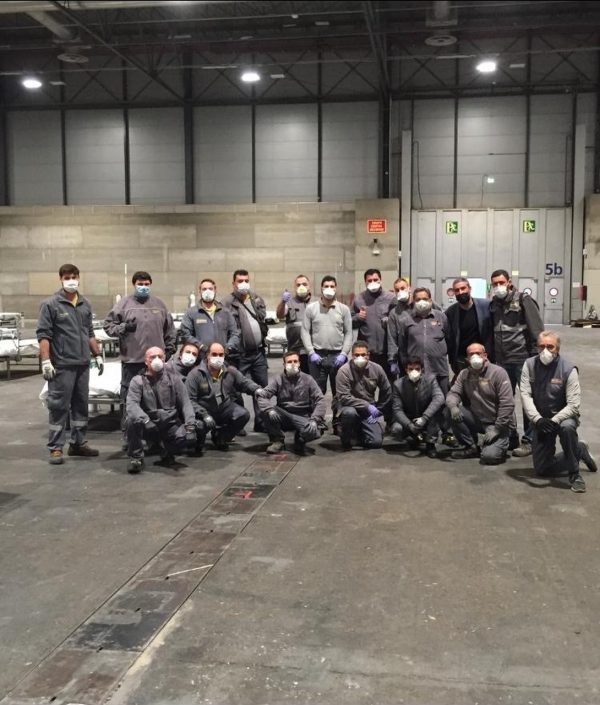 Hospitals are the first line of action against the pandemic, and, as such, the risk of contagion is higher at these places. That's why the safety of those who work there is and should continue to be a priority.
In our case, along with specific training on biological risks mentioned at the beginning of this article, we have a series of protocols in place. At all times, there is an observer who is responsible for monitoring the proper use of protective material. This person makes sure that PPEs, gloves, and masks are put on and taken off correctly, following safety procedures.
In addition, it is also necessary to have all of the protective equipment and backup needed to allow for rest. We're upholding this, and the response from our teams has been exemplary. The commitment demonstrated by our personnel in the face of this situation is extraordinary.
It is relatively easy for managers to respond to these circumstances, but the staff members who are doing cleaning and maintenance in hazardous areas are outstanding. They're highly committed to hospitals and to the company. At the extraordinary time for our society, we are proud to see that they are responding like this.