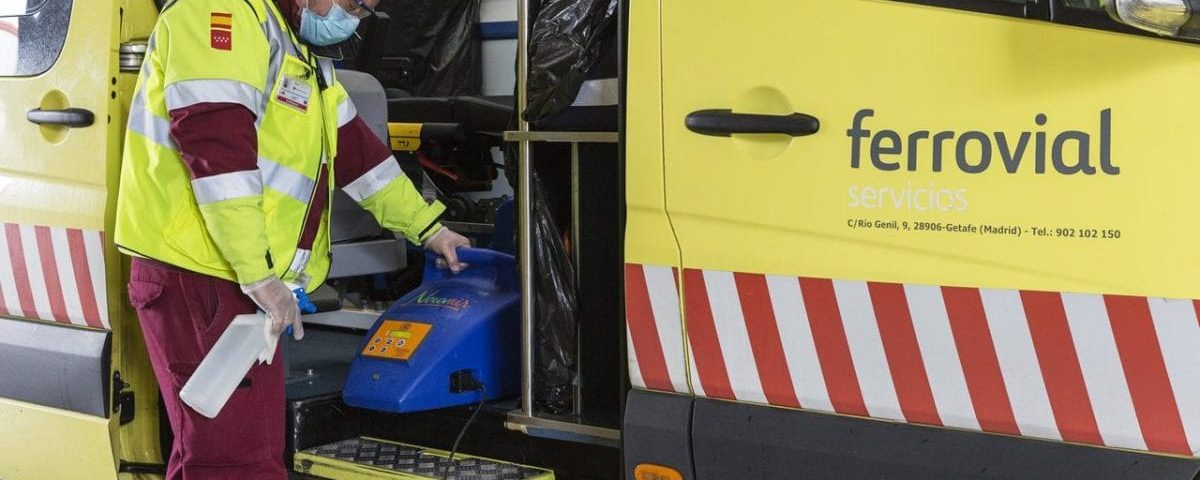 In just a few weeks, the crisis unleashed by COVID-19 has transformed the daily lives of millions of workers. For those of us working in the healthcare field, the change has helped strengthen some of our professions' strongest values, such as our commitment, willpower, and humanity.
Here at Ferrovial, we are in charge of management and transportation for health-related emergencies in ambulances in Madrid and La Rioja, two of the communities most heavily impacted by the crisis. Over the past few weeks, our work routines and procedures have changed. Services have increased dramatically, and demands are higher than ever.
Nevertheless, thanks to our teams' professionalism and enthusiasm, ambulances are still rolling to provide a service that is more important now than ever.
COVID-19 ambulances
One of the most effective measures to stop the spread of the disease is cleaning. That was the very first step implemented in our ambulances.
In Madrid, for instance, SUMMA's service is divided between transferring confirmed and suspected cases of COVID-19. Patients who have symptoms but have not tested positive are protected with surgical masks and gloves so that they don't come into contact with anything. Technicians are protected by gowns, anti-splash glasses, gloves, and surgical masks. However, because even taking every possible precaution isn't enough, they keep physical contact with patients to a minimum and clean everything they touch with sodium hypochlorite.
When it comes to patients confirmed to have COVID-19, the ambulance is protected with one layer of plastic that covers the cabinets and another that separates the areas for the driver and the patient. The technicians' personal protective equipment (PPE) is also changed. Instead of dressing gowns, they wear raincoats, and the mask is an FFP2 with a valve, not a surgical mask. After the patient is transferred, the entire rear part of the ambulance is disinfected with sodium hypochlorite.
In La Rioja, ambulances that carry patients who are confirmed or suspected to have COVID-19 patients are small. They have minimal equipment – just oxygen, a sanitary tray, a stretcher, and a chair – to ensure that cleaning is as adaptable and fast as possible so that the ambulance can be available again in just ten minutes.
This measure is essential in this community of just over 365,000 inhabitants, which ranks first in terms of its infection rate per capita. In the beginning, only one ambulance was set aside for the COVID-19 crisis. Now there are five shared among the different regions of the community.
In addition to these ambulances, part of the fleet is used for normal activity. In La Rioja, for example, some of the group services have been canceled (patients going to rehabilitation, appointments, and treatments of all kinds), but many others cannot be put off. This includes those who need chemotherapy or dialysis, for example. For them, service continues as before, though with the necessary precautionary measures. In the present situation, this requires additional effort from the entire staff.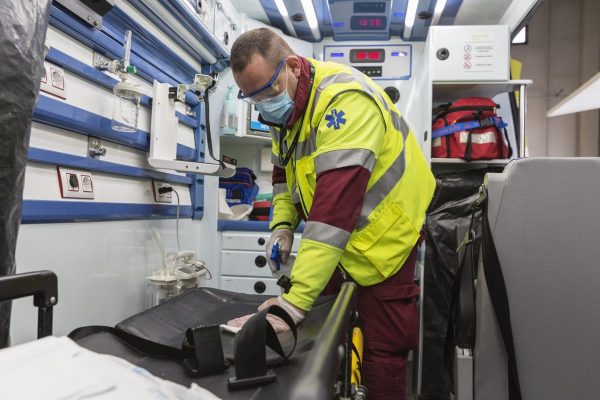 Training, protocols, and willingness to serve
Dedication and collaboration from our workers are essential in facing this crisis. The teamwork and willingness that each member contributes are fundamental to providing this service to the community.
Our work requires hours of training and many protocols. In Madrid, we had already been through the Ebola crisis in 2014. Even though the situation around the SARS-CoV-2 virus is very different, we initially went into action using the protocols from that disease. Then we moved away from these since the measures for putting on and taking off the PPEs, for example, are more complex in case of Ebola. We're following protocols sent and updated by the Ministry of Health, and we're also preparing internal documents that we share with workers.
In La Rioja, we're also following security measures as much as possible. The emergency teams have been divided into 24-hour shifts so that the same teams are always on the same rotation and workers don't mix, limiting the risk of infection. We've set up several vehicle cleaning tents, and we have a lot of cleaning materials, such as sulfate sprayers, that speed up the process.
Drivers who perform group services (transferring patients outside of emergency services) always drive the same vehicle and the same patients. When their shift ends, they drive the ambulance home.
As a result, the level of infection among our teams is very low in both communities. Various groups are commending us because, though we have had workers need time off, these figures are lower than expected. We don't doubt that this is due to the professionalism our workers have shown from the start.
Greater humanity
These exceptional times have brought out the best in us. Since day one, we've been posting stories of aid and collaboration, both between groups and colleagues.
The first days were extraordinarily difficult. In La Rioja, for instance, the operators' workers had waitlists of 50 or 60 people in emergencies because the hospitals were overflowing. Here at Ferrovial, we want to thank our entire team, especially our supervisor, Javier Peña, our managers, Álvaro Sedano and Oliver Turrado, and our director, Francisco Manuel Bernardino Caro, for their work and support.
Now in Madrid, many of the transfers are made between hospitals, or from hospitals to the IFEMA pavilion or hotels. More than ever, we depend on collaboration between groups and professionals, and we also want to thank our entire team.
We want to do as much as possible in both locations to support our workers and all of the groups that need our help – and not to mention, supporting people. In La Rioja, for instance, vehicles that aren't working go out every evening at a quarter to eight to sound the alarm through the city streets. Neighbors then reply with their support. This is one of the many gestures that inspire us and encourage us to keep going.