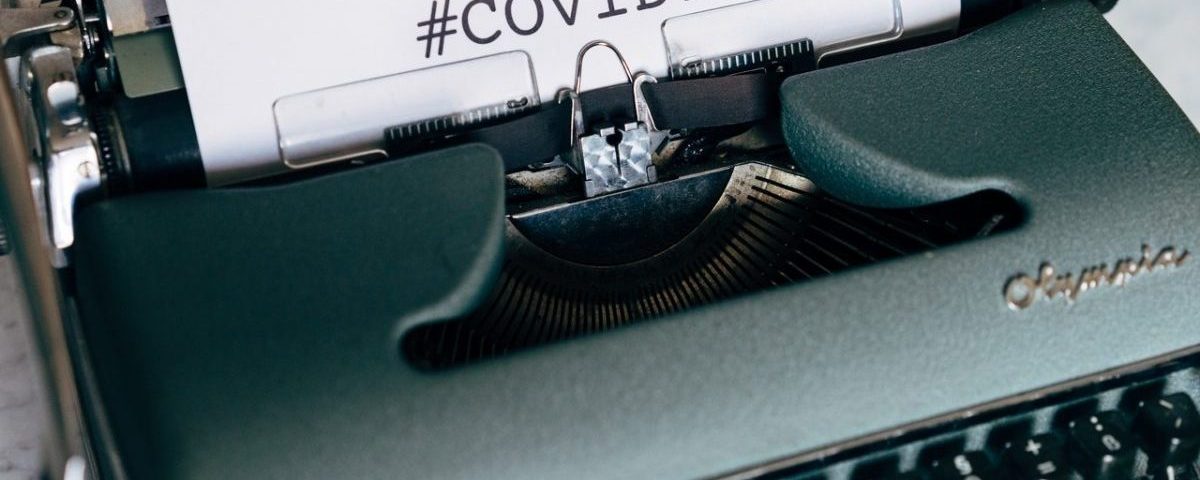 For the first few weeks, the situation brought on by the new coronavirus manifested as a health crisis. To face it, we have built hospitals, provided sanitary supplies, and given our full support to the professionals who are fighting every day to stop the spread of the virus.
In the short- and medium-term, it will also have economic and social consequences. Communication is a fundamental tool for facing the present and the future of this pandemic. This communication must be close-knit to work together and rebuild the entire social, economical and productive fabric after what is possibly the greatest crisis our generation has known.
In these few last weeks, those of us here at Ferrovial have committed to communicating. And we've done just that through deeds and actions, with two main objectives: on the one hand, fostering society and the economy to continue operating under a model for health protection. On the other hand, there is ensuring that our employees are working safely and optimistically.
Community support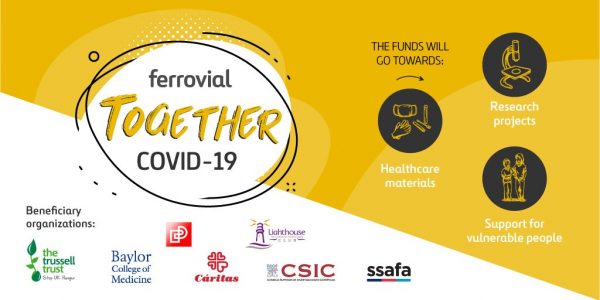 One of the most significant initiatives for collaboration is the creation of "Ferrovial, Together Against COVID-19." This fund has an initial contribution of €5 million from the company, which will be complemented with donations from employees, suppliers, shareholders, directors, and anyone else who wants to participate until it reaches a maximum of €10 million.
The final sum will essentially go to three objectives: acquisition of medical supplies and sanitary equipment; participation in developing research projects, pharmacological solutions and vaccines; and lastly, collaboration to assist those who are most vulnerable. This aspect is of enormous importance as we overcome the health crisis.
On May 8, 2020, we announced the distribution of a first tranche of the "Ferrovial, Together Against COVID-19" fund for a total of €3.47 million. All of it will go to entities fighting the pandemic in the social, health, and research fields in Spain, the United Kingdom, and the United States. As of today, the fund's distribution by country is as follows: Spain, with €2,510,000; the United States, €650,000; and the United Kingdom, €310,000. We're sharing all up-to-date information about it on our website.
The first steps: communicating with our employees
The first thing we've done is to inform our workers thoroughly of everything that is relevant to them. We've done so starting with the severity of the problem, following the guidelines of the World Health Organization (WHO) and the governments of countries where we operate, and continuing with the entity's information: the gradual, phased measures that we have been adopting, especially those related to health protection.
At this point, all workers involved in critical activities take on special importance – like those who are involved with cleaning, hospital maintenance, and ambulance management, for instance. That is, anyone who is at a higher risk of exposure to the SARS-CoV-2 virus.
We have also paid special attention to informing workers who do waste removal or are handling health crisis telephone lines, critical services that must continue. For us, their protection when fulfilling their duties is essential.
Reaching out to society
Alongside internal communication, we at Ferrovial have worked to ensure partnerships with other sectors. This dialogue has come to fruition in different initiatives combatting this health emergency, like CoronaMadrid, an application created in collaboration with the Community of Madrid and the Government of Spain for diagnosing and monitoring patients. Today, It has tens of thousands of users.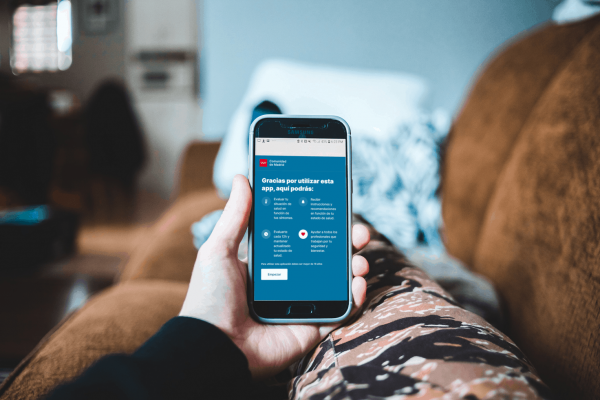 In areas of innovation, we have a center called the Digital Hub, where we are working with universities and the start-up universe. We're developing 3D solutions for respirators, ventilators, and face masks. We expect them to pay off soon.
We're also making our capacity in terms of construction available to the health administration to build field hospitals. As a result of this offer and thanks to collaboration between health entities, the army, and private companies, the IFEMA field hospital came to fruition.
To work with physicians, we've made 850 parking spaces available to them at the Hospital de Valdecilla (Cantabria) and Serrano Park (Madrid). Likewise, we offered to create rapid test centers for diagnosis. At the moment, we've built one in the Balearic Islands.
Facing the future
With these initiatives, we here at Ferrovial want to invest in our community, working together to get out of this slump as soon as possible, and stronger than before. This quality has set us apart for years: we were one of the first companies to embrace subjects regarding corporate social responsibility with greater enthusiasm and with a greater desire to do these things well. For us, this field is of enormous importance.
In the midst of the current crisis, we have a new opportunity to do things right, as well as the major challenge of working together to rebuild the fabric of society that will be so damaged.
This year, we received the good news that we have been selected on the Dow Jones Sustainability Index as the leading company in sustainability in our sector. This is undoubtedly the result of our effort in various areas of social responsibility, such as economics, society, and the environment.
In the midst of the current crisis, we have a new opportunity to do things right. As a company, we're facing the major challenge of working together to rebuild the fabric of society that will be so damaged.
Communicating Ferrovial's criteria of responsibility and the results of its actions seem more important than ever. We have the responsibility to communicate with other sectors to ensure that we work in a coordinated manner. This is also true for society so that residents, our suppliers, and our clients feel protected. And last but not least, for our workers, so that they know what their company is doing and can feel proud that they belong to it.