Americans are traveling less this summer. Shocker. AAA projects that summer travel will be down nearly 15% from last year.
But according to AAA's numbers, down 15% from last year means Americans will be taking 700 million trips between July and September this year. And their travel choices and behaviors show a pattern.
Looking through a patchwork of surveys and indicators, a picture of how Americans feel about traveling this summer starts to crystallize.
The first note is that Independence Day doesn't look like it's going to be a big travel weekend. FinanceBuzz surveyed 1000 Americans in May 2020, and 72% of them said they're staying home over the Fourth. Funnily, 72% of people surveyed by Travelocity in early May said that health & safety are their top concerns as they decide where and when to travel.
Independence Day trips aren't the only travel that's affected. According to FinanceBuzz's survey, 56% of respondents canceled their summer travel plans while 19% changed theirs. Travel advisor and blogger Michelle Steinhardt, who runs TheTravNav blog, canceled her planned trips to Sedona and Miami. Instead, she's opted to visit Yosemite National Park. Steinhardt says,
"I chose Yosemite because after being at home for so long, I cannot wait to stretch my legs and spend some time in the great outdoors. Plus, Yosemite is just a six-hour drive from my home in Los Angeles."
Steinhardt's travel priorities hit the same major notes of other Americans who will travel this summer—getting out to nature that they can reach by driving.
And Americans are predicted to start traveling more later in the summer. Research by Destination Analysts, a travel and tourism market research firm, finds that the percentage of Americans expecting to travel in July and August is double that of those willing to travel in June.
People are driving and staying close-ish to home
A multitude of travel sentiment surveys indicates that Americans still love their cars, and the allure of a good road-trip remains strong.
While AAA estimates that overall summer travel will be down by 15%, car travel is only expected to drop by three percent. According to Paula Twidale, AAA's senior vice president of Travel, that 683 million car trips over three months.
A sizable number of respondents to the FinanceBuzz survey (27%) said they plan to road trip this summer instead of fly. A recent survey by The Points Guy (TPG) shows Americans currently prefer to drive where they travel, writing,
"For Americans considering travel in the near future, in-state road trips are overwhelmingly popular (47%), followed closely by out-of-state road trips (41%)."
Reservation data from RVshare supports this trend. The peer-to-peer RV rental marketplace says that it's had a 650% increase in RV rental bookings since early April. According to Destination Analysts, 42% of American travelers will take their personal cars.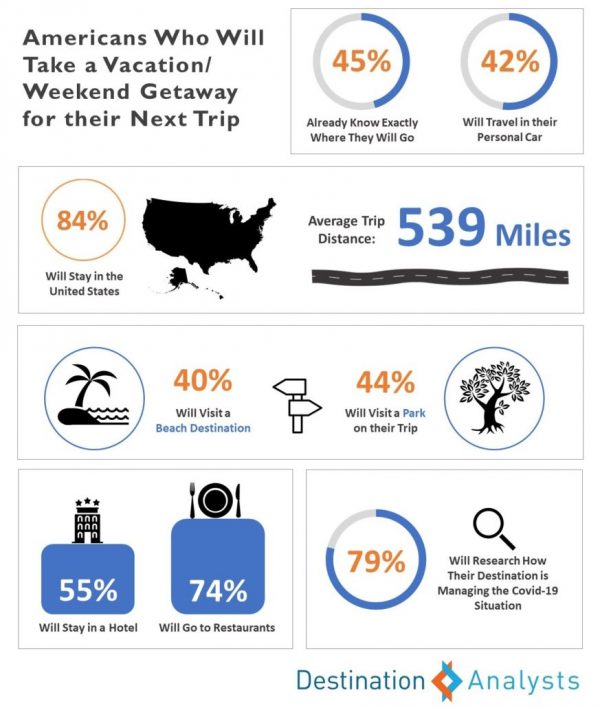 Most Americans, like Steinhardt, want to keep their road trips relatively close to home.
The sweet spot seems to be between a two and six-hour drive. A quarter of FinanceBuzz respondents who are willing to road trip this summer say they drive farther than two hours from home. Destination Analysts says 43.2% of American road-trippers will keep their drive under 200 miles, while the average road trip will be 423 miles. Looking at an average U.S. highway speed limit between 65 and 70 miles per hour, that translates to a three-hour to a six- 6.5-hour drive, respectively.
Why Americans are keeping their driving destinations close?
They don't want to have to break at a rest stop. Some have health and hygiene concerns. Others have heard that many rest stops aren't open and don't want to take that risk.
National and state parks are the most popular U.S. travel destinations
After being cooped up, Americans want to get outside. Parks and beaches are the preferred destinations. Both Destination Analysts and TPG surveys rank national and state parks as Americans' top choice (44%), with beaches in second place.
The attraction is undeniable. Enjoying nature's beauty in wide-open spaces where the social distancing built right in.
Well, maybe not.
The beautiful nature is without question. Yet people shouldn't expect to get away from the madding crowd too easily.
State and national parks are already popular. Visits to a U.S. national park exceeded 327.5 million in 2019, a 2.9% increase over 2018 visits. The post-Covid travel sentiment research tells us many people have the same great idea to visit a park.
Travel numbers may be down compared to a pre-Covid summer, but the parks' phased openings mean that the people who are visiting, are sharing limited spaces and services.
Texas's Big Bend National Park is illustrative. The national park has opened all its paved roads, yet most of its dirt roads remain closed. Nor are all of the park's entrances, hiking trails, or camping grounds open. Nearly all parks are limiting which areas and services are available to the public, as well as placing limits on capacity.
State and national parks are trying to manage crowds by shutting down or limiting access to parking lots near park entrances, not running shuttles between remote parking lots and park entrances, requiring online reservations, limiting entry to certain hours, or temporarily closing entrances due to capacity.
Anyone planning to visit a state or national park this summer should visit the park online first to find out what the restrictions and requirements are. They will change, so keep checking even after plans are made. Some parks are even providing updated capacity numbers throughout the day.
AAA and INRIX, a traffic data analysis firm, have grouped the states based on how much traffic congestion is expected this summer.  Tennessee and Utah, home to the popular Great Smoky Mountain and Zion national parks, are in the top third. Arizona (Grand Canyon National Park) and California (Yosemite National Park) are in the bottom third. Yet even for states in the top third, traffic congestion is expected to be lower than pre-Covid summer traffic levels.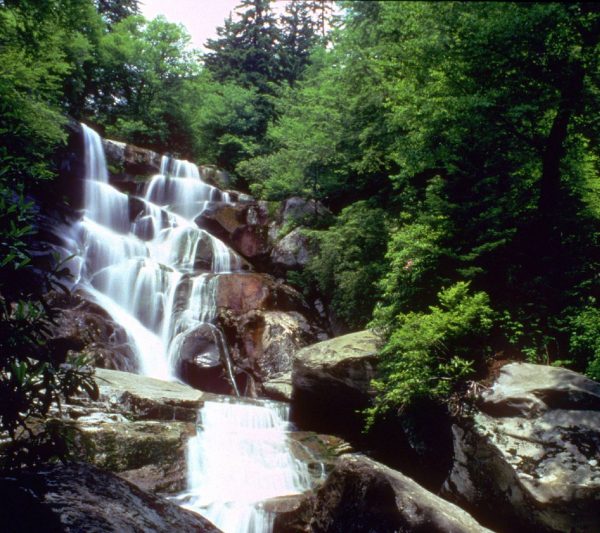 Ramsey Cascades in the summer, Great Smoky Mountain National Park; image source National Park Service
Here's a list of national state parks, with limited updates as to what each park has open and links directly to the park's homepage for quick access to the most current park information. For general safety information specific to Covid-19, here's the National Park Services Covid-19 information page.