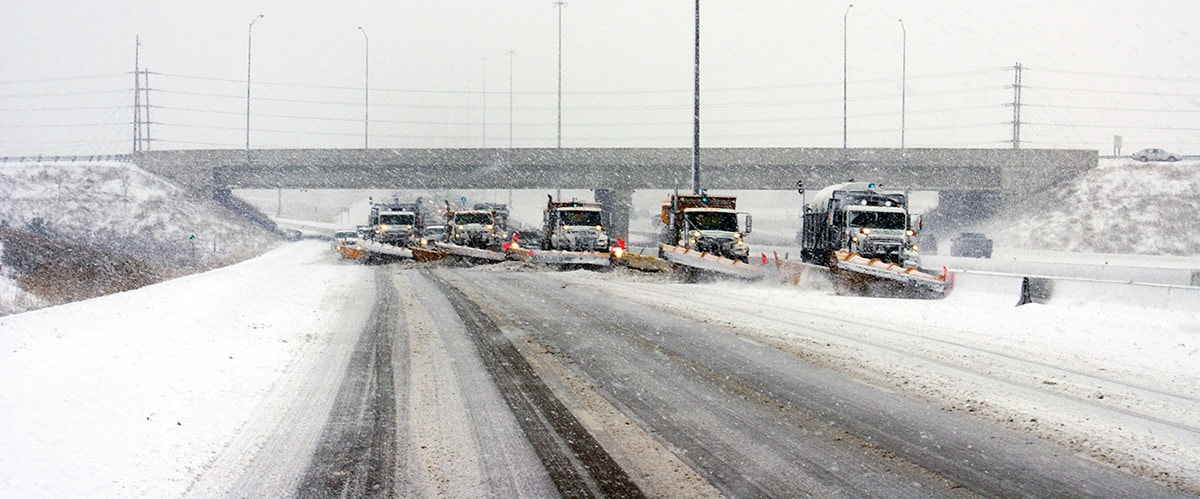 By Canadian standards, Toronto has a moderate climate. From November to March, average temperatures can hover around 0ºC and snow is a constant. In fact, the city center has an extensive network of pedestrian tunnels so that people don't have to brave the snow and slush during the winter. But when travelling outside of downtown Toronto to surrounding regions, roads and transportation networks – including highways – are key.
Though not the norm, conditions turn especially harsh under the effects of the so-called polar vortex, a low-pressure zone at the Earth's poles. The temperature can drop below -20ºC, and snow and ice can accumulate on the asphalt. That's why the winter maintenance of Canadian roads is a top priority for provinces and municipalities.
How Ontario cleans its roads
Located on the banks of Lake Ontario, Toronto is Canada's largest city and its financial capital. To keep up with whatever the atmospheric conditions bring, authorities in Ontario have a detailed road maintenance plan. Ferrovial is one of approximately 8 Area Maintenance Contractors responsible for maintaining 16,900 kilometers of roadways for Ontario's Ministry of Transportation (MTO).
407 ETR Concession Company Ltd., run by Cintra, is the road authority for Highway 407 ETR and maintains the roadway to the same MTO standards as set out in the Concession Ground Lease Agreement between the Province and 407 ETR, but more on that later.
In winter, different types of maintenance vehicles (patrols, combination spreader trucks which salt and plow concurrently, and snowplows) are always standing by. As soon as a storm hits, they start winter operations. This occurs 24 hours a day, seven days a week, if necessary. As per MTO standards for Urban Freeways, salting the roads must start prior to the accumulation of 0.5 centimeters of snow on the road or when slippery roads are detected – usually as a result of freezing rain.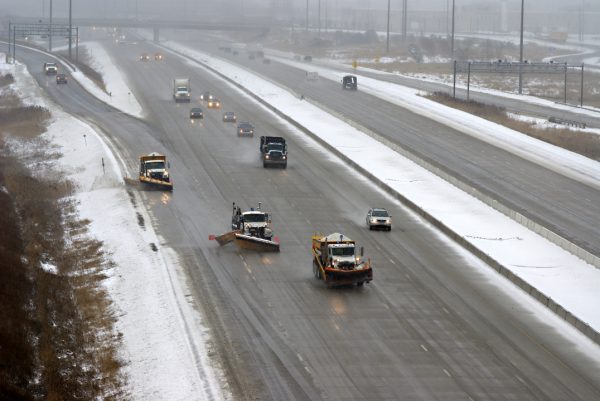 However, if the thermometer drops below -10ºC, the salt starts to be less effective, so the vehicles also spread sand to improve tire traction. Prior to a winter storm and based on weather conditions, Direct Liquid Application (DLA) using salt brine, magnesium chloride or calcium chloride can be used to help prevent snow and ice from bonding to the road surface.
This army of maintenance vehicles is directed by coordination teams working from centralized locations receiving real-time data from the network of cameras and sensors dotting Ontario's major highways. But what's it like to implement this strategy on the ground? Let's take a look at 407 ETR.
407 ETR's Winter Operations
Highway 407 ETR is an important roadway in the GTA. Highway 407 ETR crosses 236 bridges, and has 40 interchanges and 198 entry and exit ramps. Traversing 108 kilometers, it runs parallel to one of the most heavily trafficked highways in North America and the first multi-lane freeway in Ontario's capital – Highway 401.
Safety is a top priority on the world's first open-access electronic toll road. And that's no small commitment. Before the pandemic, almost 500,000 trips were made on Highway 407 ETR every day of the work week. The roadway must be kept in good condition in all weather conditions to keep the traffic flowing.
"Highway 407 ETR's 108 kilometers are divided into three different patrol areas that are monitored 24 hours a day, seven days a week, 365 days a year," the operations division of 407 ETR explains. Patrollers keep an eye on road conditions and assist any vehicles in distress to minimize traffic hazards.
"We also currently have four stationary Automated Road Weather Information Systems (ARWIS) set up on the highway, as well as three mobile systems and two ice sensors on the access ramps," they add. This technology helps 407 ETR respond to snowstorms and bolster coordination among maintenance vehicles.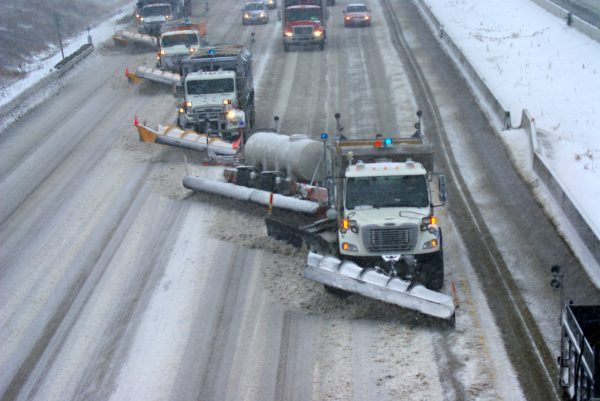 Currently, 407 ETR has 82 trucks and seven towplow trailers capable of cleaning snow. Forty-two of these trucks are equipped to salt and plow simultaneously and are referred to as combination units. The other 40 trucks are straight plows. Each of the vehicles is assigned to one of the 48 existing maintenance routes (30 to spread salt and 18 for cleaning). Each route can be done in under 80 minutes.
We're out today clearing snow from shoulders of highway and overpasses. Thanks to the teams on and off the road that make sure this work is done well!

Our excellent winter maintenance and safety records are made possible by regularly investing tolls into services for drivers. pic.twitter.com/ykEHftBz2e

— 407 ETR (@407ETR) January 21, 2020
"Salt spreading has to start before snow accumulation reaches half a centimeter on the roadway. Snowplows start working at two centimeters," reports the highway's operations division. "In winter, operations run continuously until the pavement has been cleared and 95% of the lane surfaces are free of ice, snow, and sleet."
"The biggest challenge is working in the extreme cold. Salt becomes less effective at temperatures below -10ºC, but the other additives used for thawing, such as calcium chloride and magnesium chloride, damage the asphalt surface," they add.
In a region like the GTA, weather conditions vary greatly. Winters can be unpredictable, ranging from spells of unseasonably high-temperatures and stretches without a single snowfall to waves of continuous cold. Still, snow precipitation usually ranges from 108 to 120 centimeters.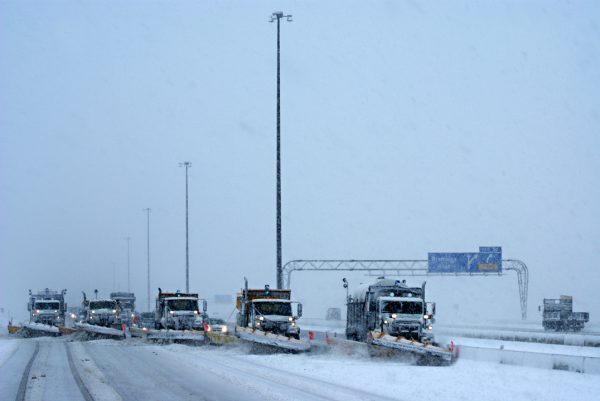 Planning, anticipation, coordination, salt and snowplows at the ready – that's the only recipe to deliver a fast, safe and reliable experience on Highway 407 ETR during the long Canadian winter.