The Digital Twin Fever
It's 2021, and we're facing the feverish emergence of new technological concepts. However, it isn't always clear what these terms mean: Blockchain, Artificial Intelligence, Machine Learning, Industry 4.0, the Internet of Things, BIM, Smart Cities… and of course, the Digital Twin.
But is this concept really new, or is it just a new – cooler – term for a way to connect physical assets to a digital system?
The phrase "Digital Twin" isn't new at all. In fact, we've lived alongside it for many years. Numerous businesses have been built around it, such as the aeronautical industry, the automobile industry, mass manufacturing industries, and so on. Even in the construction industry, our colleagues in asset management and Facility Management use SCADA systems and BMS (Building Management System), which virtually recreate infrastructure and buildings to monitor and control them.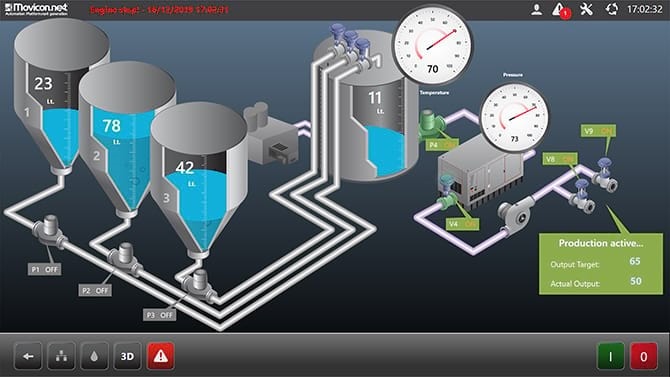 The SCADA and BMS systems have been digitally controlling assets as a Digital Twin for many years. Image source:
Infoplc
Technically, a Digital Twin is defined as the virtual recreation of any sort of object, asset, or product (machinery, an individual, or infrastructure). With it, processes that occur around that asset can be reproduced virtually, reproducing the behavior of that asset and making it possible to act on it remotely.
There has been a lot of hype around this concept following the boom in IoT technology. With the sensors used for the Internet of Things, we can analyze the status and performance of monitored assets and then make decisions about their operation based on that information.
While asset monitoring is itself a benefit, subsequent analysis of the history of data generated enables advanced analytics to be done on the asset's performance, including predictive analysis of its behavior to optimize its operation.
Sensors aren't new, either; they have been used for a long time. However, the quality and quantity of data they can collect, as well as lower production costs, have led to an unprecedented level of sensorization of our world. These sensors can be incorporated into anything, from an air conditioning unit to the fridge. The arrival of 5G will also make it truly possible to transmit data practically instantaneously between the sensor and the platform in charge of analyzing that data. This is especially critical for systems where the immediacy of decision-making is crucial, as in the case of self-driving cars.
BIM and Digital Twin, the Perfect Match
With the arrival, or better yet, the explosion of the BIM methodology, in the construction sector, demand has increased, as has the technology that makes it possible to digitize a complete infrastructure and monitor it with sensors, turning it into a Digital Twin.
Where does BIM fit into all this? Do you really need a 3D model to have a Digital Twin?
As we've discussed in other posts on this blog, BIM is much more than a 3D model. It's a system that lets us obtain the identification, classification, and location of any asset in our infrastructure or even a 2D blueprint of any area in it.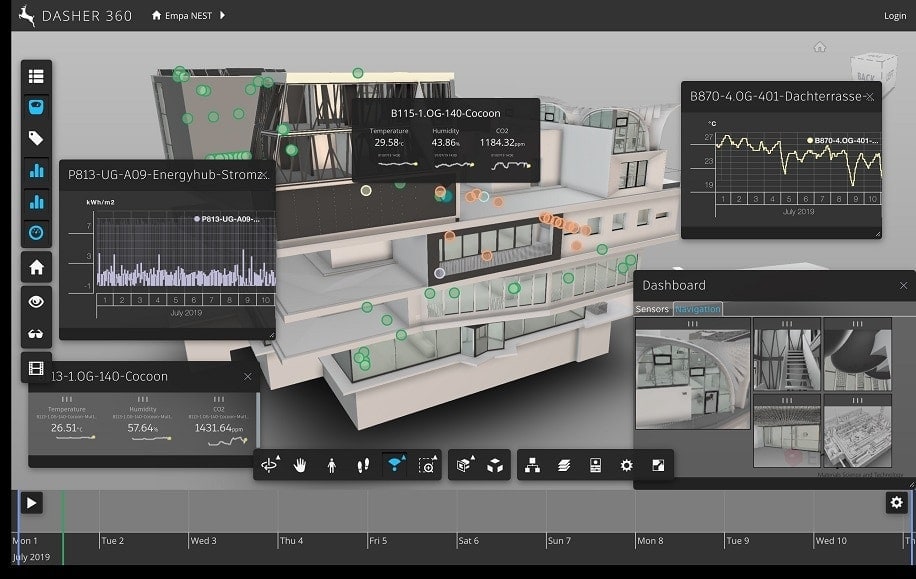 The Digital Twin concept advocates for including information from a multitude of available sources: BIM, GIS, reality capture and data taken in Real Time (or NRT) at the asset location. Image source:
Geo Week News
BIM is not strictly necessary to get a Digital Twin. Still, it is undoubtedly one of the best bases to gather all the information on that infrastructure in an orderly, perfectly classified way. This makes it a perfect starting point for creating representations in a more analytical and accessible way (2D floorplans, diagrams, GIS, SCADA…) in the different applications and systems that will make up the Digital Twin. That is why we shouldn't think of the Digital Twin as an isolated technology, but as where multiple technologies – BIM, IoT, GIS, Business Intelligence – converge.
The Life Cycle of a Digital Twin
We should note that the Digital Twin is and must be changing constantly in our sector. We shouldn't think of the Digital Twin as something that's finished and only used for infrastructure that's already built; the benefits in these later phases are obvious and have already been tested. During the construction phase, we can also consider building our Digital Twin to get as much information as possible in real-time to have a Connected Site.
Weather stations that let us make predictions about whether it is advisable to concrete part of the site depending on the probability of rain; sound sensors that monitor noise on urban sites and provide additional protection measures if we surpass permissible levels; video and audio devices and cameras for constantly monitoring health and safety risks and construction logistics management; biometric wristbands for monitoring fatigue and tailoring workers' shifts… All of this is connected and geolocated in a 2D or 3D system based on BIM models. At least, this is how I see a Digital Twin being implemented in the construction phase and where sensorization of construction sites should be headed to maximize benefits and reduce risks.