Social programmes
Canine Crew, prepare for landing: You're about to make a difference on the Aberdeen International Airport
We are all very used to airports and may think that they are all the same, but there are many innovative ways to turn an international airport into something new, bringing value to the user and ultimately creating an amazing place for everyone. Some airports such as Aberdeen International Airport seek to make a difference by establishing domestic and international connections that benefit our regions and help people prosper.
Dogs reduce anxiety and stress levels
While for many people traveling means joy, relax or fun, some might find getting on an airplane stressful and could cause them claustrophobia, anxiety, panic attacks or high levels of stress. But when confronting your biggest fears, you can find a helping hand, or should I say "a helping paw" who will help you feel relaxed before your next flight.
Even though, symptoms of anxiety have been proven to be rapidly reduce when having physical contact with animals in general. There's a special bond and understanding between dogs and humans that makes them our perfect allies. Thanks to their sensitivity and intuition, dogs are able to recognize when a person is feeling nervous or sad and give them the emotional support they need. Dogs can also help slow your heart rate preventing panic attacks when facing a difficult situation or a hostile environment.
It isn't often you'll walk into an airport terminal, see a team of cute dogs, solely there to relax passengers, but you will find it at Aberdeen International Airport, which has been at the heart of the community since 1934.
When passengers and staff see our Canine Crew, there is only word to describe the look on their face: joy. The airport's Therapets project, a partnership with Canine Concern Scotland Trust, is designed to reduce anxiety associated with travelling through interaction with therapy dogs and has now been internationally acknowledged as industry leading.
Fraser Bain, Project Manager at AIA and Diane Wood, lead representative and Trustee from Canine Concern Scotland Trust brought the initiative to the terminal which won the National Geographic Traveller's Award for innovation in 2019. Our team of paws-itive ambassadors returned in 2022 following furr-lough during the pandemic and prior played a key role in welcoming VIPs when Aberdeen hosted the BBC Sports Personality of the Year.
The UK's first airport Canine Crew have gone from strength to strength, but they aren't the only initiative brough back in 2022.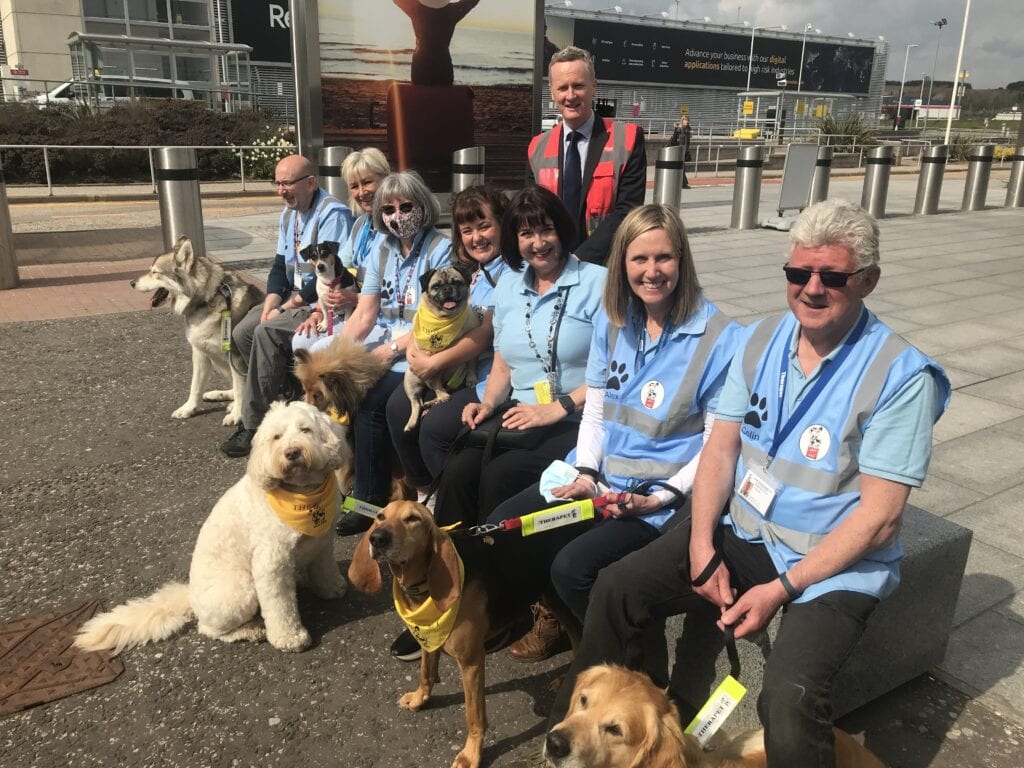 Making a difference through charity
At Aberdeen Airport you can also find staff volunteering their time to give a tour of the airport for parents and carers with children who have additional support needs and the odd Star Wars character raising funds for the airports charity partners.
Operations Director at the airport Mark Beveridge has empowered his team to go and make a difference for the airport and its communities. This includes staff having the ability to take paid leave to volunteer with any charity or community project of their choosing.
We also brought back the community trust with a new name, the ABZ Propeller Fund. It has members from local government and the airport and has £25,000 available to provide grants to projects across the region.
Also, having charity partners is a tradition that goes back almost a decade with staff voting on who they wanted to see the airport commit fundraising and support to. Led by a small team of staff from across the airport the Charity Management Group started its work back in 2021 sifting through more than 50 applications from charities following a call for submissions.
This led to the appointment of Kayleigh's Wee Stars and We Too after the charities submitted a joint bid in April 2022. Kayleigh's Wee Stars provides support to families where there is a child with a terminal illness through providing financial grants. Many families face increasing costs and unpaid time off work when caring for a terminally ill child. So, the basic purpose of each grant is to ease the financial burden on families during what is already an impossible situation so they can spend time with their child without the worry of money and make precious memories together.
We Too is a customer driven organisation empowering family of children with disabilities, providing a free, quarterly "What's On" Guide for families with ASN children, peer support, a monthly children's club and a school holiday programme as well as bespoke ASN/Customer Service Training to organisations and six-week parent/carer and sibling courses.
At the time Phionna McInnes, Chief Executive of We Too, said: "Being part of a joint application with Kayleigh's Wee Stars was an exciting prospect and we are looking forward to working together with the airport and its staff."
Kayleigh's Wee Stars co-founder, Jonathan Cordiner, said also noted his delight adding it would help give the charity long-term viability. He said: "We know this is an unusual approach, but we believe that as two small organisations, we're stronger together and each can bring something unique to the partnership with Aberdeen International Airport. We're excited to see what we can achieve together."
As well as donations and fundraising events, the airport is also providing support to the charities in a different way. More than 40 families have benefitted by the relaxed tours by the airport organised by We Too. It introduces children with additional support needs to the airport process in a relaxed manner. Families were able to see the check in and security process as well as spend some time airside and watch some of the operations at the airport.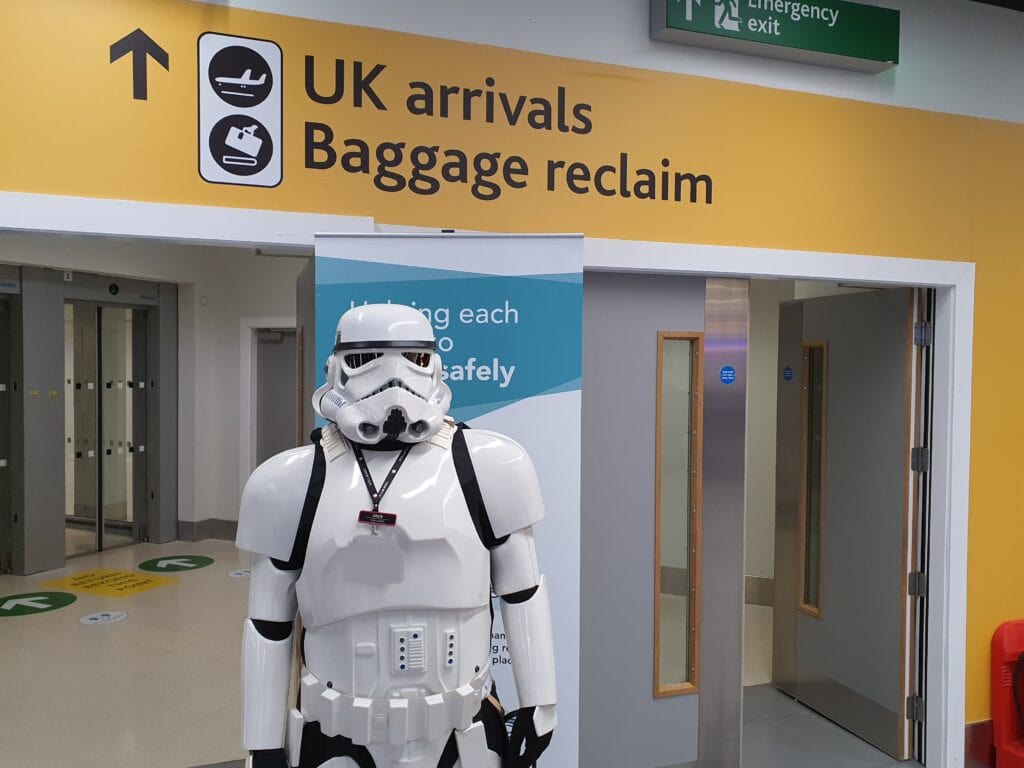 Creative fundraising ideas for an international airport
The retail team at InMotion at Aberdeen have also been doing their own independent fundraising for the charities which involved Star Wars characters roaming around the airport.
Seeing someone dressed as a droid and bringing a smile to people travelling is just one of the benefits to helping raise money for our partners.
The main fundraising event organised by the airport was the return of the Runway Run in September 2022 after three-year absence.
With a course like no other, 300 runners took on the 3.5km Runway Run lit up runway in September raising £40,000. Taking place at midnight this unique event is run in partnership by the airport and CHC Helicopters.
This was an amazing event thanks to all the runners that took part, and our partnership with CHC Helicopters to give runners of all abilities a chance to take part in it."
Bringing the Runway Run back for 2023 is a key goal for next year with hopefully more runners than ever.