If you have ever been fortunate enough to visit Madrid (what can we say, we are not impartial), you have experienced time travel. In every corner you turn, the city surprises you with endless historical buildings that give the capital a special place in our hearts. Today, on the day of San Isidro, patron saint of Madrid, we want to make a small tribute to the city where we were born, showcasing our favorite and most iconic locations. So, if you are looking for the "Top places to see in Madrid" while planning your next Euro trip, look no further, as together we go over some of the city's best kept secrets. 
A Palace of Glass in the heart of Retiro
If we could only choose one, our favorite building in Madrid would definitely be Palacio de Cristal, a palace made of glass loved by locals and tourists alike. Although it is almost unthinkable to enjoy on your own, as it is one of the most popular spots in the park for its contemporary art exhibitions and incredible architecture, it is still a must worth the queue. When we stop to admire the construction and learn a little about its history, it is impossible not to be captivated. 
The Glass Palace could very well be the set of a period film, the perfect example of the well-known and controversial "iron architecture". As has happened on many occasions throughout history, this type of architecture was once groundbreaking and, as such, faced opposition from conservatives in the field (read this article about how the French did not want the Eiffel Tower). As tradition fades and innovative techniques become familiar, iron architecture has become one of the main attractions in many European cities, offering us buildings as beautiful and emblematic as this one.
The Glass Palace was built as a large greenhouse by architect Ricardo Velázquez Bosco in 1887. Inspired by the Crystal Palace in London's Hyde Park, it took only five months to build. The original idea for this greenhouse was to host the flora of the Philippines as part of the General Exhibition of the Philippines that sought to strengthen relations between Spain and this country that would soon cease to be a colony. 
The building is constructed with wrought iron, glass, decorative ceramic, and Ionic-style stone columns. The central glazed dome reaches a height of almost 23 meters and stands out from the rest of the building. 
Over the years, the Palace has undergone two restorations, the first in 1975 and a more complete one between 1994 and 1998. The latter was carried out by José de la Dehesa and Ferrovial Agroman (now Ferrovial Construction) to consolidate the metal structure, renovate the installations, and reintegrate lost decorative elements, returning the building to its original splendor. As you follow our advice and visit the Palace, one undeniable feature will stand out: the light, filtered through the surrounding trees and crystal walls.
Metropolis Building, at the center of every postcard 
The Metropolis Building does not go unnoticed by anyone who has walked around Madrid as it is one of the most representatives of the city. It was built in just four years in 1907, at a time when the Gran Vía, our equivalent to New York City's Broadway St, was one of the most popular arteries of the city. The building, standing at 45 meters high, equivalent to 148 feet, was the tallest in Madrid for over 60 years. Although its height does not seem like much when we compare it to modern day architecture, it is slightly taller than Chicago's Home Insurance Building, the first ever skyscraper, built two decades earlier, in 1885, stretching 42 meters in the air (138 feet originally, extended in 1890 to 180 feet). 
The Metropolis Building was commissioned by the insurance company La Unión y el Fénix, but acquired by Metrópolis in 1972. After the change of owners, the bronze statue representing Ganymede on a Phoenix was replaced with the Winged Victory. This is the sculpture you will see today at its dome, work of the sculptor Federico Coullaut Valera. 
Until relatively recently, the building housed offices, and the interior could not be accessed. Luckily for us, it was acquired by Grupo Paraguas a few years ago, and converted into a luxury hotel with different gastronomic and cultural spaces. Although its interior won't be accessible until the building restoration is done, its spectacular facade is the most striking of all the buildings in the area due to its golden decoration, composed of 30,000 24-karat gold leaves, and its lighting. The exterior alone makes this a compulsory stop during your visit.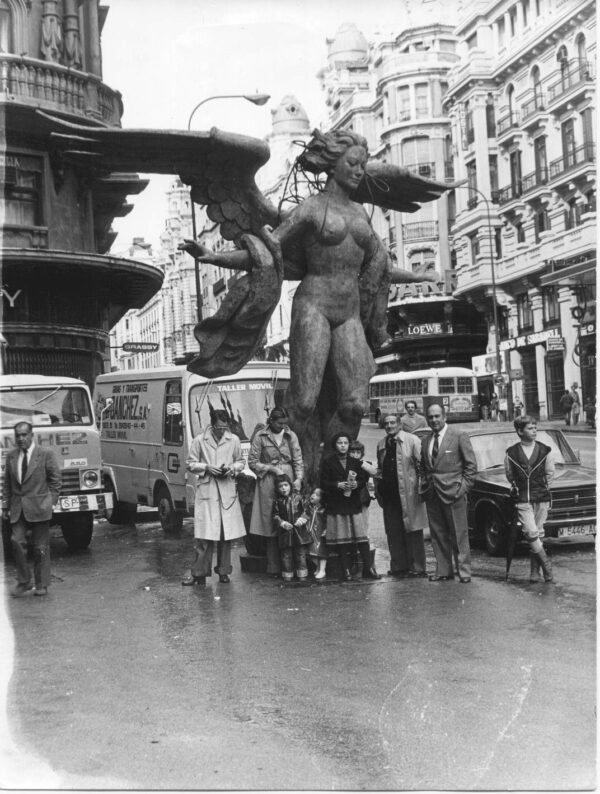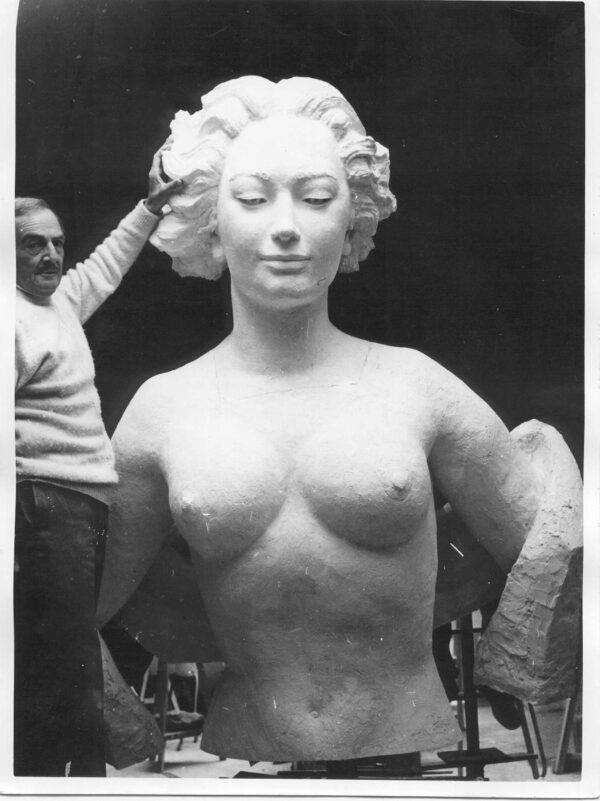 A battle for love that left its mark on Gran Vía
As was the case in 1907, Gran Vía is still one of Madrid's most popular streets today. Thousands walk on its sidewalks every day, at almost every hour (Madrid is one of those cities that never sleeps, only in August to avoid melting). But the vast majority of its visitors overlook what is going on over their heads: a mythological battle. 
You may have noticed the two 1-meter-long arrows tattooed on the tiles that make up the sidewalks at Gran Vía 32. They may appear to be there purely by chance, but if you raise your head to admire the impressive buildings that make up this street, you will find a captivating and secret scene. Diana, goddess of hunting, shoots arrows accompanied by her dogs (Gran Via 31), to the Phoenix, located just in front (Gran Via 32). The Phoenix that crowns the building carries Endimion, Diana's love interest, a shepherd who Zeus, Diana's overprotective father, wanted to make disappear. In her struggle to recover Endimion, Diana shoots arrows at the Phoenix, missing and landing on the sidewalk of Gran Vía street, there for you to look at. 
If you are detail-oriented and you have visited Madrid but do not remember this scene, do not worry, you are not suffering memory loss. The battle was created less than a decade ago, when the Hyatt Centric Hotel in Gran Vía commissioned it to Natividad Jiménez, the first woman to design a sculpture in this street.
A hotel for fugitives and the conceited 
And from a Greek love story to an ancient hotel, let's continue our tour by foot because, of course, you are in Europe and we walk everywhere (or take the subway, we also love the subway). 
You now find yourself in Calle Postas, the heart of Madrid's old town, close to international favorites such as Puerta del Sol, Plaza Mayor, and the unforgettable Chocolatería San Ginés, where you might very well take a pit stop for some "chocolate con churros". 200 meters south, we get to Posada del Peine, the oldest hotel in Madrid, in fact older than many modern nations, which opened its doors in 1610.  
A modernist facade, colorful and extremely beautiful, Posada del Peine has lived many lives and witnessed great and illustrious characters for over 400 years. It has seen the city evolve and all its recent (and not so recent) history. It has made cameos in some of the most famous literary works in Spanish literature and has hosted many famous artists through the centuries. 
For a long time, and facing no competition, Posada del Peine was the place to be, offering lodging for strangers and the perfect labyrinths for hiding fugitives, or so we have been told. Its name comes from when its founder, Juan Posadas, decided to put a comb, in Spanish "peine", in each room, an object that at the time was a luxury. Since 2006, and after undergoing a remodeling, it has become a 4-star boutique hotel by Petit Palace, benefitting from the privileged location that Juan Posadas wisely predicted.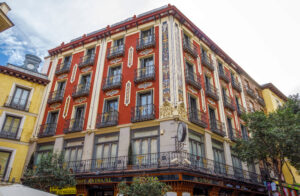 Palacio de Cibeles, a jewel cooked over low heat
Palacio de Correos is another of our favorite buildings in Madrid, for its location and originality, and it is also within walking distance from our previous and first stops, how convenient! Located in front of the fountain of the goddess Cibeles where, if you follow soccer, you may have seen celebrations after important wins. It was originally built to be the headquarters of the Post Office but has served many purposes in its more than 100 years of history. 
Before they built the Palace, a section of the Buen Retiro gardens occupied this area (we were not lying when we said the start of our tour was very close). In 1919, it was decided to sacrifice the green for the greater good: a modernist construction that promised to upgrade the town of Madrid. It first became the headquarters of the postal, telegraph and telephone services, being renamed the Palace of Communications or "Nuestra Señora de las Comunicaciones" for its resemblance to a cathedral. 
The project was built by Antonio Palacios and Joaquín Otamendi, and it was the focus of much criticism at the time for replacing the previous trees and taking 12 years to build, which did not please the people of Madrid. Today, its reputation has changed dramatically, considered a place of cultural significance globally, the tallest post office building in the world for decades, standing at 70 meters. Currently, and since 2007, it is the City Hall of Madrid. 
You may have already noticed that the streets of Madrid hide relics only visible to the curious eye. When you walk around the outside of the City Hall, you may spot bullet holes from the Civil War, as the Palace lived to tell the tale… On a more upbeat note, you should climb up to the eighth floor, where you can enjoy one of the best views of the capital in 360º.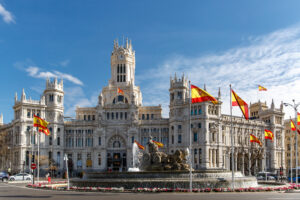 Casa de la Panadería, the heart of Plaza Mayor
We mentioned Plaza Mayor before, but it was overshadowed by the churros and the secretive hotel. Let's go back to this square, as coming to Madrid and not visiting the Plaza Mayor should be considered a touristic crime. 
Within it, we will find Casa de la Panadería (Bakery House), a landmark that arrived well before Plaza Mayor, in 1590. A market outside medieval Madrid, a fire completely destroyed the building in 1670 and it had to be rebuilt again. It was not until 1917 when it was integrated into the Plaza Mayor project as we know it today, an initiative by Francisco de Mora. It has undergone minor renovations, until in 2017 Ferrovial carried out the latest restoration, repairing and recovering its original elements.
In its more than 430 years, Casa de la Panadería has witnessed the evolution of this area of Madrid, now the nerve of the city. It also has had very diverse titles: Royal Academy of Fine Arts of San Fernando, Royal Academy of History, City Council of Madrid (now at Palacio de Cibeles, which we visited before) and, currently, Tourism Center of Madrid.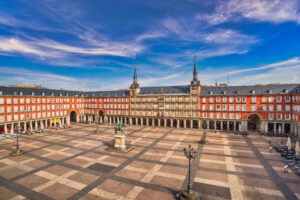 Town politics at Casa de la Villa and Casa de Cisneros
Four minutes away we arrive at our seventh and final stop: Plaza de la Villa, home to Casa de la Villa and Casa de Cisneros, two of the most traditional buildings in the center of Madrid. Casa de la Villa was designed by Gomez de Mora and Juan Villanueva and was inaugurated in 1693 as the office of Madrid's mayor. It has hosted the head of local politics for over three centuries until, in 2007, the city hall was moved to… Palacio de Cibeles! Well done, you should now remember this building and its purpose forever. 
Also in Plaza de la Villa, Casa de Cisneros features a plateresque style built in 1537 by Benito Jiménez de Cisneros. This house-palace has housed and imprisoned great figures in the history of Spain. In 1909 it was integrated as part of Casa de la Villa, restored, and given the facade you see today.
These are just some of the most iconic buildings of the capital, however, there are many more secrets and stories to discover hidden around the city, most times in plain sight if you look right. If not for the food and endless nights, we hope this short compilation has piqued your interest to visit Madrid, walk its streets, and go back in time.