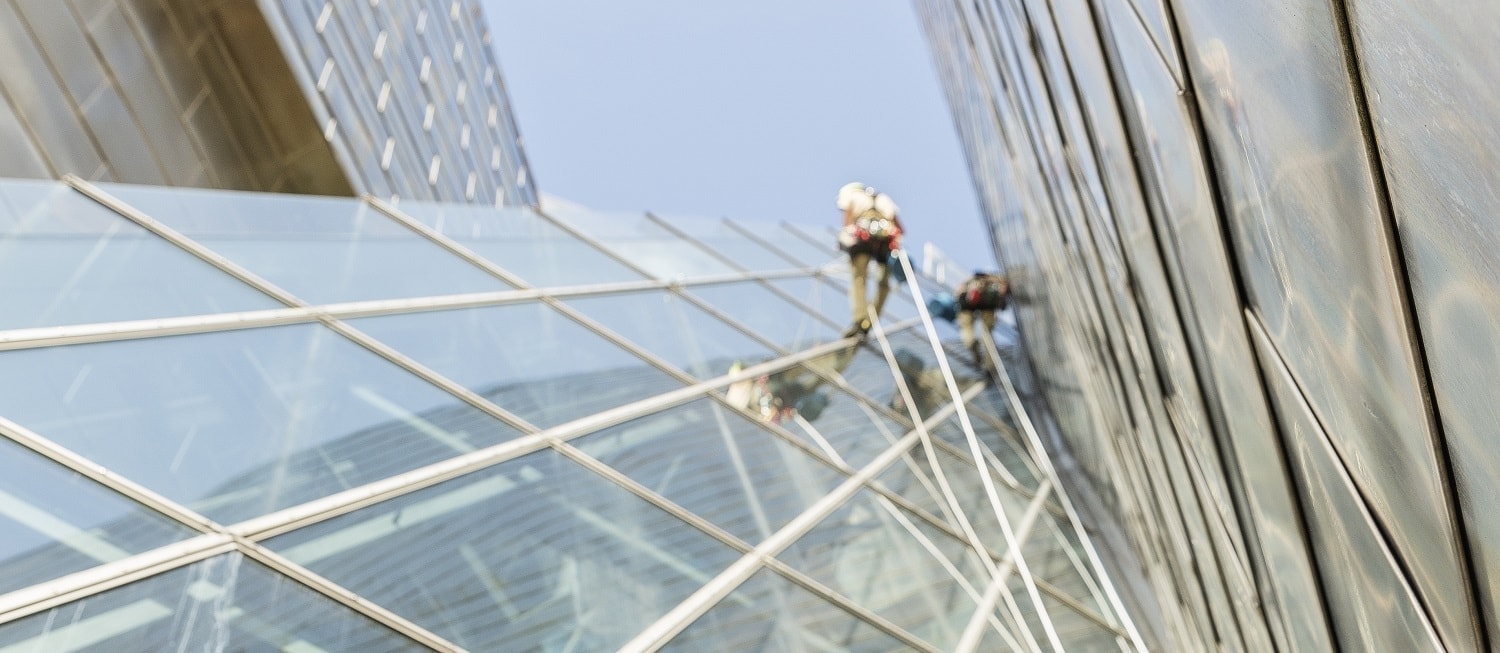 Curators, craftsmen, painters, decorators… the Guggenheim Museum Bilbao has all the staff and workers you would expect in a venue which revolves around art. However, this building is just as much a work of art in itself as all the treasures it houses inside. Proof of this are the 70 awards it has received.
Perhaps what most draws your attention to the museum, in addition to the way the light plays on the façade, are the building's striking curved and angular walls. That is, of course, if you manage to take your eyes off Puppy, the dog guarding its doors.
The building, its surface covered in 23,530 square metres of titanium panels, brings colour to the city of Bilbao where before it was shrouded in smoke from its many factories and shipyards. Today, this city in the Basque country has been transformed, and the museum has played its part in this transformation. But the curved walls require care and maintenance, something we don't usually stop to think about.
This unusual façade also gets dirty or damaged at times, cracks may appear… and someone has to sort it out. A team of artists with a difference closely monitors the Guggenheim: the climbers whose work it is to maintain it.
The difficulties in cleaning a Guggenheim
Cleaning and maintaining the many façades of the building is no easy task, nor, indeed, was building it in only four years . The curved walls are an added challenge to the cleaning of an already pretty large building. How can you clean areas where setting up scaffolding is practically impossible and extremely costly?
We talked to Óscar Rábade Romero, Ferrovial Services Maintenance and Cleaning Manager for the Guggenheim Museum, as well as to some of the professional climbers who abseil down the building walls to clean the windows and the titanium panels.
Interview with Óscar Rábade, Maintenance and Cleaning Manager for the museum
A normal office building probably has its windows cleaned once a week, but in this building, it's a little bit more difficult. How often is it cleaned?
The building is cleaned every day. Our Cleaning Unit comprises a team of 20 cleaners, 4 window cleaners and 4 rope access technicians (climbers) who clean various parts of the building every day. Some areas are cleaned on a daily basis (galleries, atrium, low windows), while some are cleaned monthly, quarterly, once a year… this depends on our annual planning.
The external surface of the building is covered with titanium, there are also glass curtain walls and limestone. Each surface has its own specific cleaning process and schedule.
It's a large surface (14,505 m2), and probably can't be cleaned in a day, or a week…
This depends on several factors: how dirty it is, the type of surface being cleaned (whether the titanium panels, the limestone…). For example, annual cleaning of all the limestone with pressurized water and special products can involve up to a month of work.
How often do you inspect the façade? And what do you look for, and how? (surely, it's no easy task see anything from below, do you use binoculars?)
The outside walls are checked regularly to see if any of the titanium panels have come loose with the wind. From below or from the Le Salve bridge you can spot the most obvious damage, but the areas which aren't visible or which are further away are inspected using rope access techniques (climbers).
When we think of a normal building, we think of scaffolding or a cradle which is gradually lowered from the top of the building. But the shape of the Guggenheim doesn't allow the use of such equipment. So what do you use?
We use aerial work platforms (with articulated or telescopic booms) for heights of up to 15 metres. All our staff and window cleaners are duly certified for handling aerial work platforms, and training is renewed every three years.
For greater heights, we use vertical techniques, or rope access. So we have 4 rope access technicians (climbers) with IRATA (International Rope Access Trade) certification, considered the world's leading authority on industrial rope access safety (working at height). This certification must be renewed every 3 years.
How does the team get close enough to a wall which seems to lean away from you as you abseil down?
Using tension guides and ropes fixed to several anchor points, which makes it possible to descend parallel to the wall even if this curves inwards.
The curtain walls are provided with anchor points which are used to cancel out the sloping of the walls. Rope access technicians are people who practice climbing as a sport and who are used to abseiling down and climbing all sorts of structures. Being fit is very important here!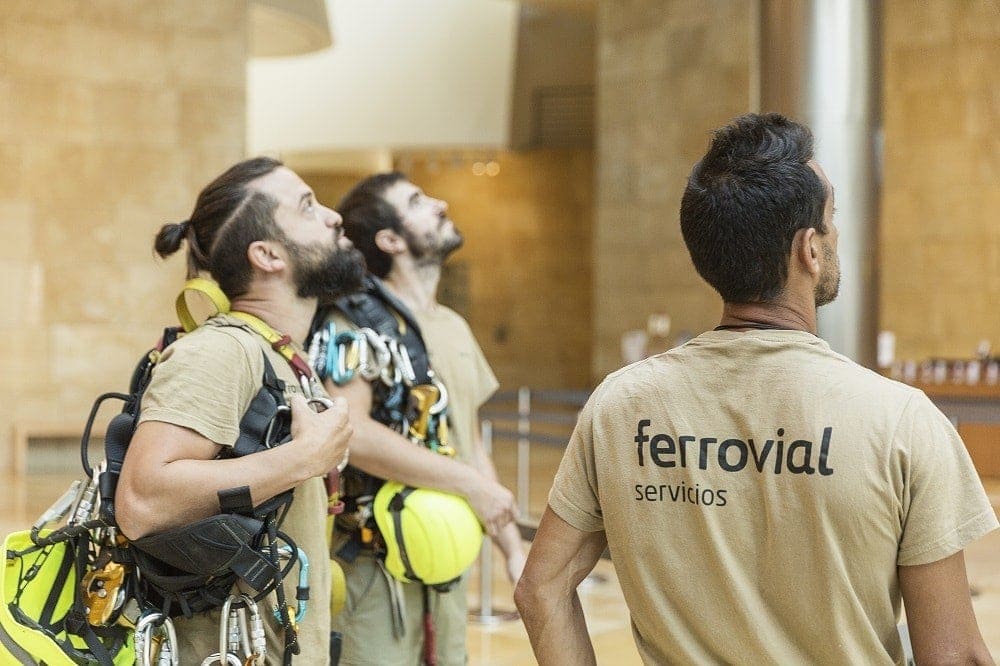 The same difficulties would apply to materials required, and resting periods. Getting up and down the façade of a tall building is not easy, and in this particular case it is even more complicated. Everything must be meticulously timed and measured to avoid wasting work hours.
Yes, working at heights with aerial platforms or with rope access must be planned to the detail. Preparation must never be rushed, as the consequences of any oversight could prove fatal. It often takes more time to arrange the ropes and anchor them securely than to carry out the work itself. We are all fully aware of the fact that if we are to avoid incidents when working at height, appropriate preparation is essential.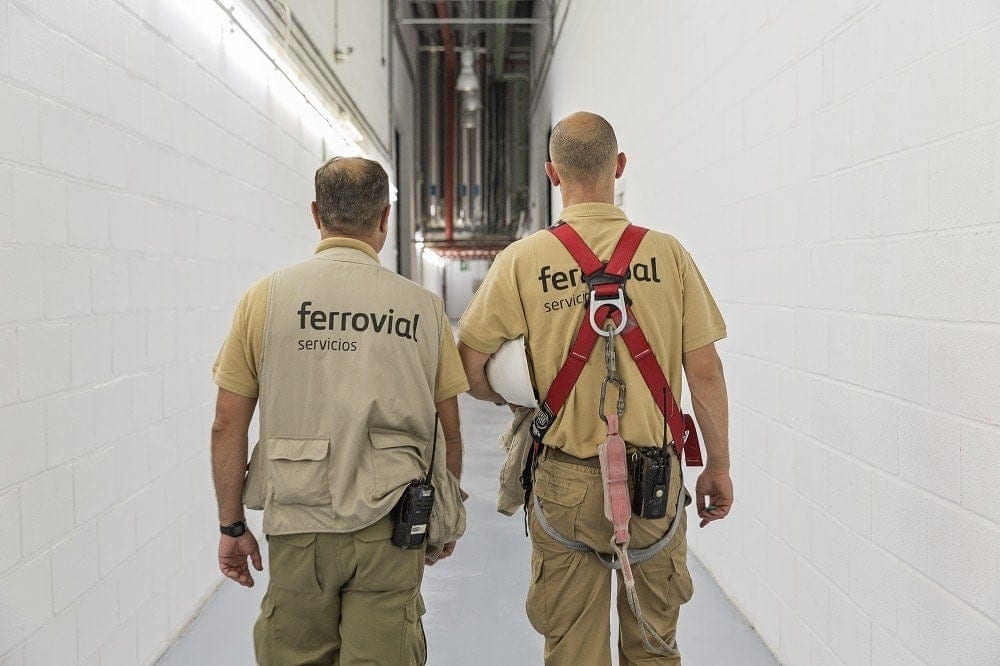 If someone aspires to work looking after such an important icon as the Guggenheim, what does he/she have to study or learn? What type of training does a person who abseils down the building to clean it need to have? And what about the person repairing the titanium panels, or sealing a crack?
Essentially, the same technical training as is required for an integrated maintenance and cleaning contract in tertiary sector buildings. Although staff joining the team at the museum do receive specific training on how to go about their tasks in areas housing works of art, and there are special protocols we must follow in this unique building.
For example, you're not going to have a builder drilling in a gallery where you have a painting hanging or a sculpture, because this will generate vibrations and dust. In the same way, you can't go into a gallery with a bucket of water for cleaning the floors, you have to know at all times where the emergency cupboard nearest to each piece of art is, etc. This training is provided to staff during the induction course, when there is also awareness-raising regarding the fragility and value of the exhibits in the museum.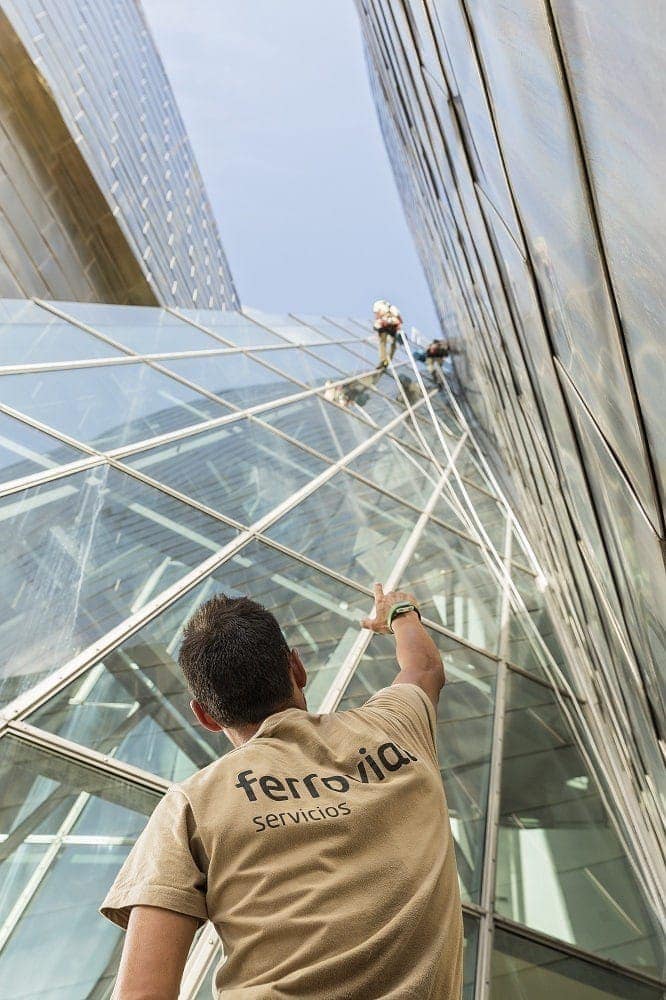 The Ferrovial Services staff in the museum all have different qualifications. For example, within  maintenance we have electricians and lighting specialists for structural lighting and electrical installations; refrigeration engineers for operating and maintaining the integrated temperature control system; painters for the daily painting of the gallery walls; metalworkers for the metallic structures; a joiner for maintaining the furniture and the more than 300 doors that the building is fitted with; a builder for changing limestone tiles and repairing walls in case of damage; a fire prevention technician to maintain and supervise the complex fire extinguishing system in the building, etc. All of our maintenance workers have an "Oficial de 1ª" (senior skilled worker) category, and a minimum of two years of vocational training.
Rope access technicians, in addition to their climbing skills and IRATA international rope access certification, also have technical expertise, since they carry out maintenance works at height in addition to actually cleaning the outside walls.
Cleaners have an average of 12 years' work experience in unique buildings.
The work done is highly specific and requires qualified climbers. And all the better if they don't suffer from vertigo…
Obviously. A climber suffering from vertigo would be like a taxi driver getting carsick, it's unthinkable. The views from the top are brilliant, but rather daunting.
As I said before, climbers working at the museum have IRATA international certification. This certification must be renewed every 3 years. It's compulsory in many countries if you want to work in this field, but not so in Spain. We, however, do require this qualification for all of our staff doing this kind of work.
Sadly, in the world of rope access work there is a legal void as to the training required. And there are companies using that void to "dangle" their staff at height without any specific training or practice with climbing equipment or rescue techniques for use at heights.
All of our staff are properly qualified to carry out rescue operations because they are IRATA trained, and this implies, amongst other things, carrying out regular accident drills. I can safely say that Julen Garcia, our head climber, is in the top ten of the most knowledgeable and skilled persons in climbing techniques applied to the workplace in the Basque country.
What does it mean to be a climber at the Guggenheim?
Can you imagine working on the outside of an artwork known the world over? What's in the CV of one of these workers? We've had the pleasure of talking to Julen García, rope access technician at the museum, and we asked him how he went about his work
Interview with Julen García, Mountaineer Cleaning & Maintenance
What's a typical working day like on the outer walls of the Guggenheim?
Depending on the weather, work is planned for inside or outside the building. If it's raining or windy you cannot work outdoors at a height, due to safety reasons.
If it's a hot day we try to work on north-facing walls, to avoid the heat created by the sun reflecting on the titanium panels – we could be talking of temperatures above 40ºC.
It's very physical work, but very gratifying, since it's all about climbing, something we feel passionate about.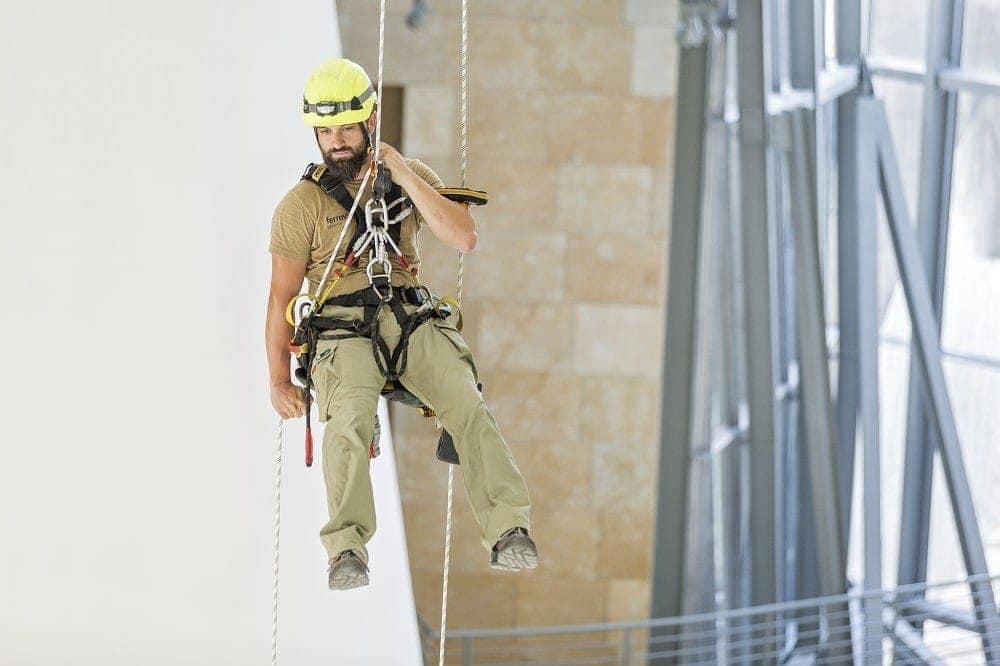 What was your first day like? The day you were told your work would involve looking after a piece of art.
(JULEN GARCIA) It was a very exciting day. I can still remember it. I was 23 at the time, so getting to work in the most iconic building in Bilbao while doing one of the things I most enjoy (climbing) was a real luxury.
I remember that we had to hang from the glass tower in the atrium and I felt rather apprehensive surrounded by all that suspended glass. Despite having climbed before I was very tense. You get used to it over time…
What does it feel like to work here, abseiling down a work of art? Are you under a lot of pressure to leave it in perfect condition?
It's very comforting, while at the same time there's a lot of responsibility involved. I'm not saying there's no pressure, we simply have to be aware of the value of the exhibits housed within the building in which we work.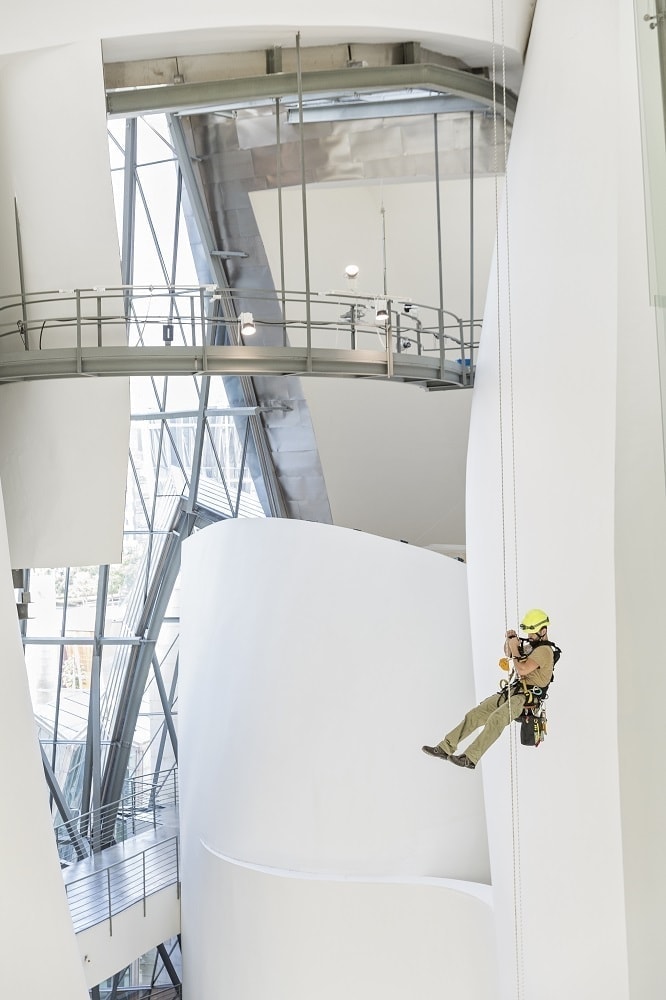 PPEs (Personal Protection Equipment) are key in rope access work. Can you tell us a bit about how you get it all ready?
First of all, you have to determine what type of work you're going to do (outdoor, indoor, cleaning or maintenance, etc.). Potential risks while accessing and carrying out the work must be assessed.
There is a rescue protocol specific to each area and task in the event of an accident, in case it were necessary to get one of our colleagues down.
We gather together the climbing material and necessary tools for the work in hand and access the work point. We check the length of ropes, the materials, etc.
Next we put on our PPE, which is the usual climbing gear: helmet, glasses, headtorch, etc.
Once these are on, we check each other to make sure all the gear and the safety harnesses are fitted correctly, and that nothing is out of place.
The access route is prepared and ropes are laid, following IRATA protocol regulations.
Once the work is done, the lines and equipment are removed, the material is cleaned and checked, and then stored.
It is important to point out that we always work in twos in this type of work. There can never be a rope access technician working alone.
We must all be properly qualified and trained to carry out rescue operations at heights, since the building has a complicated structure and different scenarios can crop up. In each case the rescue operation will be different.
Many thanks, Óscar and Julen, for your time. It was a pleasure to hear of your experiences.