Relacionados
Madrid Metro was inaugurated in 1919 by King Alfonso XIII. At that time, it comprised a single line with stops at t...
Amey has been presented with two awards that praise its innovative approach with Transport for London (TfL) to streng...
Publicada el 1 de Octubre de 2018
London's underground network is the oldest in the world: it was opened to the public in 1863, following three years of hugely difficult work, an impressive feat for the time. When 38,000 people climbed into the trains on that first day, some of the carriages didn't even have a roof, and they were still pulled by steam engines. This meant that the smoke was at times overwhelming, and gas lamps were still used for lighting in corridors and stations.
Christian Wolmar's educational video for TED-Ed explains how the first underground network in the world was built, and includes some interesting details, such as that the people at the time complained of having the city perforated, and a local minister accused the company of "trying to break into hell".
When it opened, there were a small number of stations along four miles of tracks; today there are 270 stations over more than 400 kilometres. The popular tube is used by 5 million people every day. And it never stops growing.
CUT AND COVER
The building method used for many years was a so-called "cut-and-cover" system. It was easier to dig out a large open hole in the road, build the arch of the false tunnel with bricks, and then refill the hole with the dug-out material. As a result, the first underground lines were not very deep, something that tends to be the case with the older underground lines in major cities.
One of the companies of the time, C&SLR, was the first to use electric traction for pulling the trains, as well as a new method for digging circular tunnels, using a technology known as "shield tunneler", which initially was opearated manually. The front part was used to dig out a circular section and the tunneling machine was called the Greathead Shield. Later on, the shield became mechanical and the machine advanced much more rapidly and could cut through any type of material. Today, these are called TBMs, or Tunnel Boring Machines.
As explained in the video, these tunnelling machines made it possible to dig under the city at a greater depth and create new underground lines on another level: they could dig under buildings and keep away from electricity lines, sewers and other infrastructures. They could even dig under the Thames.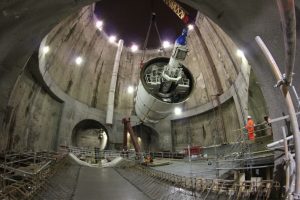 Fast forward 155 years to our times. How are the new underground railway lines  cutting across London built? Some weeks ago I was lucky enough to be able to visit the construction sites and tunnelling machines of the Crossrail project: a massive new rail undertaking spanning over 100 km, more than 40 km of which run below the streets of London, connecting with the underground network at some points.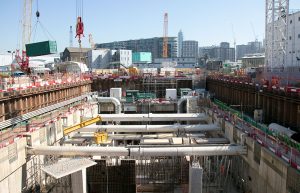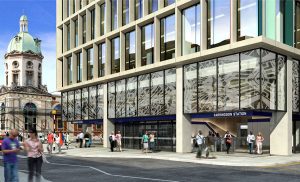 The Elizabeth Line has ten new stations and is renewing thirty existing ones. What is most impressive about Farringdon (which, interestingly, was one of the first stations to open in 1863) is how deep it is: 30 metres below ground on six levels, plus three levels above ground, with its own building (have a look at the plans and technical details here). There are deeper stations in the world – in Madrid, for example, Cuatro Caminos is 45 metres underground –, but going down there during the building stage is truly amazing.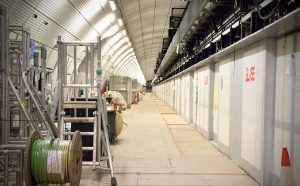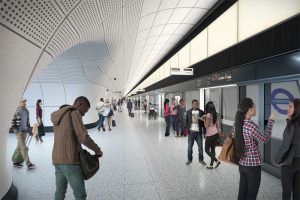 The two platforms in the station seem endless, and are very different from the underground stations we are used to. They span more than 200 metres in length, which is the length of the new trains which will carry up to 1,500 passengers at a time (closed trials are already running). The two platforms are fully enclosed with sliding glass doors, and connect towards the exit and ticket areas, located at both ends, through a central passageway. The train tunnels are 6.2 metres in diameter and were excavated using different TBMs.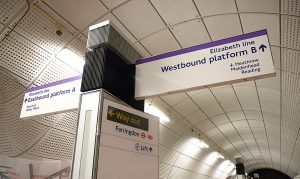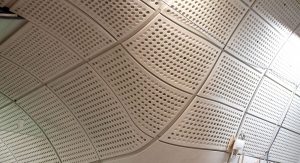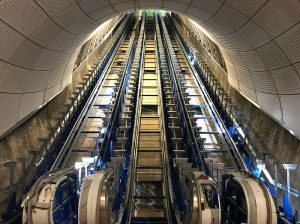 The design of the stations, even while still under construction, is certainly striking: clean, well-lit white ceilings with soft curves, spacious entrance halls atop gigantic escalators, which were still being put together. A unique opportunity to see an impressive work of architecture, with no posters or publicity, just the bare basics. It felt a bit like going into a pyramid.
Madrid Metro was inaugurated in 1919 by King Alfonso XIII. At that time, it comprised a single line with stops at t...