Sure, an estimated third of the world's population remains confined to quarters, and 93% of the world's population lives in countries with Covid-inspired travel restrictions. Yet we're also experiencing an unprecedented traffic jam: online traffic.  And it's not due only to video conferences and Netflix.
Museums around the world have shifted their creative energies towards opening new digital avenues of public engagement. To guide their new visitors, some museums have enlisted an inventive crew of docents.
#HashtagTheCowboy Rides in to Save the Day
As museums close their doors, security personnel are left behind to hold down the fort.  Having the head of security take double duty as social media manager is logical. And so a star is born: Tim, Director of Security and Operations Services at the National Cowboy and Western Heritage Museum in Oklahoma City.
Armed with a mustache worthy of his surroundings and little grasp of the social media world, Tim is a most authentic and entertaining guide.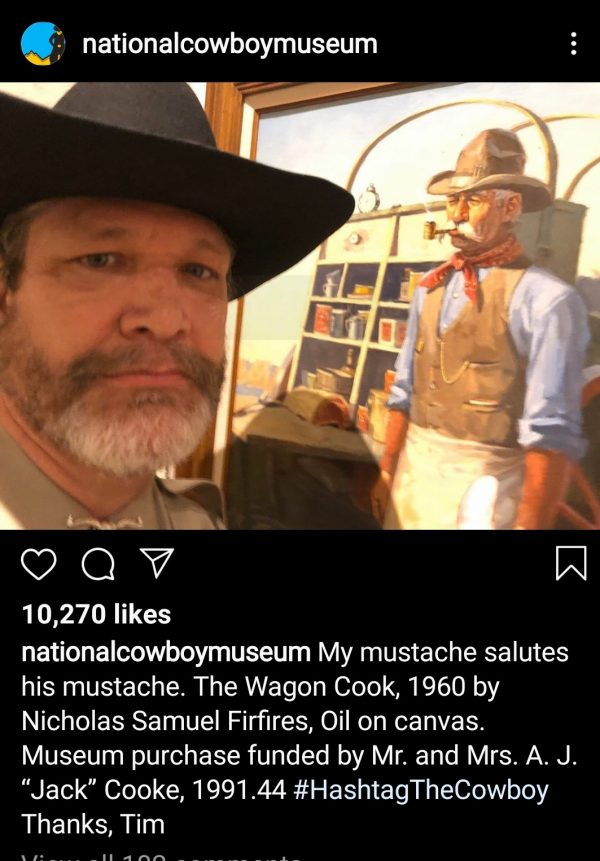 Marketing asked him to take a photo at one of the museum's designated selfie spots. So he posted a picture of the selfie marker. After explaining that the selfie marker is to let people know where to take photos of themselves, Tim gave it another shot.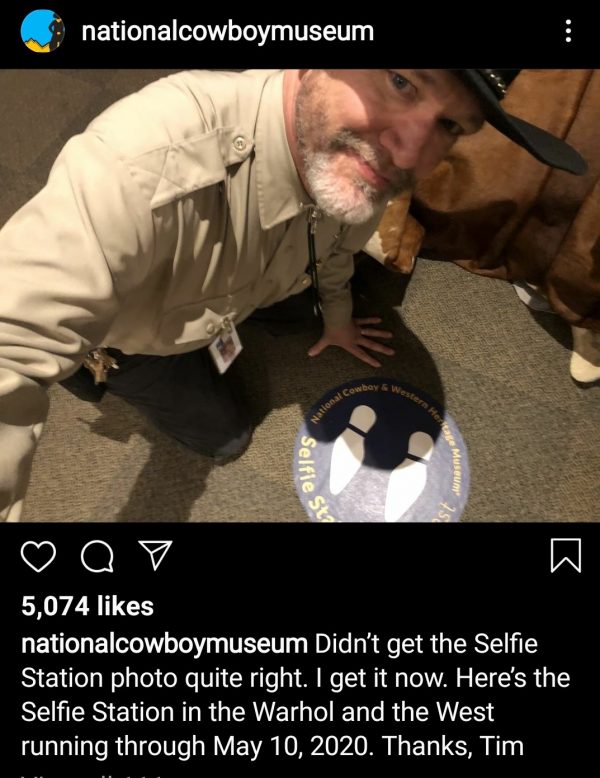 Tim signs off each post with the politeness of someone more accustomed to writing letters: "thanks, Tim." When his grandson suggested that he include hashtags to help boost his posts, he added "Hashtag John Wayne" on a post about the Duke's boots.
Now with a bit more social media savvy under his belt – all Tim's posts include #HashtagCowboy. He starts each day lifting is coffee in front of a new item of the museum's collection.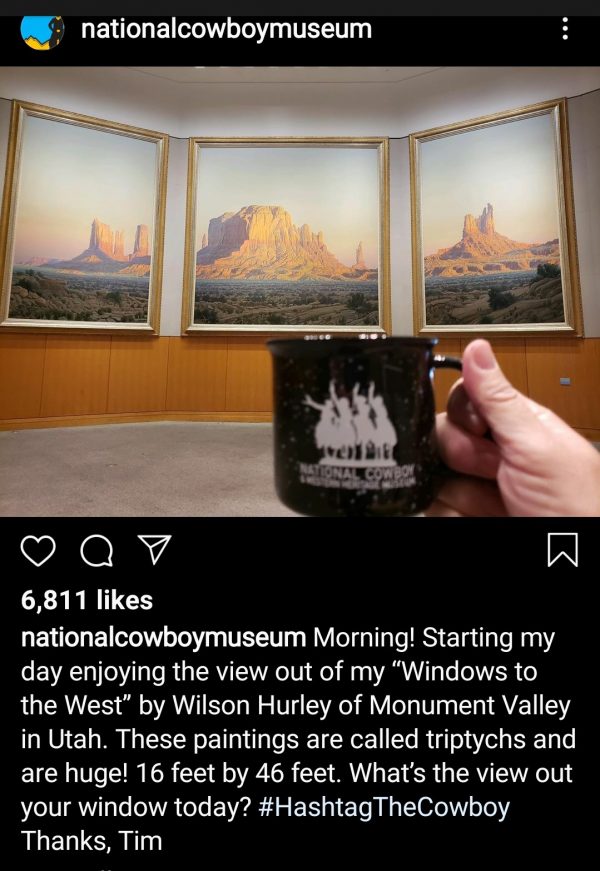 But that's just the start of Tim's day. You can follow along on Twitter and Instagram for regular updates.
Letting the Interns Take Over
At the other end of the social media savvy spectrum are the interns at the Peggy Guggenheim Collection in Venice. The art and art history students help us reimagine great works by inviting us into their own ideas on how to interact with them.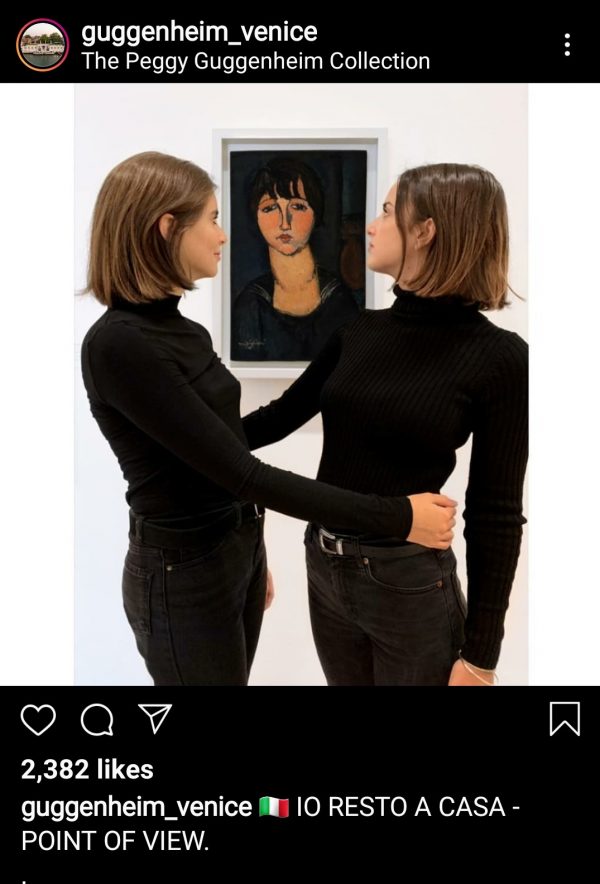 Here, interns Carolina Marques and Paloma Etenberg say that Modigliani's Woman in a Sailor Shirt "evokes a feeling of melancholy and loneliness, inviting us to reflect on the need of care and companionship." A sentiment that resonates in our new socially distant existence.
Another intern, Alanna Rodriguez Loreto, echoes the lines of Raymond Duchamp-Villon's sculpture The Horse, posting that "we have to shape matter and express the ephemeral quality of life itself."
You'll find more intern contemplations of works in the collection at the museum's Instagram account.
Some Docents are Horses of a Different Color
Well, not horses exactly. The Shedd Aquarium in Chicago has let some of its inhabitants wander around to see the other animals and grounds for themselves.
Here's Tilly and young Carmen visiting the Beluga whales, who seem as curious about the penguins as they are about the whales.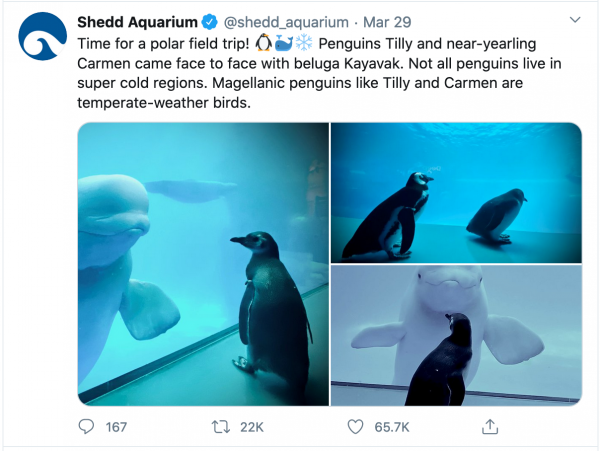 The Shedd's oldest penguin, a 32-year old rockhopper named Wellington, also takes an occasional foray. In this post, he is at the Shedd's Caribbean Reef.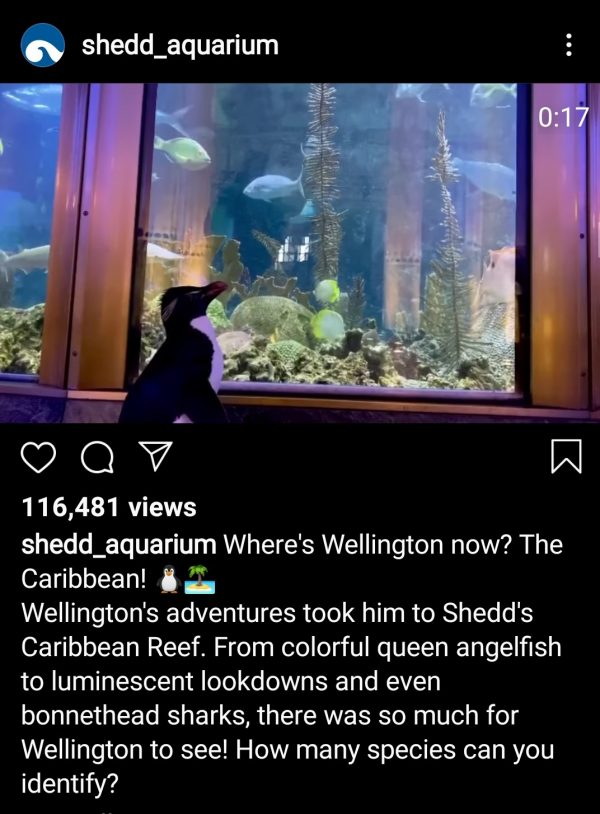 One of Wellington's offspring is Edward. Edward has bonded with Annie this nesting season, and the couple explores the Shedd together.  Here's a short video of the pair roaming around the information desk.
While this may be a strange time for us, these days feel normal for animals at Shedd. Our caregivers are constantly providing new experiences for the animals to explore and express their natural behaviors with. Let us know what penguin activities you would like to see! (3/3) pic.twitter.com/ftlow7iPHl

— Shedd Aquarium (@shedd_aquarium) March 16, 2020
In other posts, Wellington, Edward, and Annie take you for a tour around the Shedd's grounds.
Other animal docents you can meet at the aquarium's Instagram and Twitter include another penguin named Bosco and a macaw named Poblano.
Inviting Guest Docents to Share Their Thoughts
The Musée d'Orsay in Paris has turned its Instagram account over to a new guest curator each week. Since the closure, a different artist, author, or philosopher gets their own week to share a work from the museum's collection each day, along with their thoughts.
The first guest curator was painter and filmmaker Julian Schnabel, who chose Monet's Turkeys as one of the seven works during his week. In the post, Schnabel wrote that Monet took "what could be an extraordinarily ordinary subject and turn[ed] it into this glorious bacchanale of paint." Since most of us are limited to finding some beauty in our front lawns or balcony, finding a glorious bacchanale in the ordinary is valuable skill.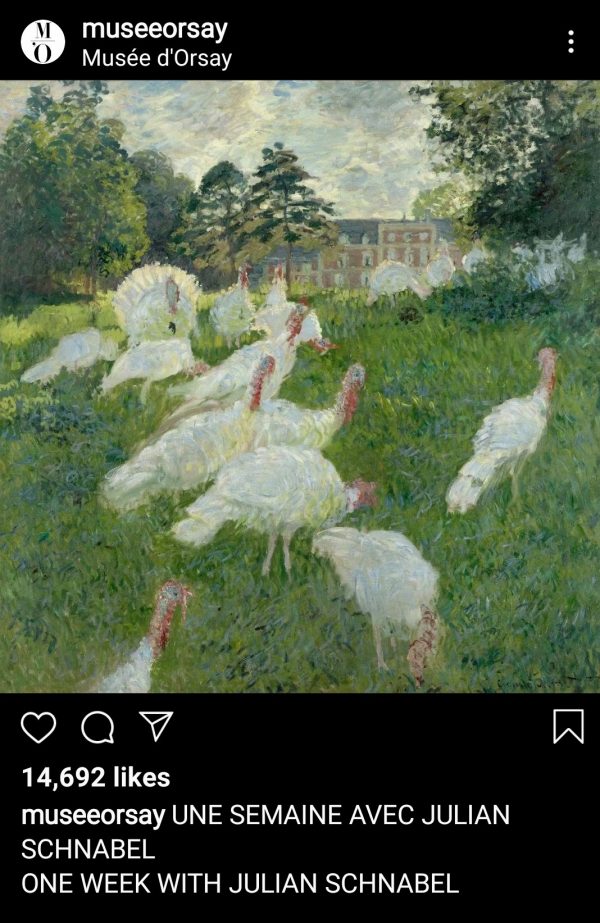 More recently, writer Linda Lê has been the museum's guest curator.  On the first day of her week, Lê selected The Lady with the Lorgnette, a pastel and charcoal work by Félicien Rops. Lê describes his subject as "witch of modern cities" who "leaves an impression of morbid luxury."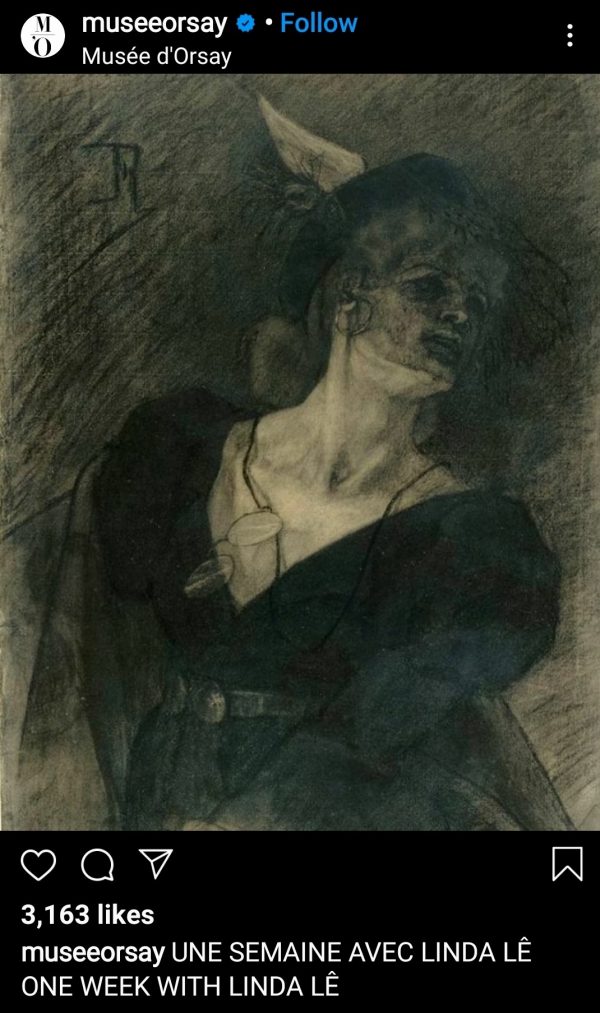 The museum has had roughly five guest curators thus far and plans to continue with a new one each week until the museum re-opens.
Another notable trend of the Orsay's Instagram and Twitter accounts: For anyone missing the outdoors, the museum is posting a landscape each day.
Durant cette période de confinement, le musée d'Orsay vous présente chaque jour l'un des plus beaux paysages de ses collections.

Aujourd'hui, "Le Poirier d'Angleterre" (vers 1873) par Auguste Renoir.#CultureChezNous ⬇️ pic.twitter.com/pl5OW4MjK0

— Musée d'Orsay (@MuseeOrsay) April 15, 2020
The Digital Docents
Museums were posting a variety of digital content well before Covid sped around the world. The current crisis has only accelerated the expansion of the museum's online content and highlighted the need to promote digital engagement.
Some museums, like Bilbao's Guggenheim Museum, use a specially created hashtag to help people find their online resources easily. A search on #GuggenheimBilbaoLive will bring you to virtual reality tours of exhibits and the museum's restored architecture, videos with curators sharing insights, behind the scenes and restoration videos, and children's activities.
Proving there's nothing new under the sun, the Uffizi started #UffiziDecameron as its docent hashtag through all the gallery's digital content. If you want a broader view, #MuseumfromHome is the go-to hashtag for museums everywhere.
Despite the pain and uncertainty of this global moment, cultural institutions are finding new ways to embrace their role as a source of inspiration and education that elevates us all on a dreary day. Once we're past the Covid crisis, this new breed of docents will hopefully continue to connect museums with people around the world who otherwise couldn't visit them.