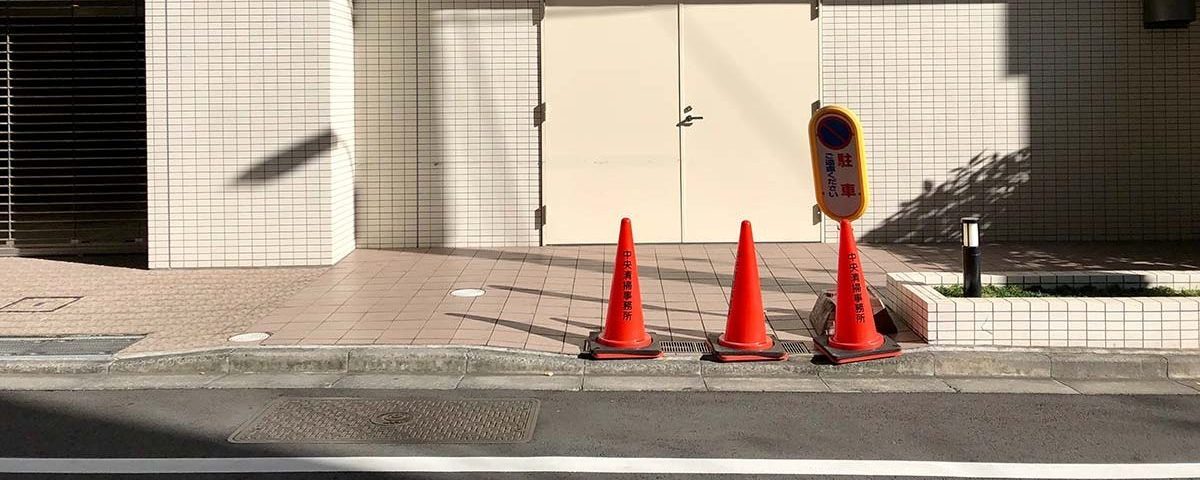 David Morgan is a Guinness world record holder. He has over 500 traffic cones in his home – 137 different types. These include about two-thirds of all traffic cone models designed in the history of road safety. Morgan is not just a collector but also part of this history. In 1961, he was the first person to design a plastic cone, those reflective orange and white ones dotting our roadways today.
Currently, there are about 140 million traffic cones in use worldwide. They've been a regular fixture in signage for the last 80 years. This story begins in the United States in 1940. As is almost always the case, it started with a need and an ingenious mind.
A useless wooden tripod
The oldest item in Morgan's collection is from 1956. It's a cone that was made in Scotland at the Lynvale factory. It's made of rubber, as was the norm back then. Some 16 years before it was manufactured and thousands of miles away, Charles D. Scanlon, a Los Angeles street painter, set out to change the course of temporary road markings.
Before traffic cones appeared in the 1940s, temporary road markings for construction sites, cleaning and maintenance tasks, or accidents consisted of a series of wooden tripods or concrete barriers. The tripods were so fragile that they had to be replaced constantly; cars swept them away. The latter were dangerous and could damage vehicles.
Scanlon thought there must be another way. To him, it didn't seem like the signage was improving safety for vehicles or his fellow road workers. So in 1940, he put pencil to paper and designed the first rubber cone. His patent, granted in 1943, shows a cone quite similar to current models, light and hollow inside with an opening at each end, yet very stable and highly visible.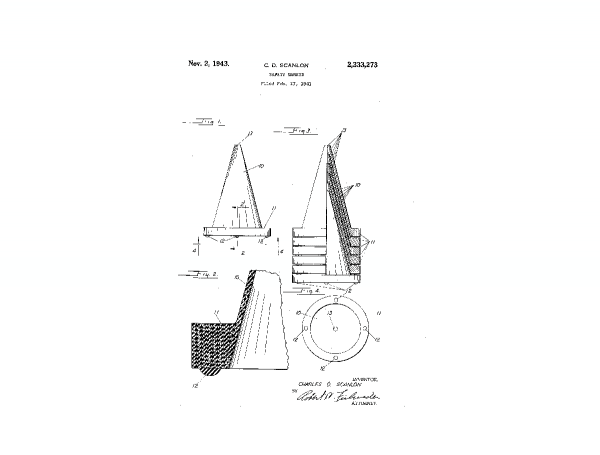 The first patent design for a rubber cone, by Scanlon. | Patents.google.com
According to the information included in the patent, the cone was both strong and soft enough not to damage vehicles. Furthermore, its heavier base kept the cone upright in the event of an impact. It was also recognizable and could be personalized with safety messages and other road safety elements like flags.
Taking over the world in a decade
For his first prototype, Scanlon put together several rubber strips from used tires provided by local dealer Rodney B. Taylor. However, they soon found that obtaining a steady supply of rubber for large-scale production of cones was difficult, and they decided to leave the manufacturing for later on.
In 1947, a new ally came on the scene: Charles Terry and his company, Interstate Rubber Products Corporation. Scanlon, Taylor, and Terry started to mass-manufacture cones using a mold and rubber bands that they then heated to high temperatures. That same year, the city of Los Angeles began to use the cones not only to signal specific events but to mark lanes during rush hour.
From that moment on, traffic cones started to spread across the United States and the world. In 1958, they were used in the UK for the first time as emergency signage for the Preston By-Pass, the country's first two-lane motorway that's now part of the M6.
Those years saw increasingly heavy traffic, and the United States Federal Highway Administration published its first Manual on Uniform Traffic Control Devices (MUTCD). By 1961, those initial devices already included the rubber cone. Meanwhile, on the other side of the Atlantic, David Morgan was designing the first plastic cone.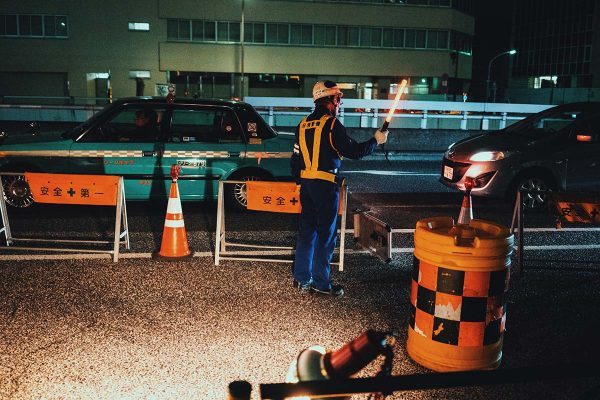 Today, traffic cones are among the most common signaling elements on roads around the world. | Unsplash /George Kedenburg III
Commonplace and standardized
That first edition of the MUTCD was the first attempt to standardize traffic cones. It stated that these elements should always be yellow or yellow-orange. The latest MUTCD outlines various cone sizes and weights depending on their use (the largest for highways, as they have to be visible from a distance). They are generally made of recycled PVC, and on roads, they're orange or yellow.
The European Union and the United Kingdom have their own standards. These countries define two categories based on reflective level and different shapes and heights. Each country or region has followed suit. Today, it is estimated that there are or have been more than 200 types of traffic cones worldwide. They're used on roadways and to mark routes or events, even in sports competitions.
As cones were taking over the world, David Morgan began his collection in 1986. He had been obsessed with cones for a few decades. But a dispute over marketing rights led him to scour the UK, collecting evidence (cones) to prove he was right.
Two years later, an unusual model dating back to 1980 caught his eye at the Corsica airport while he was on his honeymoon. And that's where it all started. Today, he has more than 500 at his home in Burford, in the English county of Oxfordshire. It's his particular way of paying tribute to an invention that changed road safety 80 years ago.