With recent news that Japan's Kansai Water Airport is about to undergo another  renovation project, what better time to take a look back at the original construction of the world's first airport built entirely on water. Put together between 1987 and 1994, those visiting remain in awe of this stunning feat of engineering which is often referred to as one of the most beautiful in the world.
Why did Japan build an airport on water?
Made up of four main islands, due to its geological location, climate and topography, Japan is prone to natural disasters such as earthquakes, typhoons and tsunamis. Located within the notorious Pacific Rim of Fire, it is estimated that almost 40% of the world's most costly catastrophes have occurred on its shores.
Architecturally, the havoc wreaked by these disasters is most evident in buildings constructed over landfill sites, which liquefy if disturbed. This knowledge not only made the construction of a 3 million tonne airport on water even more impractical, but also begged the question why attempt to build offshore in the first place. Well, by the 1960s, Tokyo's Haneda Airport was Japan's principal import and export point, even the movement of goods coming in and flying out of Kansai's own economic district, Osaka, had to pass through the capital. Kansai leaders knew that international capacity at its own Itami Airport must be increased if it was to compete with the Capital and benefit financially.
A novel response
Research to address this quickly concluded that extension of Itami Airport was not an option due to its near residential location and limited space. Then in a moment of genius, a decision was taken to build the airport on a manmade island in the Osaka Bay, around 50km outside Osaka city centre. With little or no residential disturbance or interference, the new facility could function 24 hours a day. This would make it as attractive as Tokyo for air cargo, business and travel. Engineers quickly set to work to create the 2 ½ mile long, almost 4,000 feet wide island to house the airport.
How did they manage to build an airport on water?
Manmade islands construction was nothing new for the Japanese who had put up many buildings just off the shoreline. The difference now was that this one was about to be constructed 3 miles from shore, in water 60 foot deep where the ocean floor was a very different playing field. At this depth, the building would need to stand on two separate seabed layers.
The first, a layer of 100 meter deep alluvial clay was no problem for the skilled and experienced engineers, and easily surmounted with the insertion of sand drains. However, the second layer of 1,000m deep diluviual clay proved a more onerous opponent, as it was unreachable by sand drain and had never been built on before. As a result, no one had any idea how it would behave. Samples were drawn and a myriad of tests carried out to ascertain what this layer consisted of, its response under pressure and how this would affect the structure. With subsidence (rate of sinking) estimates ranging from 19 to 25 feet, after careful consideration the decision was made to go with the least generous option and in January 1987, work began.
Deep trouble
This mammoth task started by fortifying the seabed with a five foot layer of sand and the insertion of a million sand drains. These, when pressed down by the airport's weight would absorb water from the clay, causing it to harden and accelerate settling. This was followed by the construction of a seven mile sea wall, created using almost 70,200 tonne steel chambers, huge stones and 48,000 tetrapods. 
Once completed, excavations from three mountains were strategically placed inside this perimeter. Made up of different types and sizes of rock, each had been specifically selected to resist instability in the event of a natural disaster. Meanwhile at the opposite end of the site, work was underway to construct the connecting road and railway routes. This was done using 29 pre-assembled bridge piers clasped together by steel modules which formed the two mile double decker Sky Gate Bridge. Then three years into the project, reports showed that the structure had sunk almost 30 feet and continued to do so at a rate of two inches per month. To keep the island above water, 11 feet of soil was rapidly added, then compressed by a two-tonne weight. Initially, the primary architectural challenge was to create a state of the art, fully functioning international airport which would be spectacular enough to captivate visitors, but resilient enough to withstand a natural disaster and all on a very tiny island.
This new revelation meant architects were now required to achieve all this on unstable land. Nevertheless, a design was agreed and the team found a way to solve this issue. As the building would weigh far less than the land it stood on, cracking and separation were inevitable. To counteract this, a ¼ million tonnes of iron ore would be poured into the building's foundation to act as a ballast. By 1991, terminal construction was underway.
Rising above it
What emerged just over two years later can only be described as magnificent. Inspired by Berlin's Tempelhof Airport, the single, winged shaped terminal designed by Renzo Piano and Noriaki Okabe had been assembled with an integrated flexibility. Every aspect was adaptable, so in the event of a disaster each piece could absorb movement and or react independently.
Features include 5000 panes of glass, each set within a rubber gasket, 90,000 stainless steel roof tiles, centrally hinged to prevent storm damage, flexible truss bridge joints designed to withstand the most violent winds and an Asphalt runway, chosen over concrete for its pliability.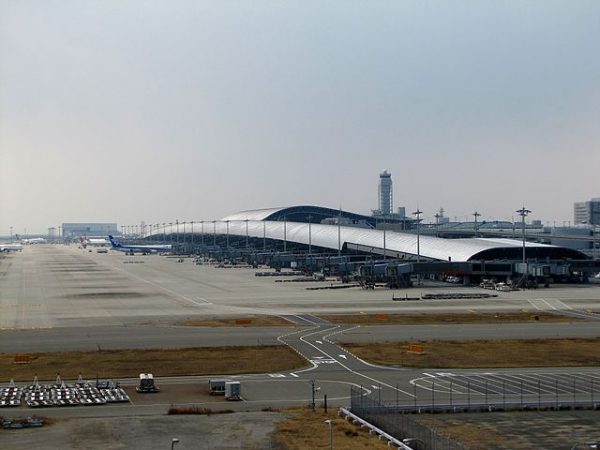 Image by redlegsfan21 CC BY-SA 2.0 via Wikimedia Commons
Unfortunately, the ballast was an inadequate solution and did not address sinkage so the island continued its downward trajectory, with no resolution in sight. Then engineers came up with an idea that was so simple, it's astonishing that it's actually effective. Known as the 'Jack up System'  and carried out every few years, it utilises the concrete erection pillars located in the basement which have been fitted with sensors that pinpoint exactly where there is the most movement. Constantly monitored, as soon as sensors indicate subsidence, hydraulic jacks are used to raise the column then iron plates are slid underneath these pillars to stabilise the building.
In addition, many of the airport's other features, such as doors, stairs and the facilities infrastructure have all been skilfully redesigned so that they can also be as altered if necessary. Officially opened in September 1994, the airport continues to sink at around one foot per year. Since then it has been subjected to earthquakes, floods and typhoons, yet continues to defiantly stand and in most cases remain relatively unscathed.
It has won numerous awards, welcomes over 30 million passengers annually and in 2011 was named a Monument of the Millennium by the American Society of Civil Engineers (ASCE). A very fitting title, as no matter what the future holds for this spectacular structure, the fact that it was ever constructed against so many and such formidable odds, remains a miracle in itself.